An event planner and a corporate event planner are not the same. You'll rarely find a person who is good at organizing both weddings and corporate events.
In cases like these, a corporate event guide comes in handy. If you're just beginning to learn the art of corporate event planning, you've landed at the right place.
This article outlines how you can start out and thrive in this field. But, let's begin with the basics first.
A. What are corporate events?
These events are majorly organized for businesses, companies, and organizations. Corporate events usually have one of the following targets:
Strengthening bonds with clients
Giving employees their hard-earned rewards
Launching new products and services
Imparting training to employees and new joiners
Provide opportunities for networking
Showcasing company values in person
We're sure that such goals of a corporate event must already be giving you ideas. There's actually a large variety of events you could be organizing.
They all fall under the umbrella of corporate events.
Let's find out what they are.
B. Types of corporate events
We will cover the ten major types. Do remember that they're the most common ones. So, you can expect corporate event planning outside this list too.
1. Team Building Corporate Events
These events aim at improving the communication and problem-solving skills among employees.
By organizing these events, you'd be contributing to the overall teamwork skills of the employees.
These corporate events tend to involve outdoor and indoor adventures together. It can also have fun and light-hearted games and exercises.
2. Conferences, workshops, and seminars
These fall on the educational side of corporate event planning. In these events, you're supposed to arrange an exchange of knowledge.
3. Employee appreciation events
They are corporate parties and galas that honor employees and their hard work. It could be a simple award ceremony that boosts morale.
4. Exhibitions and meets
These events creatively showcase the products and services of a company. It aims at bringing better sales or partnerships.
5. Product launches
By organizing these events, you garner attention and boost future sales of your new products and services.
These tend to draw good media attention.
6. Board meetings
Here, event planners are required to give the best facilities to the most important people in the company. You need to be able to create a favorable event setup fir important conversations like company performance to take place.
7. Annual meetings and events
Founder's Day and annual general meetings are also some of the most important corporate events that take place.
8. Office festival celebrations
In most companies, festivals and national events are also celebrated ahead of the holidays.
Beginner event planners should definitely start by organizing these. They're easier to relate to and thus, organize better.
For reference, you look at these wonderful Holi celebration ideas for offices.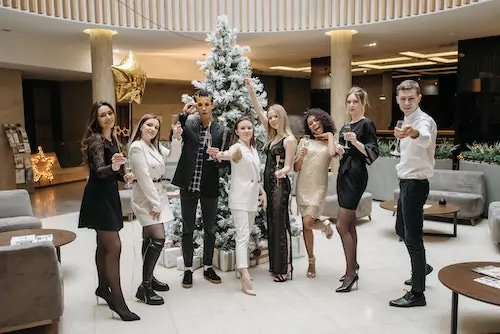 C. How to plan corporate events?
As a corporate event planner, you'll have to oversee the following to organize events:
Theme and concept development
Venue visits and finalization
Logistics management
Vendor coordination
On-site duties on the day of the event
If you have a good grip on this checklist, you'll be able to do a satisfactory job.
However, after seeing how many types of corporate events exist, you know there's a steep learning curve. Each event would require a separate subset of action items.
D. How to start corporate event planning business?
Just like any other business, your corporate event planning business will need lots of market research. Look out for your target market, competition, and potential clients.
You can give your business an identity with a name and a logo. You'll also need to get all the necessary licenses and permits to have a legitimate business. You can register your business as a sole proprietorship, partnership, or LLC.
If you have some previous experience, consider making a portfolio for the same. It'll help you sell your services better.
Now, let's move to a very crucial step for building your event planning business. It requires you to build a business plan. It outlines how you will carry out your event planning processes. Your standard business plan should have:
The pricing structure
Budget breakdown
Marketing strategies
Timeline or plan of action
Target market
Scope of your services
Know that you will need to tweak and customize this business plan for each client.
Once you and your client agree on these, it's time to sign extensive contracts. You need to sit down with an expert to draft all the necessary paperwork.
Your event planning contract must include the following:
Scope of work
Terms of payment
Cancellation policies
Liabilities in case of unforeseen circumstance
Terms of dissolution of the partnership
Any other relevant point your expert might suggest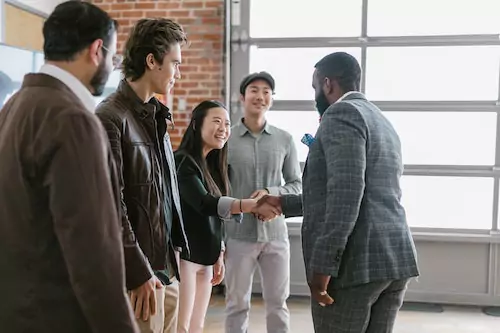 While you're heavily involved in the legal process, you must also focus on your partnerships. We are not talking about possible clients here. Rather, we are talking about the driving force behind your events—vendors.
You need to have good relationships with caterers, venue providers, photographers, and entertainers. This will make your corporate event planning journey much smoother.
E. Budgeting tip for corporate events
A corporate event planning guide is incomplete without financial advice.
From industry experts, we learn that a key ingredient for event planning is expense prioritization. An event calls for a lot of money, but you can't spend on each and everything.
In your event planning budget, you must rank the necessity for all expense items. Spend the majority of your budget on the most significant items like the venue.
As you move lower to the list, you can start cost-cutting.
You can learn how to create an event planning budget from scratch here.
F. Tips to plan better corporate events
Planning better events comes from experience. But that requires a lot of opportunities. So, if you're an independent event planner, you need to focus on networking. You'll be surprised to see how many people are interested in your services. You just need to be out there.
Once you do begin working, you'll learn that understanding your client is key. You really need to get into their heads. Once you learn what they might and might not like even before asking, you've cracked it.
In corporate events, a good way to leave a mark is customization. It could be as simple as customized notepads or water bottles. You could send your attendees with a small gift bag and note. These small acts make a lot of difference.
​​
Another event trend you need to catch up on is sustainability. Here's a list of ways to make your event sustainable. Go through it.
You won't just do a favor to the planet but also hear praises from your client.
The last tip we give every event planner is to take post-event follow-up. We aren't just asking you to ask your client "How was the event". You need to go in-depth and take ratings and reviews for every aspect of your event.
Knowing where to improve and adapt is crucial. Once you're done reading this event planning guide, these reviews and follow-ups will guide you further.
G. How do you decorate a corporate event?
A corporate event has a very different ambiance as compared to other events like weddings and birthdays.
However, even within this difference, you will have to create different ambiances for conferences, celebrations, etc.
You need to first understand the type of corporate event. Then, you need to understand the theme and purpose. Once you have clarity on these two, you can think of decor elements.
When decorating for a corporate event, you can't miss company branding. You need to tastefully incorporate the brand's colors and logos into the decor.
This corporate event guide encourages you to stick to polished decor as opposed to a flashy one.
You can achieve this by focusing on lighting and simple furniture. Floral arrangements are fine as long as they are minimal.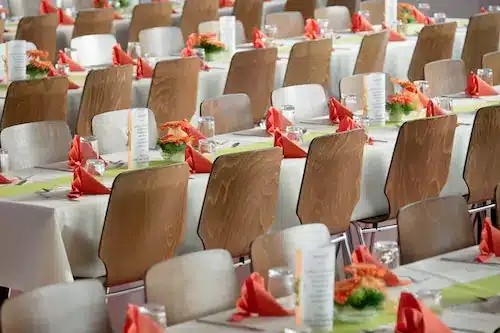 In corporate events, you should avoid decorating each and every corner. Rather, focus on creating focal points such as large displays or panels with event info.
For more informal corporate events, you could create selfie points with a branded backdrop.
Since you're not going berserk with the decor, you should engage other senses. Make sure there's ambient music playing. Focus more on the entertainment and educational value of the event.
One tip that no other corporate event guide will give you is to engage the sense of smell. Invest in good room fresheners with a subtle scent.
H. How to do corporate event marketing?
With corporate events, you have limited marketing channels. You can't really post a reel about it on Instagram and expect a great turnout.
So, first start with identifying the marketing channels. Email marketing remains at the top of the list for corporate events.
Know if you can leverage social media or the company website to the promote event.
If it's a large-scale event that's open to people outside the company, you'll need to list your event. Here are some booking platforms you can check to list and promote your event online.
For exclusive events, Ticket Generator is an excellent option to keep the event personal yet secure.
To further promote your event, you should focus on video marketing. It's the most impactful media these days. You could share it on the company group or any other communication channel. For example, if you have a known speaker for the event, then get to record a teaser video.
Focus on creating that pre-event buzz!
I. How do you make corporate events interesting?
Let's address the elephant in the room. Corporate events are boring.
But, as a seasoned event planner, it's your duty to make the event as interactive as possible.
Here are some questions you should ask yourself to know how interesting you're making your event:
Does my event have a theme?
Is the speaker engaging when they talk?
Does my event have a relevant and relatable theme?
Is the chosen event venue standing out from the conventional corporate event spaces?
Are there any ice-breakers at the beginning and middle of the event?
Did I pay good attention to the event food and catering?
Am I providing any personal gift or experience to the attendees?
More points to you if you get more as many "yes" as possible.
We also recommend you add an element of surprise to the event. Give the attendees something that they didn't expect from the event.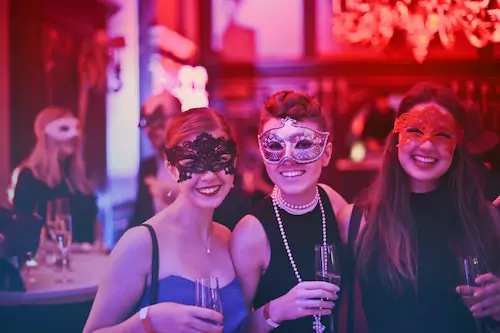 It can be a unique entertainment act, a giveaway, a quiz, or even a unique food experience. Break the monotony with something that may seem irrelevant but serves the purpose.
If you're still not getting any ideas, head to this list of 50+ corporate event ideas.
J. What do you wear to a corporate event?
No, not all corporate events are black and white. Here are some dress code choice buckets for you as an event planner:
Ask people to dress according to the theme. For example, for a Christmas in the office, people could come dressed in red and white
The casual dress code is suitable for company outings and adventures in informal settings. Here, attendees can wear anything they'd wear to meet friends for a brunch
Smart casuals are a suitable dress code choice when the attendees are expected to interact with seniors. Men can dress up in casual cargo or jeans with polo t-shirts/ shirts. Women can go for casual dresses or jeans with a top
Some events will still call for business attire. But this is only common for conferences and big business meetings. Here men are to wear tailored suits while women can go for shirts with pants/skirts or conservative dresses
If your event allows for it, this corporate event guide will always suggest a fun dress code as opposed to a traditional one.
K. Top corporate event planning companies
If you're looking to work with event planning companies, here are the top ones:
Eventive is a global event management company. It is famous for organizing product launches and conferences for corporate
Cvent provides a lot of softwares that help organize large-scale corporate conferences and meetings
GES is a global event marketing company that is famous for organizing corporate trade shows and exhibitions
MCI Group is a leading event management company that gets its reputation from corporate events
If you don't want to apply but just want some inspiration, you might want to look at Google and Apple.
They organize some brilliant events for their employees. Their product launches are also a sight to behold.
Keep up with the technologies and creativity they use in their events. It should keep your head buzzing with ideas.
And on days you're not feeling creative, we'll do the buzzing for you. Sign up for our newsletter below to receive one mind-blowing event idea each week.