What good is an event if people don't know about it?
You can put all the effort into planning a fabulous event, coordinate with the vendors, and make the event look picture-perfect.
But it all boils down to how many people turn up and enjoy the event.
So while organizing an event is quite a task in itself, bringing in the guests is even more important.
And how do you get people to know that you're organizing an event? Via event listings and promotions, right?
There are two ways to do it. The first is by leveraging the good old print media.
Print media has an amazing attention span and, hence, continues to be among the marketing mix of most marketers. So if you're also planning on using flyers and posters to spread the word about your event, go ahead by all means!
The second way is digital promotions. That's what this article is going to talk about.
Remember that most of your target audience is already addicted to gadgets and social media. So digital channels of promotions should definitely be on your priority list.
There are a lot of ways to go about it but many of them come with a cost. Don't worry though, there are cost-effective (mostly free) alternatives too.
We bring to you the list of leading free event listing websites. They let you upload your event details for free and get your event the traction it deserves.
While you bring your event into reality, this article will teach you how to give your event visibility.
A. EventBrite
EventBrite finds itself on top of the list as a leading free event listing website. It is the largest event marketplace in the world. It has had events listed from around 180 countries with 291 million tickets so far.
Good thing is, you don't have to pay if your event is free for all. Only events with paid tickets need to pay a little fee per ticket and transaction. You can calculate your approximate ticket price using their inbuilt calculator.
Another good news is that you don't have to bear these costs. You can pass them on to your attendees by including those in the ticket price.
This free event listing website allows people to discover events from across the globe. They claim that one-fourth of the tickets that sell come from attendee discovery while scrolling on through the platform.
This is a good deal for the ones willing to tap into the market without a pre-existing community base.
In fact, the perks aren't limited to listing your event and getting exposure from millions of users. You also get marketing tools and insights to get the best out of your investment.
B. Evvnt

Evvnt is another free event listing website with event ticketing features and marketing services. They provide a platform to find events, promote them, and generate tickets.
And they also provide multimedia marketing. Their network of over five 5,000 media sites gives you access to a consumer base of forty-three million.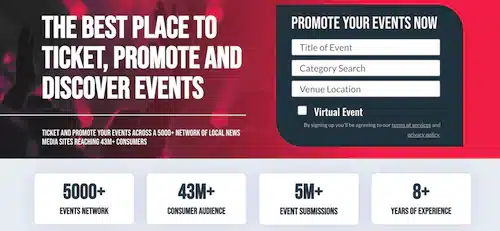 They have a unique way of functioning. They use your event details and post across many different platforms. The outcome is usually a sold-out event.
With their free plan, you don't need to pay a monthly fee to post your event. Rather, they just charge you 20% of your revenue. If you are looking for better features, they can also help you build an event campaign. All you have to do is click and sign up for a demo.
C. 10Times

If your event is business-related, this is a free event listing website that you can consider. From live webinars to on-ground conferences, they are a perfect platform for formal events.

500,000 events have gone live on this website so far. They have a community of seven million people across the globe. This community, if tapped right, could give your event the boost it needs.
While free event listing website also comes with a lot of marketing tools. These can help you reach the right audience at a fee.
We recommend checking out their marketing plans which can be purchased separately. They can even help you with a website and app for your event!
D. Unstop

Formerly known as Dare2Compete, this free event listing website rose to fame with students as its target audience. Previously, you would find all sorts of college events listed on their website and app.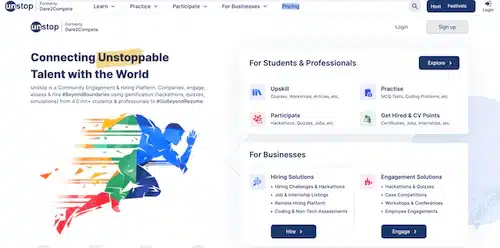 Currently, they've diversified this platform. They also include business events now. In fact, besides college events, this platform is now also suited for employee engagement events.

In their free plan, they allow up to three event listings per month. However, you can check out their paid plans for add-on services such as outreach and unlimited listings.

E. AllEvents

AllEvents, as the name suggests, is not limited to any one category of events. From educational events to food festivals, you will find all types of events here.
Posting an event here is as easy as creating a page. You just need to choose the ticket type and your payment gateway. The post then goes live on the website, with an audience base of six million.
There is no monthly fee to join this platform. You can post up to five events in the free plan. The paid plans vary from country to country. You can check them out for additional features.
There is, however, a ticketing fee for every ticket sold. Keep in mind that this doesn't apply to free events. They typically charge 0.5% of the ticket price or USD 1, whichever is higher in your case.
For transactions in Indian currency, the charge is a bit higher. It is 3% of the total ticket amount. However, you don't need to pay them from your end. You can let your attendees bear the additional cost.
In fact, besides event listing, they also extend customized marketing support.
Also, for the ones who don't have an in-house marketing team, they provide paid marketing campaigns tailored to your target audience. AllEvents gives all the paid ads, graphics, and content you need to get the best out of your investment.
F. MeraEvents

For events in India, this free event listing website is an amazing option. MeraEvents is suitable for events such as:
Concerts
Tours
Plays
Trade Fairs
Sporting Events
Conferences
Training Workshops
Seminars

It lets you easily list your event from the comfort of your home. All you have to do is upload details of your event and choose a ticket widget. On top of this, they even provide a ticketing service with their ticket widget.
For the fee, you only pay 2% service charge, 1.99% as payment gateway charge, and 18% as GST. These don't apply to events that are free for all.
G. Facebook Events

Facebook is a platform that needs no introduction. Creating a Facebook event is as easy is creating an account on the platform. The biggest advantage here is that your event gets exposure to an audience base of thirty-five million users.
However, this big number isn't always an advantage. Since seven hundred million people use Facebook events every month for their events, there's also immense competition.
But luckily, Facebook also offers a service called Facebook Ads. These ads can be used to advertise your events.
The free alternative to this is adding more co-hosts to your event page. Then, you and your co-hosts can invite people from your respective friends' lists and followers.
Lastly, don't forget to add a payment gateway or registration link for paid or exclusive events. There are a lot of such registration and ticketing services for events. One of the safest and most advanced tools out there is Ticket Generator.

H. LinkedIn Events

LinkedIn is a well-known platform for professional activities such as job seeking. But that's not all. It is also an excellent way to market events similar to seminars, workshops, and conferences.
You can simply create an event by clicking on the plus icon next to events. You will find the "Events" category in the left-most column of your homepage.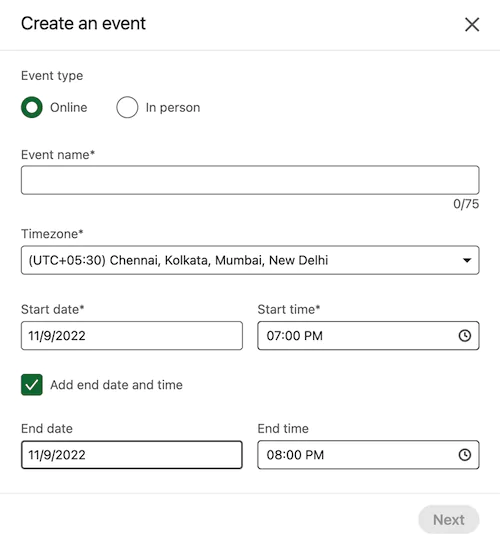 Posting a formal event here would present it to the kind of target audience you need. The advanced filters also allow attendees to reach out to you. Furthermore, LinkedIn also allows you to communicate with each attendee directly.
You also get to create event ad campaigns. But this comes with a cost. For organic discovery of your event, you can invite your connections.
Like Facebook, LinkedIn also doesn't provide a direct ticketing service. So, you will need another ticketing solution. Subsequently, you can attach a link for the same in your event details.
I. Paytm Insider

So far you've read about platforms that let you list, market, and ticket events. This one allows you to host them.
Yes, your next online conference can be hosted on this platform. In fact, you can even upload pre-recorded content for the event. During the event, you can interact with the audience through chat, poll, and Q&A sessions.
Note that this platform is available only in India. And it offers a wide array of event listings to choose from—really fun and happening ones to strictly formal ones.
For your offline events, you can share the details and the safety measures taken on-ground. You can then manage the guest list for the event.
Another important point here is commission. Paytm Insider will need you to pay a 10% commission for paid on-ground events under their regular pricing plan.
For digital events, the commission could be either 10% or INR 35 per ticket. It's decided based on the type of event.
The best thing here is that Paytm has a network of 10 million users across India. That means tour events gets a huge potential viewership.
J. Townscript
If you're looking for a global solution for your events, this one has many facilities. This website allows you to host events in more than 27 countries. Over hundred currencies are supported in their ticketing process.
Townscript helps you list your event, create customized registration forms, use a ticket sales widget, and 24×7 support. Your event page will be shareable to other social media using this platform.

As far as the fee per ticket sold is concerned, it varies across different countries and currencies. You can calculate the percentage on the website itself.

You also get faster money clearance (as fast as daily clearance) as compared to other platforms. However, this fast clearance practice doesn't apply to new organizers.

You can also communicate your specific requirements via email on [email protected].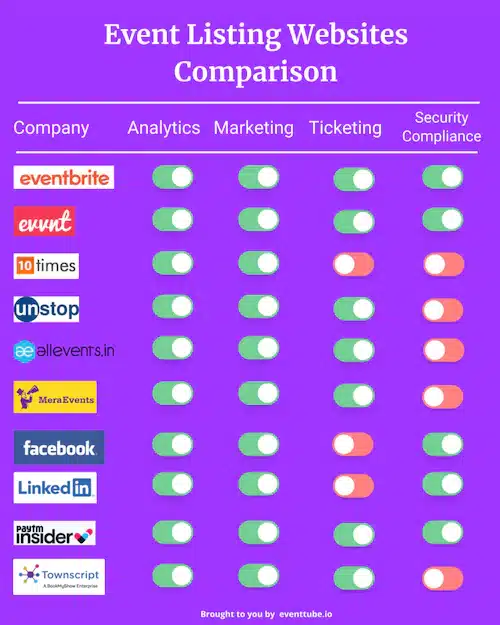 That's it. You have now seen many nationwide and global free event listing websites. The only costs incurred are mainly for paid tickets, payment gateways, and special services.
These do not only bring you different listing opportunities but also the features offered to boost your ticket sales.
With this information, we hope you choose the right platform to reach your audience. All the best on your event planning journey! Stay connected with the EventTube to take your event planning skills to the next level.