Sustainability in the event industry is the need of the hour. Events require a lot of resources that may sometimes have an impact on the environment.
While sustainability was a trend for a while, it is now a necessity. It may seem like an added effort, but sustainable event ideas are actually not that hard to execute.
You must get used to sustainability practices before they get compulsorily mandated by law. Use this article for guidance on how you can easily make your event eco-friendly.
A. Take the hybrid way
Hybrid events combine elements of virtual and offline (in-person) events. They provide both experiences based on what the attendees opt for. For example, someone staying abroad would like to attend the event virtually.
Now while this adds a few planning steps for the event, it also reduces the carbon footprint of many guests. And what's even better is that you don't have to pay for food, accommodation (if applicable), and physical security.
B. Is the venue green?
No, we don't mean a venue with lots of ornamental trees. We are talking about events that happen to have some sort of green certification.
You can also look out for their energy and water conservation practices. Also, look at their waste reduction practices.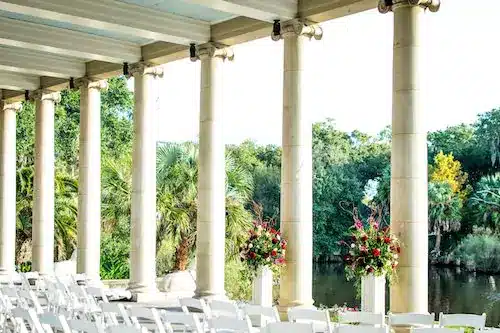 Lastly, make sure to enquire if the venue has a recycling and composting procedure in place.
C. What kind of venue are you looking at?
Did you know that by simply switching to an outdoor venue, you can help the environment?
You don't have to pay for lighting when the sun is doing its job. Just rely on the weather to meet the heating and cooling needs (which also saves a lot of energy).
And as far as money is concerned, you don't have to pay much for decor either. The green venue will do its job, it's pretty, to begin with!
Also, let's just admit, the green venue is on brand for your sustainable event ideas!
D. Sponsors for sustainable event ideas
One of the easiest ways to have a sustainable event is by onboarding a sustainable brand.
The best part is, you can find a way to incorporate them no matter what your personal brand is.
For example, you can have brands that create recycled cutlery and stationery as sponsors. Get them to collaborate in kind while exchanging brand promotions.
You won't get monetary benefits directly, but you'll save some money for sure. In addition, your audience will also get exposure to sustainable brands.
E. Know your vendors
Ask if your event vendors follow any ESG (environmental, social, and governance) initiatives. These initiatives refer to any steps being followed to reduce pollution, carbon emissions, deforestation, water wastage, etc.
Additionally, try to get locally sourced edibles for food and beverages. It will reduce the transportation carbon footprint as well as costs.
F. Sustainable event ideas for transportation
Hosting the event at a central location? Great! Let the attendees know all the eco-friendly (yet economical) ways to reach there. This may include shuttle, metro, or bus details.
This will motivate them to use public transportation over private vehicles.
If this is not possible, consider providing shuttle services from a common point. This will also reduce their carbon footprint to some extent. Your attendees will also appreciate spending lesser on traveling to the venue.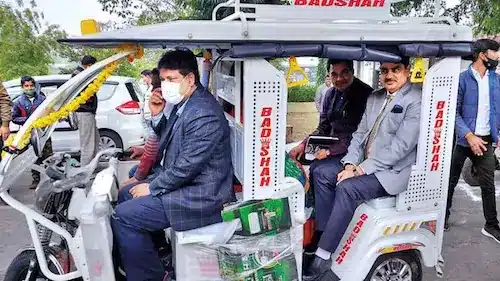 As a last resort, you can also incentivize carpooling by giving rewards in kind or as discounts.
G. What about water?
It has been observed that events often offer water in single-use plastic bottles. However, that's unnecessary. Why?
Because after including the cost of sellers and transporters, not much margin is left in bottled water anyway.
You can rather use water dispensers for the guests to refill their glasses (or own water bottles). We're sure they'll appreciate your sustainable event ideas as well as the free water!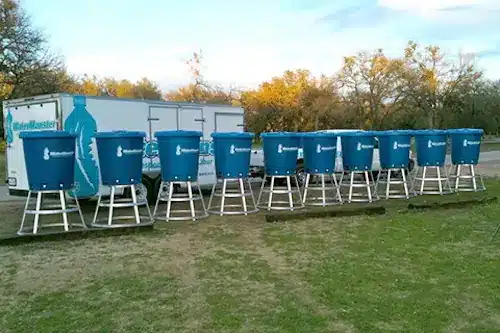 PS: You can even leverage those water coolers or dispensers to promote your branding. Consider it more of an ad space with lots of engagement!
H. Ditch print for digital
Do you remember those huge flex/vinyl banners at events?
Wait, are you still using those?
Stop! Not only are they horrible for reusing, but they're also a pain to recycle.
It's time you invest in digital banners. They help you upload new posters for each event and change them during the event too.
Sounds expensive? Well, it's not. How?
Think about the recurring printing costs you save by not printing posters for every new event.
You can even have 3D mapping or projections as the posters. See what fits your budget and go for it!
I. Sustainable event ideas for cutlery
For small-scale events, consider using china vessels.
But, for larger events, you can get creative by getting biodegradable cutlery instead. They not only look great but are also great for the environment. They are made using materials like starch, plants, corn oil, and orange peels.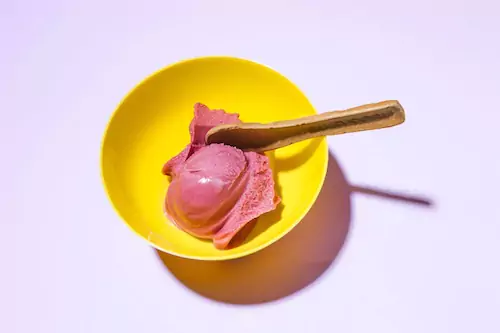 In fact, this industry has got even more creative and invented edible cutlery. This will be a hit amongst the attendees!
J. Food wastage
What do you think happens to the food that doesn't get eaten at events?
They reach the landfill. But wait, you already know that. However, what you don't know is that landfills have very less oxygen. And in that low-oxygen environment, the food waste produces methane gas. This then contributes to global warming.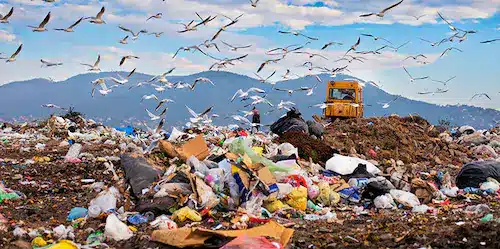 So, what do you do in this case?
For small events, you can enquire about your attendees' dietary requirements in advance. You can also operate on a strict RSVP. Here's an excellent tool to do that.
You should also try to opt for boxed meals. Buffets often create unnecessary food waste.
It has also been recommended that for buffets, you should under-cater between 10-20%. People usually don't want exceptionally big meals except for personal events like weddings. In public events, people rather focus on engaging, and too much food only slows them down.
K. Are you marketing sustainably?
Stop producing waste in the form of brochures, flyers, and banners! You don't need them anyway.
Shift to online or social media marketing. Use this event marketing strategy instead of the age-old ways.
However, if you must use print media. Go for biodegradable materials such as cotton lanyards or cornstarch-based plastics instead. You can also print a QR code on them to reduce the usage of ink and engage your audience at the same time. With this QR code, you'll be able to gather user insights as well.
L. Teach them
This idea is not even half as boring as the subheading sounds. All you need to do is dedicate a few minutes of your event to an expert-led interactive workshop.
It can be on topics such as renewable energy or eco-friendly living. Your attendees may have come for other reasons, but they'll go home with another valuable lesson.
If such a workshop is not possible, you can simply highlight your green initiatives. This will not only be an eye-opener to your audience but also improve your credibility.
If talking about it isn't possible either, have sustainability messages on posters across the venue. They can be about proper disposal practices, digital alternatives to waste, plantation, traveling responsibly, and more!
At least, you can end the event with a sustainability pledge with your audience.
M. Trash cans but better
Every event has trash cans. But with sustainable event ideas, you must label them too.
Have different trash cans for wet waste and dry waste. Label clearly what kind of waste can go into either of the cans.
You can later send the wet waste for composting and the dry waste can be recycled.
N. Using electronics responsibly
Go for energy-efficient lighting like LEDs to save energy. In fact, there's more to them. They even provide brighter and more consistent lighting.
Also, keep an eye on electronics to ensure only the ones that are needed are switched on. Switch them off when not needed.
You can also try renting venues that use solar energy.

O. Live cooking
This isn't just another sustainable event idea, but also the one that makes events more exciting.
Common event foods like noodles and chaat items can be prepared in front of the attendees. You'll need cooking stations, chefs, and a token system for this method to work efficiently.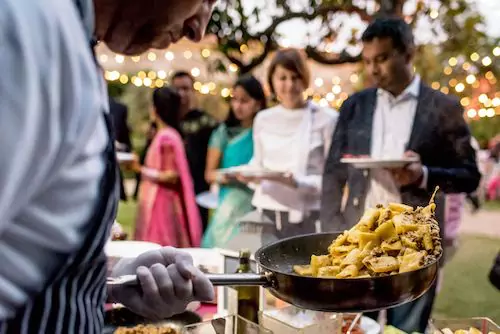 It will ensure that only the food that is required gets cooked. This will reduce food wastage and also provide an engaging experience for the audience.
What sustainable event practices are you already following? Do comment below.
And if you found something new and of value in this article, do sign up for our weekly newsletter to stay up to date with the event industry.
Let's all do our bit to keep the environment clean and green. Happy event planning!