What are public events other than a big headache? Hard to say.
We're kidding.
Large-scale public events are what unite us. They help us provide attendees with unforgettable experiences. If executed well, it can also be a place where friendships and relationships bloom.
But that's the catch. Organizing public events is nowhere close to cakewalk.
That's why we've written this article to help you as much as we can with the process.
You'll get an overview of what are public events and how to organize them.
Additionally, we've also linked guides specific to each type of public event.

A. What are public events? Examples of public events you can organize
These festival events are open to all and require a lot of planning. Security and logistics play a huge role due to the scale of the event.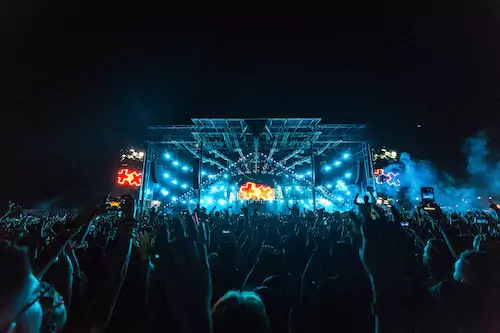 Let's look at some of the broad types of festival events:
Concerts and music festivals have live music performances. Some of the larger ones even have a lineup of artists. While there are some local concerts and fests, there are also some global ones like Coachella and Lollapalooza. These are very sought after and people come from around the world to attend
Cultural and heritage festivals like Mount Abu Winter Festival also exist. They are there to celebrate the culture and heritage of specific communities and regions. Traditional music, dance, and art play a central role in these events
Food festivals are loved across the world. In fact, beverage festivals like Oktoberfest are also becoming popular. They highlight certain cuisines, ingredients, and food trends. You learn how to plan food festivals and events here
Sports events might seem like a whole different category altogether. But, they share similar characteristics like being open to the public to attend. Sports events don't just vary based on the sport, but also the scale. They can be local games to international tournaments like the Olympics and FIFA World Cup
Pop-Up Events catch up on the latest trends and create an event out of it. They are usually not recurring events and thus, come with a lot of excitement. Sometimes, they might seem a bit random. But, they're there to promote a product, service, or concept. For example, a Sushi masterclass to promote a new restaurant or a Sneaker Festival to promote a brand
Fashion shows are pretty self-explanatory. They showcase clothing, accessories, and design trends. There are local fashion shows but also some high-profile fashion weeks that can take up to a year of planning
Book fairs and literary events are also loved by people. The wide selection and the amazing discounts lure huge crowds. For example, the annual book fair in Delhi comes with a lot of excitement and anticipation. Book launch events also fall into this category
Film and theater festivals are also popular amongst the cinephiles. They showcase films, plays, and theatrical performances. They're not just a platform for filmmakers and artists, but also for audiences to enjoy this art
Art festivals feature artists, artisans, and crafters with their pieces of art. While the artists get to sell their creations, the attendees get to enjoy their work and purchase if possible
Exhibitions and trade shows also occur around the year. Their audiences are businesses, organizations, and consumers. Usually, they cater to a specific product or industry. For example, a food technology trade show or automobile exhibition
Carnivals and fairs are some of the most loved festival events and planning them gets simpler over time. For example, this fair offers lots of rides and games. But, they have a fixed set of vendors for everything that helps them build a scalable carnival event model
B. How to organize a public event?
We've broken down the entire organizing process into phases.
Here, we'll be telling you the steps to organize a public event in four stages.
They are:
Planning Phase
Pre-Event
Event Execution
Post-Event Duties
The planning phase requires a lot of meticulous research. You will have to:
Define the goals of the event. For example, define if you're doing an event to promote certain brands or to raise funds. Later on, this will also help you measure the success of the event
Large-scale public events come in a lot of types. However, there's still competition. So, you will need to come up with interesting event concepts and themes every time. Keep up with the trends and what your target audience likes
Determine the budget for the event early on and don't forget to leave some funds untouched. In large-scale public events, expenses tend to pile up on an everyday basis. Use this event budgeting guide for your next event
Carefully select the venue based on the capacity, location, accessibility, and more. To know how you should be selecting the venue, read the article on wedding venues. The article is organized and categorized in a way that'll help you make informed decisions
Finalize the date and time based on your market research and vendor/venue availability
Now, you can move to the vendor bit. This will be the longest and most tedious part so be ready. Start with categories such as catering, AV equipment, decor, and security
In the pre-event phase, you'll be concerned with the following tasks:
Create a layout for the whole event. From knowing all the entries, exits, and booths, you should have the event map handy. This will also include stages and seating
You'll need a solid event marketing strategy. What are public events without a massive following? Create a buzz, you'll need that anticipation to sell tickets
Work on all the logistics by creating extremely detailed event schedules
Do risk assessment by identifying potential risks that may occur before, during, and after the event. Have contingency plans to battle each of them
Event execution will happen in the 24 hours before and during the event. Here's what you'll need to do:
Set up the event venue with the furniture and decor. It should be according to the venue layout and theme that was previously decided
Do the technical setup with the audiovisual system, lighting, and other requirements
Coordinate with the vendors to see everything is set to sail during the event
Make sure your volunteers and staff are fully trained by this point. They should be clear about their roles and responsibilities
During the event, manage the on-the-spot ticketing process if you have one. Additionally, you'll not authorize the entry of people with valid tickets
Throughout the event, you will have to ensure everything is running smoothly and as per plan. You'll have to be available throughout as challenges can come up anytime
Your work isn't over yet. Here are your post-event duties:
Review your expenses and do a final revision of your budget
Make and receive all the payments
Send thank you notes and gifts to sponsors, vendors, volunteers, and event attendees if possible
If you're working with an in-house team then do a debriefing session. Here, you will ponder over what was done well and what could be improved
Get feedback from your attendees. Then, you must qualitatively assess the success of your event
Note that these are the general practices while organizing a large-scale event. Event planning steps will vary based on what your chosen type of public events are.
C. Venues to choose for public events
Since there are many types of public events, you have lots of options to consider while choosing a venue.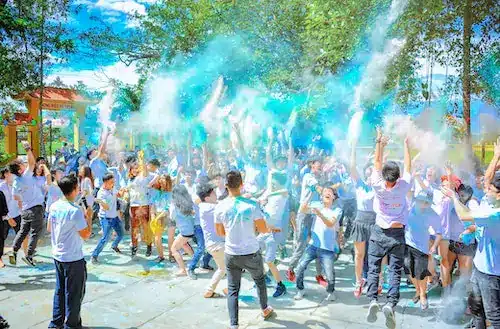 Broadly speaking, these are the possible types of events for large-scale public events:
1. Stadiums and sports arenas
These are famous for concerts, entertainment events, and even sports events. They have large capacities suitable for massive crowds.
Some famous examples in India are DY Patil Stadium (Mumbai), Eden Gardens (Kolkata), and Jawaharlal Nehru Stadium (New Delhi).
2. Convention centres
They are ideal for exhibitions, trade shows, and large-scale corporate or educational events.
Usually, they have versatile spaces with a lot of facilities.
Some famous convention centers in India are India Expo Centre and Mart (Greater Noida), Chennai Trade Centre (Chennai), and Bombay Convention & Exhibition Centre (Mumbai).
3. Historical sites
These make for unique event venues.
Event planners usually pick these for themed galas and cultural festivals.
The backdrops and environment with such venues are unmatched.
Some famous examples are: City Palace (Jaipur), Qutub Minar Complex (New Delhi), and Choki Dhani (Jaipur)
4. Hotels and resorts
The event venues are easiest to work with if you're new to organizing large-scale public events.
This is because they don't just offer a space but lots of services like accommodation and catering.
These are ideal if you're looking for a medium-large event space. You'll also get a lot of luxury options.
Some good examples are: The Leela Palace (Bengaluru), Grand Hyatt (Mumbai), and ITC Grand Chola (Chennai)
5. Parks
Open-air venues like Nehru Park (New Delhi), Cubbon Park (Bengaluru), and Lumbini Park (Hyderabad) are also great options.
They'll require permission from the local governing authorities but they definitely provide a relaxed venue.
These spaces are often chosen for cultural and music festivals. You can even use it to host some small-scale public events.
6. Exhibition halls and pavilions
These spaces are largely used for trade fairs, product launches, and expos.
Some famous examples include: Pragati Maidan (New Delhi), HITEX Exhibition Centre (Hyderabad), and BIEC Bengaluru International Exhibition Centre (Bengaluru)
D. Trending themes for your public events
Yes, planning public events is hard. But, what's even harder is distinguishing yourself from other events.
Themes play a big role. It's the fastest way to set yourself apart from people organizing similar events.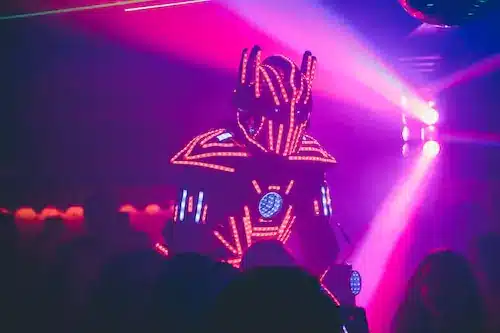 Here are some unique ideas and themes for your next event:
1. Movie night
Movie nights in outdoor spaces are still relatively a new experience. People are currently willing to pay big bucks for this experience.
Hop on this trend and incorporate it in your events before this becomes an overrated thing.
Ask your attendees to bring blankets and food to enjoy the movies under the stars.
2. Interactive installations
The Van Gogh Exhibition was groundbreaking its 360-degree art installation.
Event planners now need to focus on engaging as many senses as possible. This will include visuals, sounds, smells, and textures all at the same time.
Incorporating more senses means you'd be creating an even more unforgettable event experience.
3. Virtual reality
Incorporate the latest tech advancements in your event. This includes virtual reality (VR) and augmented reality (AR) technology.
This will help you create more immersive experiences for attendees.
4. Hot air balloons
Inspired by the American hot air balloon festivals, this also makes for a stunning experience.
This event theme should include balloon rides, and glow-in-the-night goodies, along with entertainment in the dark.
5. Glow-in-the-dark
Currently, the neon experience is limited to spaces like clubs.
But, it's even more mesmerizing and engaging when done in large-scale events.
However, you'll need a good night security system to go ahead with this idea.
E. How to plan successful public events
Now, you know the steps and have a few good ideas to begin with. But, knowing what are public events and how to plan them is not enough.
You're also striving for success. So, here are some tips you must incorporate in your event planning:
Use predictive analytics to know what your attendees seek in your event. You can do this by analyzing data from previous events or through social media surveys
During the event, you must install wayfinding solutions for attendees. You can do this through an app, map, or even help desks at the event
Make your event sustainable by lowering your energy consumption and managing waste properly. You will find more tips and ways in the linked article
Try to make the event experience hybrid so that people can enjoy your event digitally too
Make sure you have a team member with a good hold over behavioral psychology. This will help you design better event layouts and increase positive attendee interactions
Enhance your event security with biometric event access
Give your attendees opportunities to create live content at the event. This could include a 360-degree rotating camera or photobooths
Make your event experience multi-sensory by incorporating elements of scent, touch, and taste
Focus on making your event more inclusive. This could be through measures to make the event more accessible for the specially-abled
F. How to plan a concert
Concerts are loved by attendees all over the world.
However, it is more than just booking the band/singer for the event.
Event security also plays a huge role here as crowds tend to get unruly.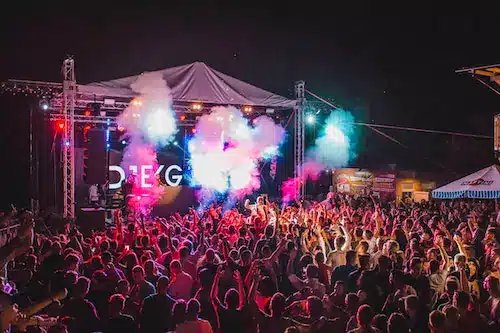 If you're looking for your big break in the concert industry, here's how you can get your own Sunburn franchise.
Next up, we want to tell you about how you can organize successful fashion shows. Comment below if you'd like that article.
Aside from that, we hope we were able to tell you what are public events and how to crack them. There are lots of nitty gritties that can't be covered in just one article.
So, sign up for our newsletter below to get the tips and resources nobody else will give you.
Happy event planning!