Who hasn't heard of a Sunburn event happening in the country?
An electronic dance music (EDM) festival that started in Goa in 2007 has now become a household name for all party animals.
People even compare it to Tomorrowland and Coachella that take place abroad. In fact, Sunburn has bagged many awards such as Best Music Festival, Entertainment Event of the Year, and Asia's No.1 Live Experience Fest.
With a lot of popular artists who have performed at the festival, here are some most noteworthy ones:

Dimitri Vegas
Axwell
Swedish House Mafia
Avicci
Hardwell
Alan Walker
Martin Garrix
David Guetta
Afrojack
Kygo
So it's not just the awards but the artists too who have brought Sunburn its fame and reputation. No wonder why party-goers across the globe eagerly wait for Sunburn to arrive with something new! While attending this event is fun, organizing it can be enthusing too!
Yes, you can become a part of the Sunburn event management team. And you can even run an event for them. That's right! Sunburn allows event managers to collaborate and work under their wing for events! Read this article to find out how.
A. Where did it all begin?
It first started in 2007 at Goa's Vagator beach in the month of December. Year after year, they kept launching a banger event for all EDM lovers.
They succeeded despite the language barriers that exist in India. But it's easier said than done in a geography where the language and dialect change every 100 km.
That's where EDM came to the rescue. Not sure what it is?
EDM is electronically produced music that has no words. So, people from all backgrounds, states, and tastes could enjoy this piece of creativity.
With slow growth in the first decade, it managed to capture the nightlife market. It is now the largest party that takes place in the country.
Starting in the evening, it ends late in the night (with an after party of course!). That's the aura of Sunburn events. No wonder why many of us have our calendars blocked in December.
B. What exactly is 'Sunburn'?
Sunburn isn't just another event or party. With the creative concept of music, their event management operations are impressive too!
They manage ticketing, sales, promotion, artist, venue, cashflow, and finances themselves. It is actually an intellectual property owned by Percept Company.
In fact, Percept has more intellectual properties such as Bollyboom. It is a concoction of live bollywood music and EDM.
C. Does Sunburn really collaborate for events?
"We do over 250 events every year, it is not possible for our team to do so many events", said Karan Singh, CEO, Sunburn in a 2020 interview.
So what Sunburn does is—they collaborate with event managers. They license out the events and make sure everything is in sync with their format. Afterall, they desire consistency across Sunburn events.
But what if you're not a well-established event manager with lots of contacts? Fret not!
They also collaborate with colleges and promoters to expand their intellectual property.
To know how you can collaborate, you must understand the model of 'Sunburn' to find the best suited way of collaboration.
D. Subsets of Sunburn

Based on the subsets, there are multiple ways you can team up with Sunburn.
1. Sunburn Festival
This is undoubtedly the most famous subset. It is the reason why Sunburn is what it is today. This was their flagship event that ranked amongst the top music festivals in the world.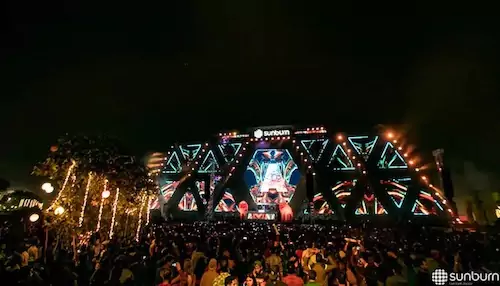 It is a three day long event that usually takes place in Goa in December every year. It has a lineup of well-known International and Indian artists along with other entertainments.
On top of that, they also have top-notch sponsors such as Renault, Budweiser, Micromax, and Hero. It is a big driving force behind India's music tourism.
While it is pretty established, they are still looking for new ways to expand. For example, in 2017, they let go of their Sunburn Hills concept in Goa and picked Pune as their venue.
So if you're keen on bringing Sunburn to your city, this is your key to be part of Sunburn event management through your existing resources. You could definitely leverage your access to a particular space for a concert as well as other management staff.
2. Sunburn Arena
It's for the ones who love going to events for the artist in particular. For example, Alan Walker was invited to a Sunburn Arena event earlier in 2022.
This brand format attracts people through the big international artists. They are usually conducted in tier-1 metro cities.
Some of the artists they've had before include Wiz Khalifa, Martin Garrix, and Afrojack. These single-artist shows draw a large crowd.
3. Sunburn Reload
Reloads are club gigs for locations where the nightlife and EDM culture is yet to grow. They mostly feature domestic artists and are conducted on a lower scale. These take place in tier-2 and tier-3 cities.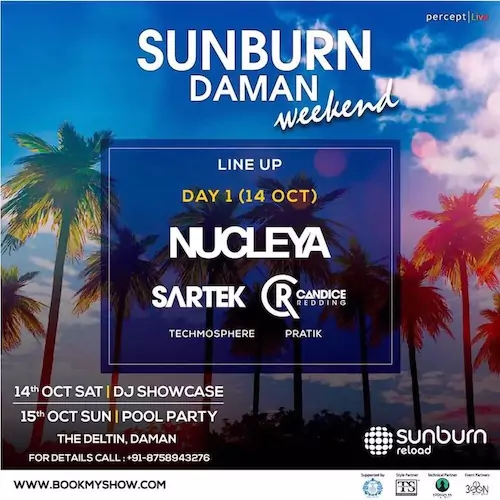 As an event manager, this subset of Sunburn would be a good way to start your collaboration journey with Sunburn.
4. Sunburn Campus
This is another way of Sunburn in which the company manages to capture the students. They do it by taking over leading college festivals and organizing Sunburn events there.
They've worked with colleges such as the various IITs, IIMs and AIIMs. They're now expanding and reaching out to smaller colleges as well.
If you're an ambitious student or budding event manager, you're reading the right article. This subset would be an excellent way for you to be part of Sunburn event management.

5. Sunburn Select
This one caters to what we call an 'elite' crowd. For those, not looking for overly crowded events with a Coachella-like environment, this is to watch out for. It was doing especially well post-pandemic with all the social distancing rules in place.
These took place in curated rooftop clubs with a limited guestlist and scenic views. This was a way to ease people back into the pre-covid partylife.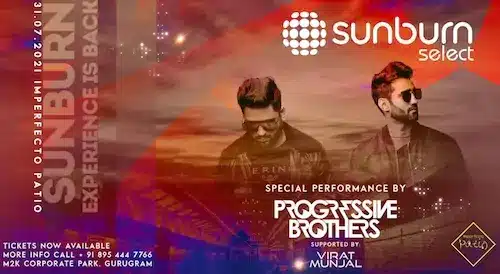 This subset is for those looking for an exclusive event with a limited target audience. This could be your key to be part of Sunburn event management.
6. Sunburn City Festivals
City Festivals give you the opportunity to bring Sunburn to your city. These are similar to the main festival but they take place in new cities.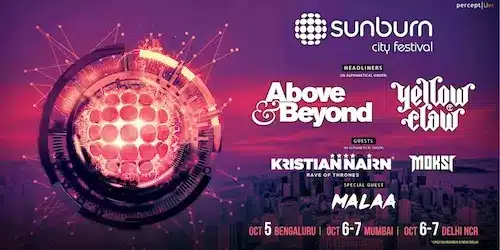 It lasts one or two days based on the lineup. It is supposed to replicate the flagship event that takes place in Goa every year, but on a smaller scale.
This subset also aims to make the Sunburn experience more affordable for the Indian masses as not even everyone can afford a Goa trip.
E. How do I prepare my proposal for Sunburn event management?
Here's the part you've been waiting for—how to become a part of Sunburn event management?
First, decide on which subset of Sunburn you'd want to collaborate with. Depending on your vision, location, and resources, you can take the call.
Before that, make sure your 4 P's of Marketing are in check.
1. Product
Keep in mind exactly who your audience is. Have some data to support it and then come up with the festival idea
For example, for an event in Jharkhand, see which artist has a booming fanbase in the city.
You can even collect data via poll to see if people would be willing to pay to see that artist's event.
2. Place
The venue you select must be accessible to people. It should also be functionally ideal for the kind of event you have in mind. For example, if you want to conduct the show in Uttarakhand, there must be a ground or hall that can hold a huge crowd
3. Price
Make sure you run the cost-benefit analysis. Know your numbers before you reach out to Sunburn. Of course, a lot is bound to change once the Sunburn event management team gets in touch with you
To increase your chances of making it through, don't be ill-prepared on cost and price. Here's a tip—be aware of the buying power of your target audience. It'll help you price the tickets accordingly
4. Promotion
The Sunburn team, with its large brand establishment will definitely help you. But if you have unique ideas for event promotion, jot them down. For example, if print media does better than social media in your region, do plan some unique print media ads
After preparing your proposal, you can start drafting your email. We have covered where to send this proposal in the next segment of this article.
F. How do I contact the Sunburn event management team?
You can take the route everyone takes by sending an email through their Contact Us page.
A better option would be to reach out to the CEO and the management directly. We have listed the email addresses below.
Karan Singh, CEO: [email protected]
Sunburn Team: [email protected], [email protected]
Try all the ways to contact them and your email will be directed to the person in-charge.
We hope you found this article helpful. We wish you all the best in your journey to become a part of the Sunburn event management team. Do sign up for our newsletter to keep up with news from the event industry.