We call it the best wedding planning guide because we are here as a friend today. We won't tell you the steps. You won't be asked to do this and then that. Rather, we have jotted down where wedding planners struggle.
Through this article, we will guide you through the hardest steps of wedding planning. With this, we want to equip you with all that you need.
If that's not what you're looking for, you can find step-by-step guides for each question answered below.
Now, let's start.
A. What is the difference between Indian and Western weddings?
Indian weddings are a lot more elaborate than Western weddings. A typical Indian wedding involves more than 2-3 days of events. For example, they have Mehndi, Sangeet, and Haldi. All wedding events are deeply ritualistic and hence, time-consuming.
On the other hand, Western weddings are usually a one-day event. They focus on the main wedding ceremony and very few pre-wedding events.
At Indian weddings, you can expect hundreds if not thousands of guests. It requires a lot of money and coordination. However, Western weddings are typically on a smaller scale. They offer a more intimate and personalized experience.
Another major difference lies in the wedding decor. As you can expect, Indian weddings call for vibrant maximalist decor. Whereas, Western weddings have white as the dominating color. They take up a comparatively minimalist style.
Understanding these distinctions is important if you're a wedding planner.
Since we claim to be the best wedding planning guide, here are some bonus resources:
B. What is an intimate wedding?
Intimate weddings are small-scale and private events. They typically include a simple wedding ceremony and a reception. The guests are typically fewer than 50. However, the headcount varies from culture to culture.
Couples are increasingly going for this type of wedding to cherish memories with their closest ones. It's good for cost-cutting and creating meaningful experiences.
The best part about intimate weddings is the degree of personalization. With a smaller guest count, you get a lot of liberty. You can customize their gifts or their experiences. For example, each guest can get a one-day vacation to a nearby resort as a gift. Or to keep it simple and inexpensive, each guest could receive a handwritten note.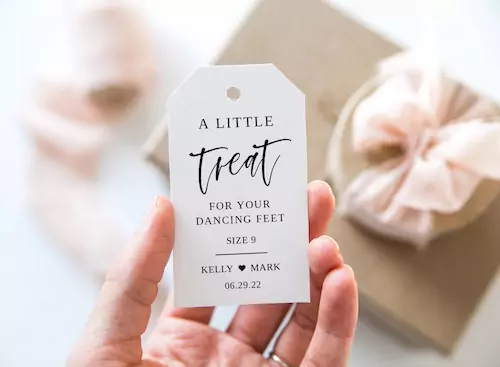 However, the most important step in planning an intimate wedding is venue selection. You need a charming venue that's perfect for your guest size.
From planning the guest list to the wedding events, here's a full guide to planning intimate weddings. You'll find the A-Z for this type of wedding planning if you click on the article.
C. What is a metaverse marriage?
Here's an unexpected one on the list, isn't it?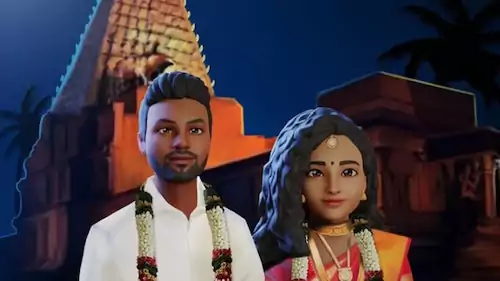 Well, that's why it's the best wedding planning guide. Metaverse weddings are so underrated.
And this is the best time to plan one as not many are doing it. You'll get fame overnight if you pull it off.
But first, you need to know what metaverse weddings are. They're virtual wedding ceremonies that take place in a digital environment.
Even though it's virtual, guests attend the wedding as avatars. They interact and enjoy perks like they would at a real wedding. Of course, it comes with creative twists. For example, instead of an actual buffet, they can get food coupons to be used online.
It's not impersonal. Rather, it's a very futuristic immersive experience.
If we've managed to get to you like the idea, here's how to organize metaverse weddings.
It's really not as difficult as it sounds. You'd definitely want to pitch it to your tech-savvy clients.
D. How do I find a theme for my wedding?
Some clients will come knowing exactly what you want. That's an event planner's dream.
But sometimes you've to do the hard work. And your client also has to like that hard work.
This step is a bit tricky as the wedding planner would be required to understand the client deeply. Start by asking them about their personalities, aesthetic sense, interests, and core memories together.
Then, you might also research all the trending wedding themes. In this age and date, everyone is influenced by social media. So, chances are that your couple will be accepting of trendy ideas.
Even within trending or traditional ideas, you should have a degree of personalization. To illustrate, if your theme is "college" then recreate the college setup of the couple. This is how you personalize wedding themes.
And thus, it becomes essential you put in time and effort to understand your clients. Your wedding theme must evoke emotions. It should tell stories.
Select a venue that supports the theme the best. Your clients will thank you for the rest of their lives.
E. How to choose a wedding venue in India?
There are a ton of things you need to consider while selecting a wedding venue. For example:
Capacity
Services
Charges
Proximity
Reviews
And, you're in luck if you're a wedding planner in Delhi, India.
We have a list of the best wedding venues in Delhi-NCR.
If these fall out of your budget, here's a curation of the most affordable wedding venues in Delhi-NCR.
And no, we don't just name them. Since it's the best wedding planning guide, you get all the specifications for each venue. We did the research for you!
If you'd like us to cover more cities, do comment below!
F. How do I keep track of my wedding vendors?
Wedding vendors can make things very fussy. Coordinating with so many people along with difficult event clients isn't easy.
Here are some pro tips for dealing with clients.
Your contract will be the backbone of your professional relationship. Get a formal written contract that's very comprehensive. It should outline the following:
Responsibilities
Deliverables
Payment schedule
Cancellation policies
Any additional terms specific to the event requirements
Don't shy away from long paperwork.
You also need to divide your budget early amongst different vendors. Do this in the initial steps to avoid overspending.
It's also a good idea to reach out to as many vendors as possible. Get all the options in place and then make an informed decision.
Lastly, remember that you hire vendors that promptly respond. You need good chemistry, even though it's all professional.
At the event of the event, you must communicate your gratitude. This will lead to lasting professional relationships. This means—better discounts in future!
However, this is just about vendor management.
An important question remains. And that is—
Which vendors do I need?
To get the answer, head to this article which has an event vendor checklist.
G. How expensive is it to get married?
Now let's address the elephant in the room. How much is it going to cost you to have a wedding?
Well, it really depends on the country. Here are some projections:
Indian wedding costs
Small-scale wedding: INR 5,00,000 to INR 10,00,000
Mid-size wedding: INR 15,00,000 to INR 30,00,000
Lavish wedding: INR 50,00,000 and above
American wedding costs
Small-scale wedding: USD 5,000 to USD 15,000
Mid-size wedding: USD 20,000 to USD 40,000
Lavish wedding: USD 50,000 and above
British wedding costs
Small-scale wedding: GBP 5,000 to GBP 15,000
Mid-size wedding: GBP 20,000 to GBP 40,000
Lavish wedding: GBP 50,000 and above

However, do keep in mind that these costs are subject to change with inflation and your preferences.
But if you're just starting out, these projections should give you a direction. And if you do not like where it is taking you, you're in need of the best event budgeting guide.
H. How much will a destination wedding cost?
Couples that want to go the extra mile, can enjoy their wedding with all honeymoon-y vibes. However, it comes at a cost.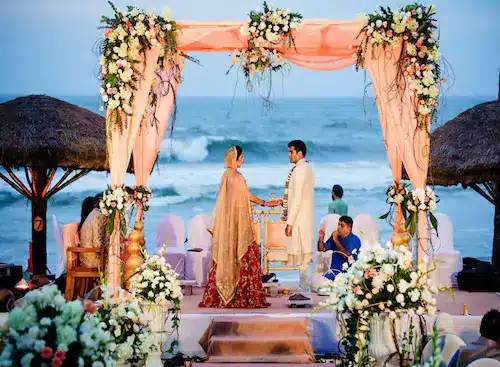 To give you a fair idea, here are some approximations:

A destination wedding in India will cost you:
Small-scale wedding: INR 20,00,000 to INR 50,00,000
Mid-size wedding: INR 50,00,000 to INR 1,00,00,000
Lavish wedding: INR 1,00,00,000 and above
If you want to have a destination wedding abroad, you can expect these expenses:
Small-scale wedding: USD 15,000 to USD 30,000
Mid-size wedding: USD 30,000 to USD 100,000
Lavish wedding: USD 100,000 and above
However, you'll know the real costs only after knowing all the requirements. The costs will also significantly change based on how many guests you have.
I. How do you prepare for a bachelor party?
Well, this isn't what the wedding planning guide tells you. But, it's definitely what modern clients ask of a wedding planner.
So, the best wedding planning guide delivers again with what other guides don't.
For the first step, get comfortable with the groom. We're not talking about the "favorite color" level of comfort. We mean the other kind of preferences!
Then, after the deep intellectual conversations (if you know, you know!), It's time to set the budget. You can consult the groom's friends about the budget since they typically pay.

Finalize the date as per the comfort of the friend circle and arrange for transport and accommodation. Create an itinerary with lots of options to create an illusion of "spontaneity".
Typical activities in a bachelor's party include:
Outdoor sports like camping
Partying in exclusive clubs
Themed parties
Gaming
Groom's interests
Give them prior notice about the possible overhead costs. You wouldn't want to take guarantee of their financial decisions under the influence.
However, you might want to hire a photographer for particular events during the party. You want the boys to be able to remember the amazing event you planned.
Lastly, a great event planner will also give surprises. Keep a few elements of the bachelor's party a surprise so everyone can enjoy it.
J. How do you plan pre-wedding events?
Let's cover all the pre-wedding events briefly:
An engagement party will be organized to announce the couple's upcoming wedding to their friends and families
A bridal shower takes place where the bride receives gifts and wishes before the wedding
Couple shower, as the name suggests, is the same as above but for both the bride and the groom
Both bride and groom enjoy a night/weekend of fun in their bachelor/ette parties. It is typically organized by their friends
In the Indian context, Mehndi/Sangeet ceremonies take place. Here henna is applied to the bride's hands. The guests come together to sing and dance
A rehearsal dinner takes place in the Western context. Families and the couple enjoy a relaxed dinner at this event
Wedding reception (covered in detail in the next segment)
As a wedding planner, you must also be dedicated to these pre-wedding events. They create excitement as days lead up to the big day.
K. What should be done for a wedding reception?
A wedding reception is sometimes even bigger than the wedding itself. It's mainly a food event. So, it's easier to accommodate more guests as compared to the wedding,
Even though it's not the main wedding event, you still have to strive for a welcoming ambiance. In wedding receptions, everyone is invited. From acquaintances to the closest ones. Everyone must feel welcome.
You can do this by placing staff specifically required to welcome guests. This goes without saying but your staff must be extremely courteous. The seating arrangement must be comfortable and sufficient.
Then, we move on to creating a memorable experience. Food is something you can't compromise on. Besides the menu, focus on having a smooth dining experience. Make sure everything is on time. Everyone should go home with happy and full tummies.
Moving on to things that are not about food. Now, it's time to focus on giving your attendees photo opportunities. Look at the examples below to get inspired.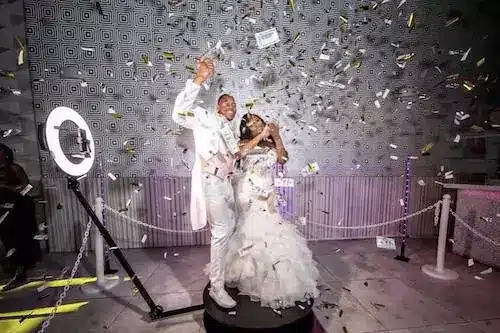 While doing all of this, you also need to ensure that the couple gets all the attention. Make sure they get a grand entry and proper introduction.
Allow for photo opportunities next to the couple as well.
If you want to go the extra mile, you can have a grand couple farewell moment too.
How do you entertain kids at an event?
Here's another lingering question that only the best wedding planning guide answers.
Weddings are events that adults best enjoy. However, those adults may also come with a tiny little plus one.
To ensure that the adults have an enjoyable gala event, you need to keep the little ones busy.
You can engage kids at a wedding event with the following ideas:
Set up an arts and crafts station with coloring books and crayons. Make sure there's someone to monitor their activities
There can be a dedicated room just for children with toys, puzzles, and bean bags (kids love bean bags!)
Everyone enjoys food at the wedding so why shouldn't children? Have a kid's menu and a separate dining area. Make them busy with mouths full of mac and cheese
Hire babysitters or childcare professionals to ensure the safety of the children
Take the load off of parents and get entertainers like puppeteers, magicians, and jokers
Rent outdoor play area equipment such as a trampoline and bouncy house
Have a quiet room for the kids to nap or rest, especially infants
L. How can I get marriage license in India?
To be eligible for a marriage certificate, the groom needs to be above 21 years of age, and the bride, 18. In addition, they must also be mentally and physically in a state to give consent for marriage.
Keep the following documents handy when you go to the marriage registration office:
Identity Proof (Aadhar Card, Passport, Voter ID, etc.) of both partners
Address Proof (Aadhar Card, Passport, Utility Bill, etc.) of both partners
Passport-sized photographs of both partners
Marriage invitation card (if available)
Date of Birth proof of both partners (birth certificate or school leaving certificate)
And remember, you can't go to any random marriage registrar's office. You will need to find one where either the groom or spouse has resided for at least six months.
When you reach there, you will need to fill out the application and provide the above-mentioned documents.
The bride and groom each need a witness when they're registering the marriage.
The couple may also undergo an interview process to confirm their identity and consent.
You'll then be asked to pay a fee. We can't give you a fixed number here as it varies from state to state.
The process may take a few days or weeks. You may also need to visit the office more than once.
For our international readers, find your marriage license guidelines here.
Now you're all set to begin wedding planning.
As promised by the best wedding planning guide, we've tried to answer every question that others don't.
We've also linked all resources for the more basic techniques.
If there's still something that hasn't been talked about, open the conversation in the comments!
Don't forget to sign up for our exclusive event planning community in the footer below.
Happy wedding planning to you!