Weddings mark one of the happiest events of your life. But it comes with a lot of planning, hard work, and exhaustion too.
As someone who needs to plan the wedding, there's always so much to watch out for. From venue booking and catering to planning return gifts for the guests, you have a lot to look after.
And amidst this 'too much', there's always a thing or two that tends to slip our mind. So you're looking for a checklist to help you keep a tab of the most important thing to be planned—wedding vendors.
While you can prepare, organize, and learn things on the go, a checklist would save your effort and time.
This article will give a detailed account of the wedding vendor checklist to plan the big day. Let's get started.
A. Venue Vendors

The venue is perhaps the most costly affair of the entire wedding. So you must think it through before you go ahead and book one.
Wedding venues can be booked as early as a year before the actual event. In fact, the earlier, the better. Why? Because it not only gives you ample time to put other things in order but may also get you a discount on booking.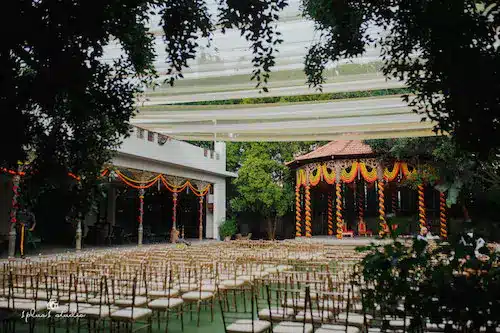 There are many things you should consider before you finalize the venue. Here are some of them:
Budget – Are you looking for an affordable venue or an expensive coveted venue?
The space required for the number of guests
The venue type–indoor, outdoor, banquet, hotel, farmhouse, poolside, terrace, etc.
Location and proximity for you and the guests
Your compatibility with the venue staff as you're going to work with them like a team. For example, suggest your wedding ideas and request some special facilities. You can make your decisions based on how they are willing to adjust and respond
Venue facilities or lack thereof. For example, lighting, furniture, in-house catering and decoration, accommodation, valet parking, etc.
B. Food and Catering

How many times have you seen someone (or been someone) going to a wedding just for the food? Well, MANY guests do that. And as the host, it's important that you satisfy them till their hearts (and stomachs) are full.
So selecting a good caterer is a must in your wedding vendor checklist. Believe us, the taste of the food will linger even after the wedding is over!
While finding the right vendor, you can ask around for references or search online. Sometimes, the venue also provides catering services via their own vendors.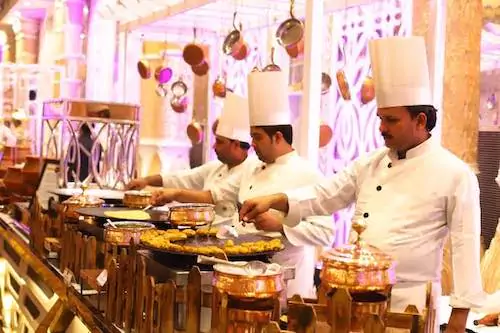 No matter how you select the caterer, make sure they meet your taste and hygiene standards. Do not skip taste testing.
Another important thing—make sure you run a background check. Check if they have covered events with a scale like yours in the past.
Lastly, check for their availability and make the booking.

C. Decorator

Decorator is the next big player at your wedding to deliver the overall look of the wedding.
If you're big on themes and aesthetics, you can't compromise on this vendor.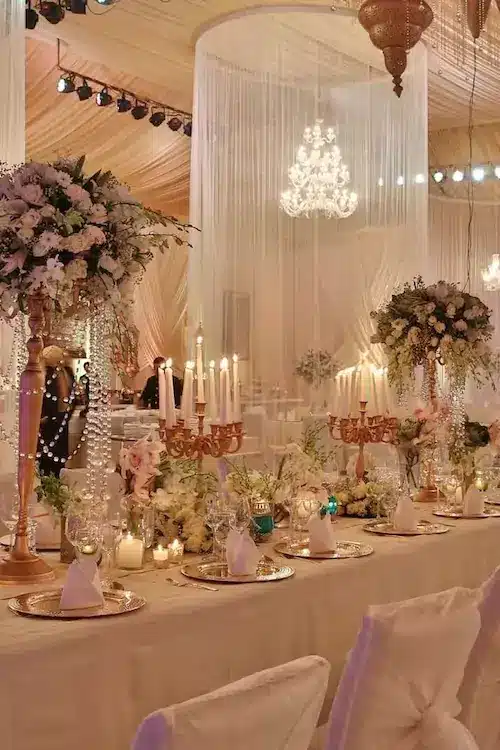 As a wedding organizer, be sure to assess the vendor and arrangements based on the following parameters:
Does your decorator take care of lighting, furniture, and flower arrangements? Some decorators leave the flower arrangements for the florist
Does the decorator bring their own material or do you need to procure it?
Are there any associated costs in addition to the fixed cost for their services?
Does the vendor conceptualize the design or only implement your given design ideas?
Will the vendor provide a cleanup at the end of the event?
Do they have the required licenses?
Are all the decorations and rental items insured? It'll come in handy in case of damage and breakage
If you're getting married in India, here are some wedding decorators you can check out to check this box in your wedding vendor checklist.
D. Photographer and Videographer

These vendors will record all the memories of your special day. Their contribution will be remembered for decades and generations.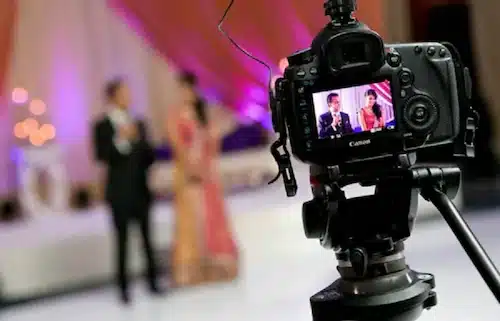 Needless to say, you must choose your wedding photographer wisely. Besides taking into consideration all the references, you should also interview them individually.
Make sure your aesthetic sense matches theirs. Don't forget to make a mood board or Pinterest board to communicate your ideas better.
E. Wedding Entertainment

Undoubtedly, weddings are exciting on their own. However, they can also be long and tedious. To spice things up, here are all the wedding entertainment options you can consider in your wedding vendor checklist:
Live band
Singer
Comedian
DJ
Magician
Belly dancers/any folk dancers
Performances by guests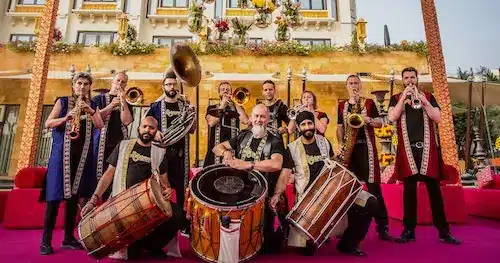 F. Designer or Outfit Retailer

Everyone wants to look like a dream on their big day. There are multiple ways to go about it.
You can get your outfit designed from scratch by a designer.
Alternatively, you can buy a ready-made outfit and get it adjusted as per your measurements if needed.
Another cost and eco-friendly option you may consider is renting an outfit.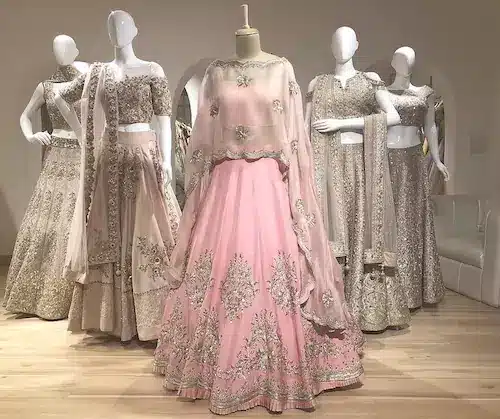 If you're buying your outfit months in advance, make sure you leave a few extra inches. It'll help you get it altered in case of any last minute bodily changes.
G. Jewelry Makers

Not many couples (read: their families) like to buy ready made jewelry. So, they get their jewelry made by local designers. Don't forget to add them to your wedding vendor checklist.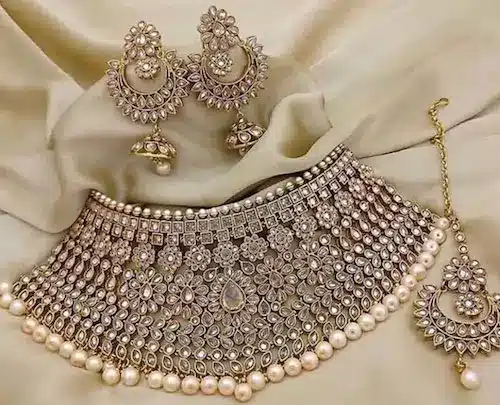 Another option for buying ready-made jewelry is to buy artificial jewelry. They look very real and are light on the pocket. And the best part is that you get enormous color and style options to match your outfit.
H. Hair and Makeup Artist
Everyone wants to look nice in weddings, especially the bride. Feeling confident and beautiful on your special day, accentuates your overall experience.
Here, a stylist is the one who makes or breaks the deal.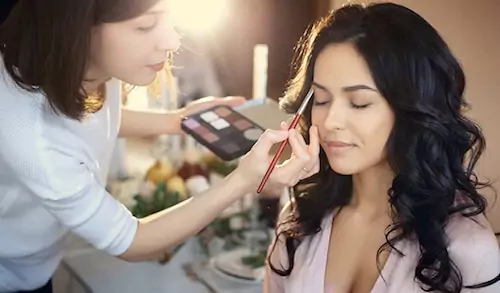 To have a smooth experience with your stylists, make sure your vision is clear. Research the kind of makeup and hair you'd want so that you can explain it well.
If you are vague, leave it at the artist's discretion. But then be ready for last-moment surprises too!
You can even take inspiration from YouTube, Instagram, and Pinterest. Then go to your nearest beauty parlors, explore artists, and try to finalize one.
Sometimes, accessories such as ornaments or lashes may not come as a part of their package. So you need to pay for them separately. Thus, make sure you discuss costs covered in the deal and additional expenses in advance.
I. Mehendi Artists
Having a mehendi artist for Indian weddings is usually the way to go. Hindus even have a wedding ceremony dedicated specially to mehendi art. So do enquire from your bridal makeup artists if they have a mehendi artist on their own panel. If not, hire one locally or from an online platform.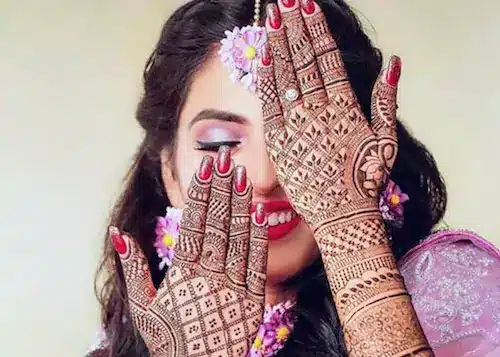 J. Wedding Officiant

You can't have a wedding without a couple. But, you also can't have it without a wedding officiant either. This is a box you have to check in your wedding vendor checklist.
This step varies among various customs and countries.
For Indians, it's as easy as reaching out to the place of worship and asking for a wedding officiant.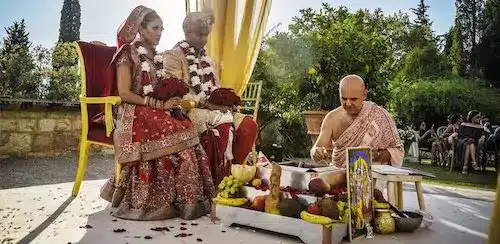 For others, this step might be a little hectic and require agencies to help with an officiant and licenses.
K. Things to Keep in Mind
1. Make your expectations clear

Make sure you provide the vendors with as much detail as possible. Keep taking updates and asking questions.
This will ensure that both you and the vendor are on the same page in terms of your expectations.
For example, if you're expecting a certain buffet display at the wedding, explain it properly. Ask them how they will execute it and what problems they might face.

2. Use pictures as reference (wherever possible)

Sometimes pictures work better than words. Using pictures as a reference for decoration or makeup will help establish more accountability. That's because it's easier to mince words but the likelihood of miscommunication with pictures is low.

3. Maintain cordial and professional relationships with your vendors

Remember that you have to work as a team with the vendors. If you treat them like servants, they might not put in that extra effort.
Be assertive but don't disrespect them. To illustrate, you might have to nudge them to get things faster but don't nag them too much.
You might have to explain to them their mistakes firmly. But don't disrespect them by making derogatory remarks.

4. Do your own research

References will only tell what works for the person giving the references. Your experience with the vendor may not be the same as theirs.
So make sure you do your background research about the vendor. Communicate with them and decide for yourself.

5. Tracking the progress

In a wedding, there are too many things that you need to take care of. So make sure you maintain a written record of the progress you make with the vendors.
Track all payments and status of work as and when they happen. You can make use of excel sheets to do so.

6. Read the fine print

All verbal agreements need to be printed or recorded. Make sure you read and understand every detail of every clause. After all, if anything goes wrong, it is this piece of paper that will come to your rescue.

7. Getting venue approval

Venues sometimes only allow for vendors from their own panel. For example, most hotel venues only allow in-house catering.
So before making bookings outside, ensure your venue allows vendors from outside. Also, get approval for activities like late-night music and overnight weddings.

8. Maintain a timeline

Don't expect things to fall into place all by themselves. You will have to create a tentative timeline and make sure your vendors stick to it. Design your timeline in a way that leaves scope for some delays.

9. Know the cancellation policy

Wedding management is not always like a walk in a sunny park. Sometimes, it gets tough and some last-minute changes or mishaps may happen.
For example, what if one of your vendors ghosts you at the last moment? In such cases, you might have to change or drop a vendor. Keeping this in mind, you should know what costs you'll have to bear if such a case arises.
Congratulations, you're now ready to hire vendors at your wedding. You not only know what to do but also what not to do.
We hope this article helped you with wedding vendor planning and management.
If you'd like more helpful content on event management, stay tuned by signing up for our newsletter. You can also follow up on social media for bite-sized information.