The pandemic showed us that we can enjoy weddings without a huge crowd as well. This gave birth to the ideas for intimate weddings.
Intimate weddings aren't just special but also slightly easier to implement compared to the big fat ones. However, this doesn't mean that intimate weddings need to be simplistic. You can get creative with weddings of any size.
While we are on the subject of size, let's clear the air as well. An intimate wedding is any wedding with less than 50 guests.
While this number may vary from culture to culture, feel free to define what's "intimate" for you.
Whatever the number may be, intimate weddings give you a lot of creative freedom.
This article shall help you explore how you can get creative with an intimate wedding. Let's get started on intimate venues, themes, entertainment, and hospitality ideas.
Here are some of the ideas:
A. Venue Ideas for Intimate Wedding
With intimate weddings, you get a lot more freedom to choose an unconventional venue. You don't have to manage a huge group. Neither do you need to take care of the expenses of over a hundred people. Here are some venue ideas you can consider:
1. AirBnb Wedding
Did you think you must have a super expensive venue? That's not true at all. And if your guests aren't really traditional, then they probably won't mind this venue.
If you're skeptical, you might want to look at Joe Jonas and Sophie Turner's AirBnb wedding. Such a dream!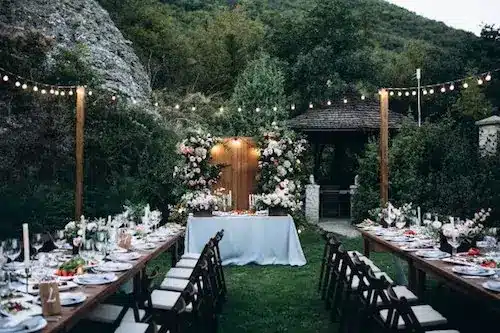 With complete privacy and freedom to party, you must consider this unusual venue. Given AirBnb's global, you may even choose one that acts as a getaway location.
2. Family Home Wedding
If the last option was too out-of-the-box or didn't strike chords with you, hear this one out. It'll work great if you have an ancestral home or a big enough house to accommodate your guest list.
This is also a way you can pay homage to your family. The cost that you get to save on the venue can easily be used for other arrangements such as decoration, catering, and outfits.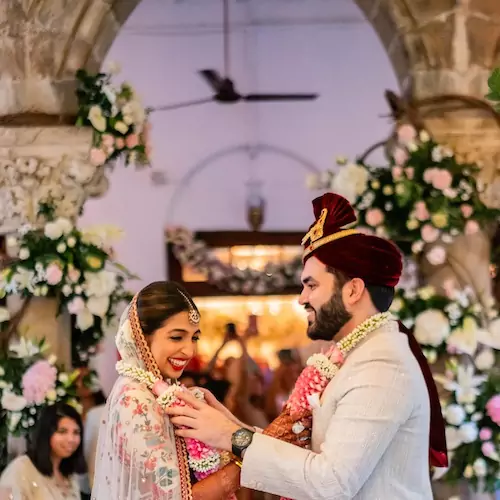 Be sure to utilize every nook and corner of the property. Don't just restrict your event to the backyard. You can use the rooms as dressing or activity rooms. The terrace could be the party and drinking arena. You know your home better, so get creative with how to use it best!
3. Poolside Wedding
Poolside weddings are perfect for summer. A lot of people usually ignore the poolside during the hotel weddings which can be a great site for an intimate wedding.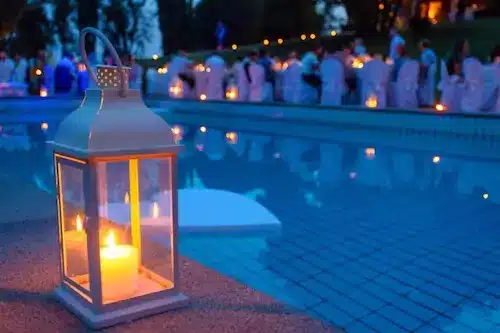 This venue becomes more beautiful as the sun goes down. So be sure to light up the place with fairy lights and candles. We assure you that the reflection in the water would add even more charm to the celebrations!
4. Destination Micro-Wedding
From a beach wedding in Goa to Amalfi Coast, such destinations are perfect for intimate weddings.
With a small list of people to arrange transportation and accommodation for, you can get married at a dreamy location. An additional perk would be having your honeymoon at the same place.
If a beach is too much, do consider lakeside weddings. They're equally magical and may suit your weather requirements more. Some lesser-known lakes will also provide more affordable venues.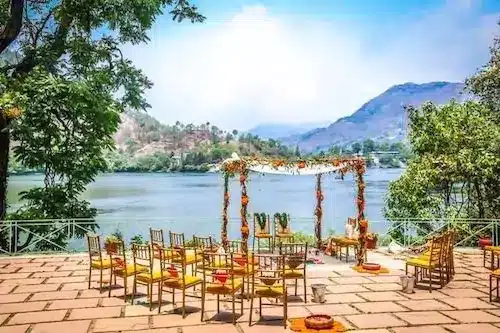 In fact, you needn't limit your creativity to beaches. If you're a mountain person, head to the nearest (or the farthest) hill station. Get in touch with a local wedding planner and get started with the preparations. You can even camp out in the woods during the afterparty.
Another good idea is to choose a resort as a wedding venue. Not only will it provide your guests accommodation but also space for your nuptials to take place.
B. Interesting Theme Ideas for Intimate Weddings
Themed weddings are all the rage. Here are some of the cues you could use to come up with a theme for your intimate wedding. Choose from of your favorite:
Color
Season
Show/Movie
Time period (eg. 90s)
And if you're still not sure, here's a good read on the trending wedding themes.
Also, before you finalize on a theme, do consider the following ideas for your intimate wedding:
1. Dress Code

With lesser people who must abide by the couple's instructions, you may get the guests to follow a dress code. No matter whether the theme is Harry Potter or a Black Tie Event, this idea makes for wonderful wedding photos.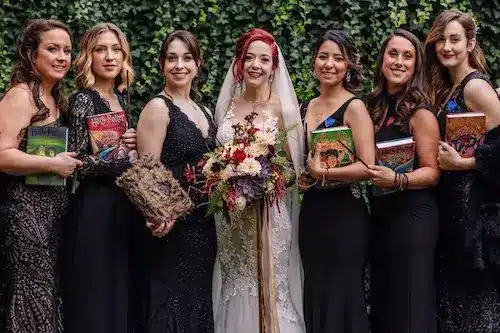 2. Picture Purrfect Wedding

With a small guest list, it is possible to have multiple furry guests at your event. They're easy to manage when the crowd is less. Just ensure that all the pets have a designated person to take care of them.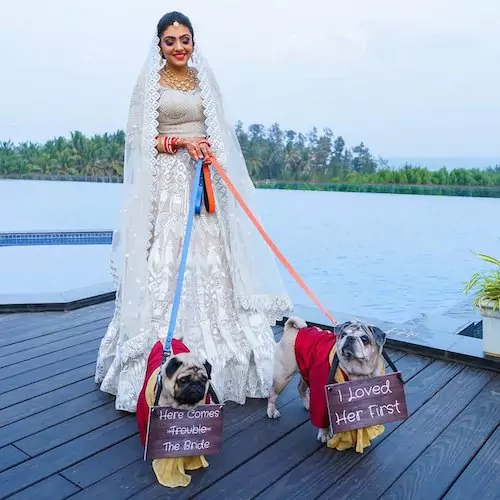 Oh, also, don't forget to dress them according to the theme too!
3. DIY Decor
With a small venue to decorate, it's a good opportunity to show your artistic abilities. Some of the ideas that you can incorporate here are:
Hanging up polaroid pictures
Flowers in mason jars
Decorated baskets
Photo booth
Personalized cards
Handmade notes for your guest
Painted bedsheets are used as wall hangings/backdrop
Painted wooden boxes for display
Painted tyres as pot holders or seats
Origami art hanging from the ceiling
Paper lanterns
Paper flower decor
Candle arrangements
Just like creativity, this list has no end. You can find more ideas here.
C. Entertainment and Hospitality Ideas for Intimate Weddings
1. Getaway Bus
Usually, the bride and groom leave in their private vehicle after the wedding. However, that need not be the case with intimate weddings. Since you're already with a group of close ones, take them out to party!
To do that, you can book a bus or a van based on the number of guests. Have a memorable party or short trip after your wedding.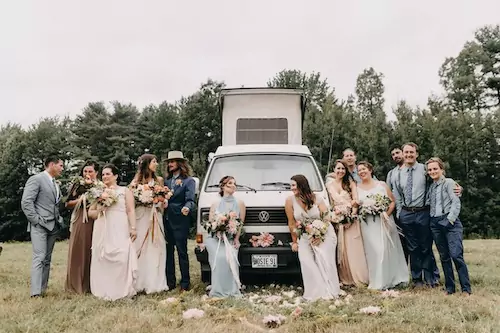 2. Out-of-the-box theme
Themes are always easier to implement on a small scale. So use this opportunity to make your wild ideas come to life. You can use this as your guide to select a theme for your wedding. No need to worry about judgments either as your guests are all your closest friends and family.
If you don't believe us, look at this Disney themed wedding: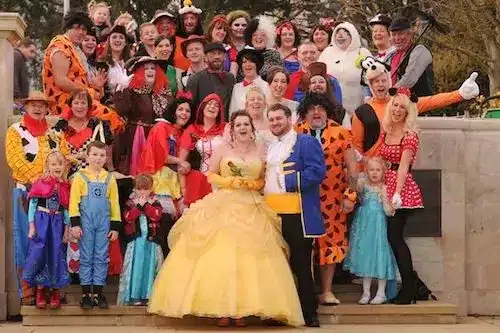 3. Customized Gifts
It is a good practice to make your guests feel special, especially in intimate weddings. The best way to do this is by getting them a gift that they'll remember for the rest of their lives. You could get portraits of them or their families. You could also get them customized gifts such as wooden plaques or engraved metal keychains.
4. Open Mic
The best way to create a happening and intimate atmosphere at your wedding is by having an open mic. You could have a small stage set up with some fixed and some impromptu performances. Let your close ones come to the stage and say or do what their heart pleases.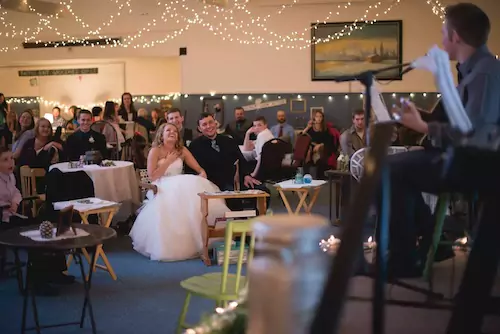 5. Food Truck
For many people, food is the most enjoyable part of any wedding. So whether small or big, food is one thing you shouldn't compromise on. In fact, it is something you can get creative with.
You may consider getting food trucks at the venue to make the it fun. Since it's an intimate wedding, people won't have to stand in long queues. You can also directly get food truck operators to work with you instead of hiring a caterer for this.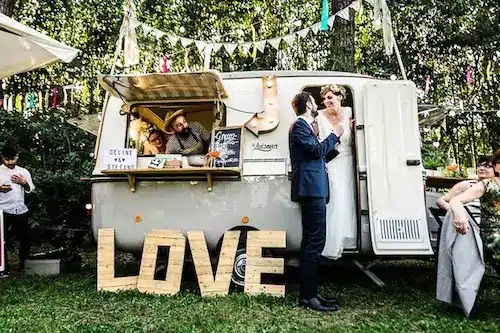 Alternatively, go for seven-course meals or something more memorable. Remember your per-plate cost may be high but the number of plates is less!
D. Things to keep in mind
Remember that your venue is for a small number of people. A large venue and only a few people may make the place look too empty. So try to book a space accordingly
When the wedding venue isn't too crowded, all eyes are on the limited space there is. You need someone who has an eye for detail. Do consider hiring a wedding planner who can make sure everything is picture perfect
Last but not the least, remember that in an intimate wedding, everything, small and big, matters. Make sure you incorporate a lot of ideas together.
Try doing things that remind people of their happy memories with you or bring new joy. This way, the wedding shall always remain a part of your core memories.
If you liked our ideas and tips, be sure to stay up to date with our blog and social media.