Most of us have had to attend at least one Zoom wedding last year.
With our cameras on and mics mute, we all felt like silent spectators.
This was our reality for a while until the news was flooded with the news of an entirely digital wedding. A Metaverse wedding in India.
A couple from Tamil Nadu, India, managed to take the internet by storm. But how did they do this? Has the world really become that advanced?
The answer is, yes! In fact, you can organize Metaverse Wedding for yourself too. How? Well, that's what this article will explain.
And the good news is that you don't have to be a billionaire or a coder. All you need is an adventurous heart and a few minutes to read this article.
A. What is a Metaverse wedding?
First things first—what is this Metaverse that people keep talking about?
For a lot of us, Mark Zuckerberg might come to mind. Afterall, everyone started talking about Metaverse when he rebranded Facebook to Meta.
However, it's not limited to what he's making out of Facebook. Metaverse refers to a combination of our universe and the virtual world.
Imagine a digital world where you can do everything that you do in the real world. That's just what Metaverse is.
Metaverse is not a prediction like flying cars. In fact, it has already started manifesting itself in the form of a lot of games you may have played. Fortnite, for example, can also be considered a Metaverse, with a world of its own.
However, the understanding of the Metaverse is still a little vague for many. That's not because we don't understand it but because it keeps changing constantly.
Even though it will keep evolving with time (like any other technology), let's learn about one of its most amazing advancements. The Metaverse weddings.
There are many tech firms who are already providing this service. All you have to do is get in touch just the way you'd do for any wedding planner.
Let's have a look at some of these firms and their successful Metaverse weddings.
B. Companies that can help you throw a Metaverse wedding in India and abroad:
1. TardiVerse

TardiVerse, is a Chennai-based Metaverse company in India. They've created what they like to call a "TardiWorld". It is similar to your real world with malls and even beaches. The only difference is that it is digital.
In this world, they also allow users to get married using smart contracts. They were the ones who helped organize the first Metaverse wedding in Indian and even Asia for that matter. No wonder why they've made it to the top of our list.
They helped a Tamil-Nadu based couple, namely Jagananandhini and Dinesh Siva, get married.
The team at TardiVerse, led by entrepreneur Vignesh Selvaraj, pulled the event together in a matter of days. To be precise, it took one month to design and develop the entire Metaverse setup.
Interestingly, the couple suggested a Harry Potter theme as well. This is a good time for all the Potterheads to pause and salute.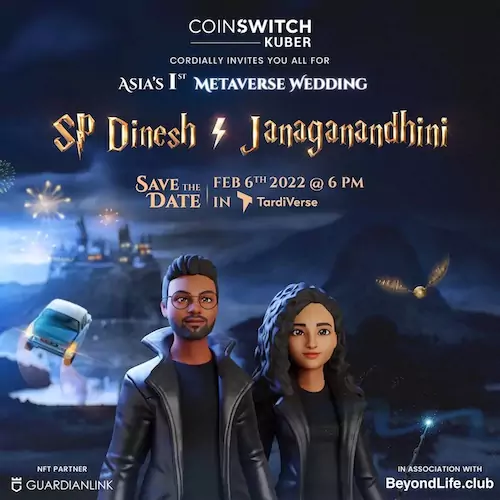 The most heart-warming part of this event was a special guest. That guest was the bride's late father. It is every father's dream to watch her daughter get married. In this case, the bride managed to fulfill her father's dream even after his demise.
This event didn't require any wedding or event planner at all. Yet, everything from the wedding outfit, cuisine, destination and even the visual texture was as per the couple's preference.
No hassle and no compromises, it sounds almost like an imaginary wedding. Except, it was very real!
2. Virbela

Let's go to the 2021 wedding of Traci and Dave Gagnon. They met in a digital workspace and decided to even tie a knot in the digital world. This couple was from Florida and believed in technology that holds the future.
They and their relatives were extremely excited about the tech-savvy wedding environment. The possibilities were limitless and accordingly, they really went all out. They chose to have a wedding in the sky. Now that's something magical!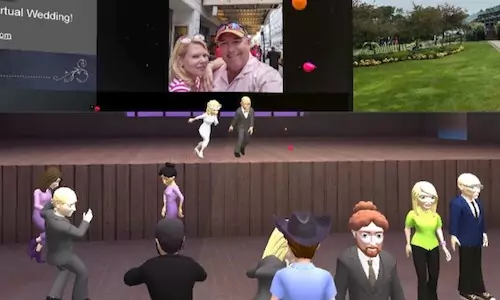 They didn't just have custom avatars for themselves but for the guests too. Each avatar looked similar to its real-life counterpart. Best part was that they could dance, smile, embrace, and do so much more.
This dreamy wedding setup was created by Virbela. This company was started in 2012 by a group of psychologists. They wanted to create a virtual work environment where employees could collaborate. Little did they know, this environment could also be used for a lot more in the future!
3. Yug Metaverse

Now let's listen to the story of a couple from Bhopal, India. Abhijeet and Sansriti always wanted a destination wedding. But then came the pandemic, and shattered their dreams.
Luckily, they decided to go for a Metaverse wedding in India powered by Yug Metaverse. This company specializes in providing virtual experiences. Additionally, they even provide templates that you can use for various types of events.
This idea was executed by Wavemakers Ltd. in association with ITC Ltd. and Bharat Matrimony.
This collaboration led to the creation of a wonderful beachside wedding venue. The guests were dressed in Indian attires. They could eat, dance and enjoy like they would at a wedding. You can have a look at the user experience of the wedding here:
If you remember playing Grand Theft Auto as a teenager, the user experience will make a lot more sense. It doesn't take a lot to explore a digital world like this. This wedding was enjoyed by over five hundred guests.
4. Decentraland
If you're a crypto enthusiast, you must've heard of Decentraland. If not, Ethereum must definitely ring a bell.
Decentraland is a virtual world that runs on Ethereum blockchain. Out here, people can buy virtual things, play games, and explore the Metaverse.
What else can people do here? You guessed it right. People can get married in Decentraland.
This option was best explored by a couple from Dubai. Florian Ughetto and Liz Nunez had already had a physical wedding before.
However, their parents from France and Paraguay couldn't make it. So the couple thought if they have the technology to make their parents join, they should try!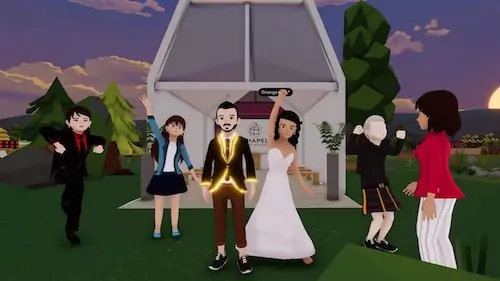 They went all out with a wedding ceremony at their private plot in Decentraland. They even took their guests partying at a club in the Metaverse.
In fact, they also used NFTs (non-fungible tokens) for rings and dresses. These are digital entities they bought on Decentraland.
They had guests from ten different countries. The couple had all the fun they couldn't have at their real wedding.
C. How much will a Metaverse wedding in India cost you?
Jagananandhini and Dinesh Siva's wedding in TardiVerse costed them around INR 5,00,000. This is approximately USD 611. Note that the wedding was designed from scratch and was completely customized.
On the other hand, Gagnon's wedding in Virbela cost around USD 30,000. This could've been organized in under USD 10,000 if they had cut down on the customisations. Your Metaverse wedding will only be as expensive as its features.
These are very different price points. This suggests that you must try out different service providers. Just like different wedding planners come at a different price, so do Metaverse wedding organizers.
The edge that you do have here is—a better scope of cost cutting.That's because you don't have to deal with multiple vendors here (which also saves a great deal of effort).
D. Should you go for a Metaverse wedding in India?
Still not sure if you'd like your wedding to take place in the Metaverse? Let us give you a checklist based on which you'll be able to make a sound decision.
1. You want global guests
If you want guests coming in from multiple countries, this is your sign. You wouldn't have to spend dollars on flying them to your venue. In addition, you wouldn't have to go for impersonal channels such as Zoom weddings. This type of wedding will be remote yet intimate.
2. You have an out-of-the-box theme
Well, you couldn't really have your wedding at the actual Hogwarts right? But can do that in the metaverse. Think of all the magical places from anime and movies. You can recreate it all without spending a fortune.
3. You don't have time to plan a wedding
Typical wedding planning can take months. There are dozens of vendors you have to be in touch with. Everything has to be perfect. However, in a metaverse wedding, you only have to nag one vendor.
It can be organized in just a month if not less. You save on precious time and mindspace!
4. You love technology
Artistic couples go for color themed weddings. Adventurous couples often go for destination or boho themed weddings. Traditional couples go for royal or cultural themed weddings. If you're a tech-savvy couple, go for a metaverse wedding!
5. You want a lot of guests
India has the highest number of wedding guests across the world. Even then, you miss out on certain distant relatives of childhood friends. With metaverse weddings, you can invite everyone! There is no capping on how many people get to attend. Moreover, there are no special covid-related rules in metaverse.
In fact, the questions concerning "how many" and "who" also get addressed. Whether it is your late-relative or a person you lost touch with, everyone can join as an avatar.
6. You are big on crypto and NFTs
If you're an active user of cryptocurrencies and NFTs, this subject already interests you. Chances are, you may want to use your crypto-treasure for something worthwhile. You can make payments using crypto-currency on platforms like Decentraland.
7. You want everyone to remember your day
Do it before it becomes common! If you want to have a monumental wedding, now is the time. With the rapid advancements in metaverse, getting married will be as easy as playing a video game. So if you want to get married in the metaverse, now is the time.
So now all of us know that you're going to get if you have a Metaverse wedding in India. If not, you've definitely learned how the others are doing it.
If you're confused as to what to do with this knowledge, we've added hyperlinks to all the Metaverse platforms. Click on them and explore the Metaverse for yourself today!
If you liked the article, don't forget to sign up for our newsletter!