The wedding season is here and you're either getting married or organizing one.
And here's the thing—you don't want this wedding to look like the last one that you attended. Let's be honest, we're all bored of those plain flower and light-based arrangements.
And this is the decade of themed weddings!
So you want to find the perfect theme for your wedding event well within your budget. And we are here to help you with exactly that.
We have curated a list of the best Indian wedding themes for all budget ranges—high, medium, and low.
Excited, right? Let's get started.
A. High Budget Wedding Ideas
1. The Royal Affair
With all the feasts and flowers, Indian weddings are pretty rich by default. And if you have a liking for grand celebrations, this Indian wedding theme idea could just be what you want.
Before you start, think about what kind of royal touch you'd like the wedding to have. You could choose from Mughal themes, traditional Rajasthani themes, and even Prince Harry and Meghan Markle's theme among many others.
After you decide on that, start looking for venues suitable for your theme. Say if you'd like to have a Rajasthani wedding theme, you could look at fort-resorts in Jaipur.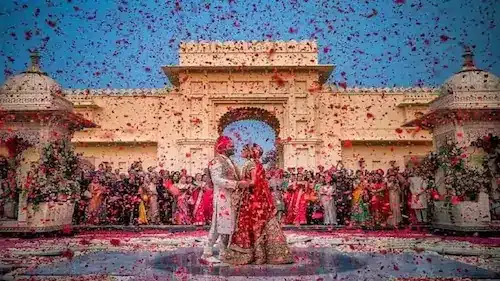 Color selection would also be important in bringing life to your arrangements. Our favorite picks for royal weddings include two major combinations—white & gold and red & gold. They accentuate the decor and bring out a lingering feeling of royalty.
Lastly, don't forget to treat your guests royally too. It could be by giving them a grand welcome or even a royal wedding gift like a turban and brooches.
2. Straight Out of Disney
We all grew up watching Disney and always fancied prince charming and the princess.
Now that you're a grown-up, you can actually afford to make it happen.
Start by picking your favorite fairytale, for example, Cinderella. Based on the same, try coming up with wedding outfit ideas. Let's say, a sky blue lehenga for the bride and a blue-gold suit for the groom. That sure would do justice to a Cindrella-themed wedding.
You can also dedicate some corners of the wedding venue to your favorite fairytale moments. For example, a theme inspired by Sleeping Beauty could have a space for a turquoise bed and photos.
Imagine the instagrammability of this spot! Not just you, but your guests would love it too!
If you really want to go the extra mile, you can also choose Disneyland as your wedding venue.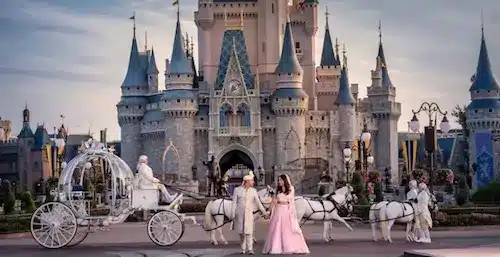 3. Bolly-wedding
If you grew up to Shah Rukh Khan's romantic movies instead of Disney, this theme is your way to go.
You can approach it in two different ways.
The First could be conceptualizing your love for Bollywood altogether. To do it, here are a couple of arrangements you could make:
Arrange for halls having your favorite movie posters
Add a red carpet and make your guests feel like a celebrity
Play a mashup of your favorite Bollywood songs
Have a karaoke corner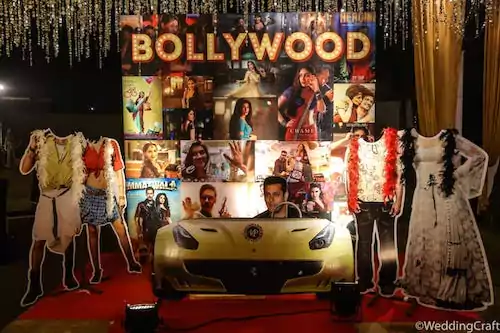 Alternatively, you could also customize the theme to your favorite Bollywood movie.
Let's take out all-time favorite Padmaavat as an example. For that, a location such as the Amber fort of Jaipur would work like a charm. Besides that, getting replicas of the iconic Rimple Narula outfits used in the movie would add life to your idea.
To add more sparkles, consider getting the decor and music tailored to that in the song 'Ghoomar'.
If your budget permits, you could also get a celebrity entertainer onboard to be the cherry on top. There are various companies that can help you with it.
B. Mid Budget Wedding Ideas
4. Bae-watch Beach Wedding
An old saying goes like this—Happiness comes in waves. And it could actually be true if you're totally a beach person!
When you think of a beach wedding, Goa might be the first thing that pops into your mind.
Goa is beautiful and always a good option for this theme. However, feel free to explore other great options such as Kerala, Lakshadweep, Odisha, and Daman & Diu.
You'd be lucky if the couple is from a coastal state. Why? Because it'll really bring down the accommodation costs of the guests.
If you like, you could keep the decor minimal. Remember you have the best natural decor already—the beach.
Of course, it is imperative to have tables, chairs, and mandap.
While deciding on the color scheme, we feel you can experiment with neon or pastel colors. You could also request your guests to follow this color scheme for their dresses. It'll complement the overall look and feel of your arrangements!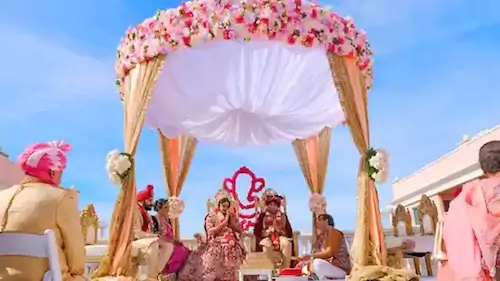 5. Band Baaja Boho
Conventions are not for everyone. If you're a free-spirited person, a boho wedding would be your thing!
These are loved by the couples who aren't really inclined towards doing things the traditional way. Art, music, and nature are at the core of this wedding theme.
If all this sounds like your personality, here's how you can plan a boho wedding.
Have an open space for this wedding to take place
Don't shy away from doing the seating arrangement on the floor
Use paper lanterns, lights in bottles, or rustic bulbs for lighting
Use old colorful dupattas, stoles, or mats as overhead drapes
Have wooden canopies and tents with hanging plants
Use macramé crafts and dream catchers as decor
Upcycle old vehicles, furniture, and home decor as elements of your decorations
The best part about a boho wedding is that it can be done for any budget.
You can also support local artisans by making use of handicrafts. Just be sure to select each element with thought and a lot of love.
There isn't really a specific color scheme for boho weddings. After all, it's for the free-spirited love birds out there. So be sure to explore all options, especially for your wedding outfits.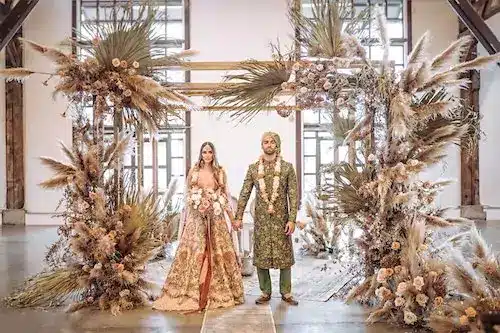 6. Disco Night Wedding
Why should clubs only be used for bachelor/bachelorette parties when they can be a whole wedding theme?
Does an indoor wedding with dark interiors excite you? Well then, here's an amazing theme for you!
Just like a nightclub, you can light up the place with neon signs and lights. In fact, a neon dress code would be a great idea too.
This Indian wedding theme has nothing "Indian" about it. So, you can also ditch the classic vidaai songs for techno music or any other genre of your choice.
Go ahead and hire one of the top DJs like Nikhil Chinapa or Gurbax! The only idea here is to enjoy your wedding just as much as you enjoy a night party with your friends!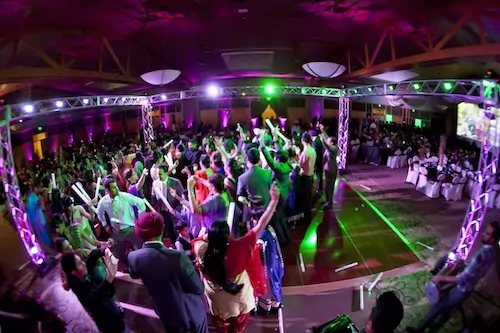 7. Casino Wedding
A casino-themed wedding is perfect for those who want something out of the box and right up their alley.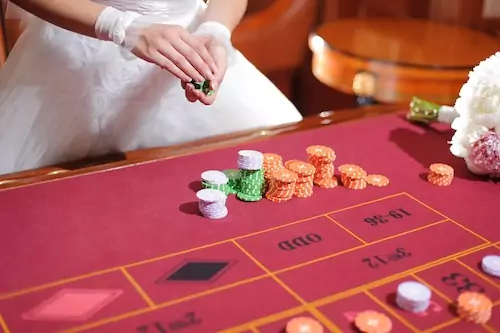 For the venue, you have two options. The first includes booking a casino resort for the wedding to happen. The second could be using various games and props to make any other venue look like a casino.
Either way, it'll be a night to remember, not just for the couple, but for everyone. It would combine the excitement of a bachelorette party with the beauty of a wedding.
Don't forget to remind your guests to wear formals and brush up their poker skills.
C. Low Budget Wedding themes
8. 'Less is More' Wedding
While Indians are fond of big fat weddings, some modern couples love minimal weddings.
Usually, weddings are loaded with heavy decorations. For example, floral arrangements, lightwork, and whatnot! While these look amazing and grand, not everyone is a fan. Indian wedding themes need not be extravagant all the time.
So if you'd like to ditch the grand decor and arrangements, a minimal wedding would be great.
It is also suitable for daytime weddings. The natural sunlight during the day makes the carefully planned decor better visible.
While you could choose any colors, our favorite pick here is pastel and muted colors. The wedding photos will turn out great if your dress code also matches your chosen color palette.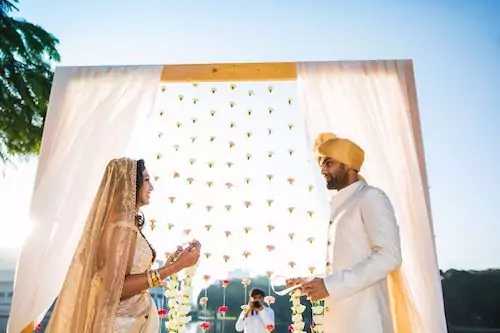 The best part is that a minimal wedding can be organized anywhere. It could be at a beach, backyard, or even inside the home!
This will not only save you from burning a hole in your pocket but also reduce a lot of wastage.
9. Anti-City Wedding
If you're bored with the repetitive metropolitan weddings, ditch them altogether. Here's the village-themed wedding for the desi person in you!
You can either pick a rural location or give your venue a rural makeover. You can even pick your own home state.
If you'd like to experiment with a different location, you can consider going for classic Rajasthani rural weddings. They're majorly always a hit.
Make sure you do good research about the culture. Based on your research, add elements of decor suited to the location that you pick.
Just imagine the venue studded with embellished umbrellas, lanterns and bangles.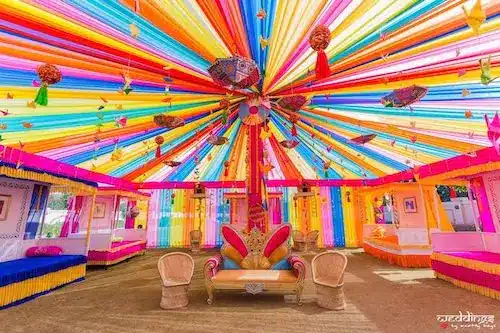 The seating arrangement can include 'khats' or cots and rattan chairs.
Do hire traditional dancers, musicians, and artisans such as mehendi walas and potters.
Make sure the food isn't just another high end buffet, but also has local delicacies of the state. You can step it up by serving the food using 'handis' and earthen pots.
10. Wedding in the Valleys
Were you able to see the glimpses of Yami Gautam's wholesome pahadi wedding?
With multiple scenic Indian topographies, it's time that you experiment beyond the plains and beaches.
And a mountain wedding is not just a wedding with the scenery. It is also a wedding full of culture.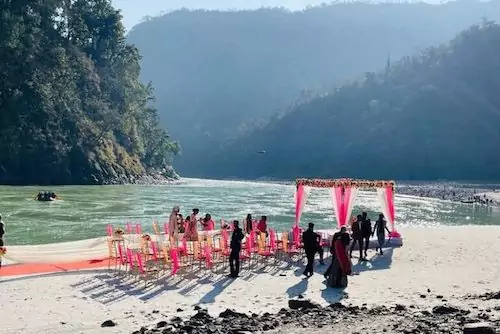 The attires can also be different from the blingy lehengas we see in most city weddings. Simple red and white outfits to symbolize love and peace can complement the theme like nothing else.
You can even get unique north Indian drinks with rhododendron and apples for the bar. Don't forget to include the delicious Arsa, Singori, and Jhangore ki Kheer in your menu.
You can use the rich culture that states like Uttarakhand and Himachal Pradesh have to offer.
D. Bonus Idea
11. How-We-Met Marriage
This theme doesn't have a specific budget but has a very specific goal.
Think about the time you met your other half.
Where did you meet your beloved?
Which season was it?
What were you wearing at the time?
Which year was it?
These memories can bring many ideas into the picture. From a Tinder-themed wedding to a School-themed wedding, the options are endless.
What will matter the most is that the couple will relive those special moments on their most special day.
Bringing it all together:
You now have many ideas to plan a themed wedding. This theme can be as classic or as unique as you want.
It just has to be really meaningful for the couple. Themed weddings are not just for show, but to make the wedding the most memorable day of a couple's lives.
And your budget need not restrict you from making it the perfect day for you. All that you need to do is select the best theme based on your budget. Just do what your heart and your bank balance pleases!
Your next step could be to find the perfect venue to execute these Indian wedding themes. So head to our article about the best wedding venues in Delhi-NCR!
To stay updated with the latest event ideas and tips, sign up for our weekly newsletter. And don't forget to follow us on our social media too!