Event branding ideas are a huge part of event marketing. Your brand has multiple elements such as a logo, website, app, and products. Events are a great way to market all of this.
With the right strategies and event branding ideas, you can leave a mark. You can leave lasting memories of your brand with your attendees.
Good branding can increase revenue by 33%. The results of good branding aren't just short-term but help in building a long-lasting clientele.
With so many benefits, here's a creative list of event branding ideas to incorporate in your next event.
1. Logo here, logo there
You must've seen direction boards like these at events.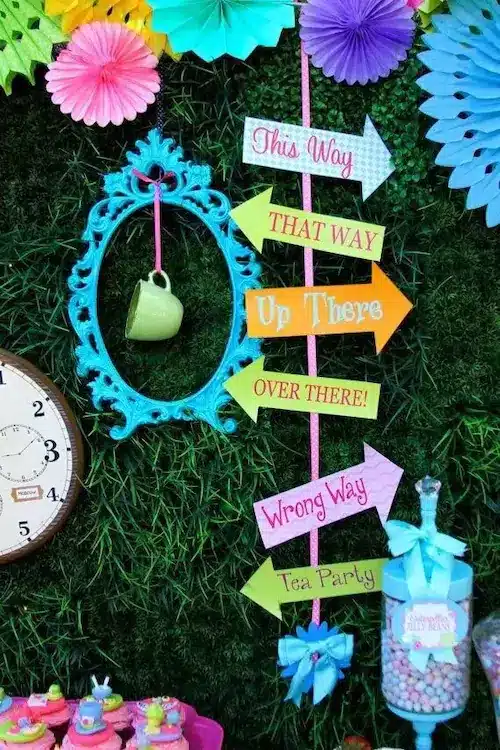 But, most event planners are missing the event branding opportunity here. You can put up brand logos along with the signage.
2. Videos can skyrocket event attendance
The pandemic has left long-lasting effects on how we consume media. There was a 96% increase in how much video content was consumed online.
It only takes 21 days to build a habit. Two years were more than enough. So, while you're marketing your event online, be sure to do it mostly via short-format videos or reels.
3. Event branding ideas for the floor
Yes! The floor.
That's another spot you're missing while branding your event.
You can use the floor for directional signage as it'll help people find their way. But, while you're at it, add your logos and brand colors too.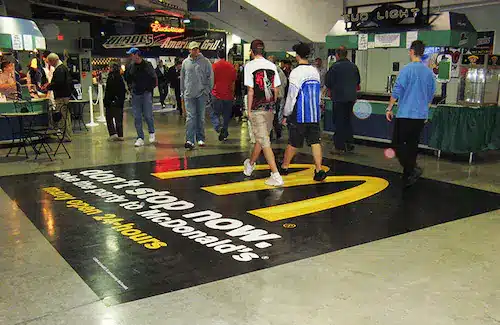 This works well with concrete and tiled flooring. However, for outdoor setups, you can even get custom rugs. This event decor can also be re-used for future events.
Do note that it'll get attention in events with small populations. However, in crowded events, it'll do even better as people look at the floor while walking to not fall.
4. Custom tickets
The event ticket is something the consumer holds on to or looks at multiple times before the event.
You can easily ditch the general QR code tickets and use your event tickets as an event branding space.
Most event listing and discovery websites don't let you do that. So, you can use the high-tech ticket generator to generate customized trackable tickets.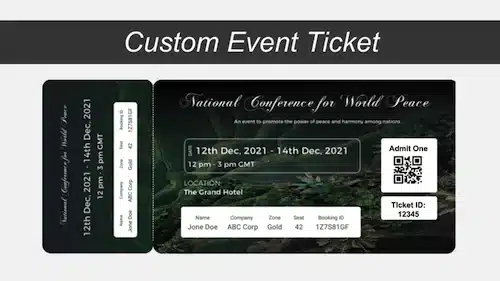 Here, you are free to use any colors, images, and QR codes to customize your event ticket.
5. Custom wristbands like no other
The new event planning trends show that event organizers around the world are playing around with wristbands.
Concerts are handing out LED wristbands that change color according to the beats.
This gave us a lot of ideas for event branding. You can create beautiful-looking wristbands each time with brand colors and witty messages.
The quirky wristbands will be something the attendees click pictures of and then post.
6. Luckily flowers come in all colours
Match flower colors with your brand colors. You can even place a logo in the middle of the flower arrangement or keep it as it is.
If your event has flowers as decor, this is something you must do.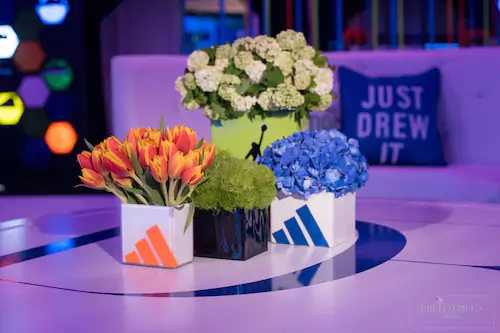 It's good advice for wedding planners who want to take their wedding company to the next level.
7. Put it in places that matter
The walls, the floor, and in the middle. This doesn't even begin to cover all the branding opportunities you have at an event.
Look at the places from leaving one's house to enjoying the event. Trace all the places in between and put up your posters there.
This can include the ceiling, the lounge, waiting areas, and even the elevator!
Use this mapping technique to find more event branding ideas.
8. Online event branding ideas
Make sure your event has its hashtag. This hashtag will help you get a lot of user-generated content when your attendees start posting.
You can also host a giveaway to maximize your reach. This hashtag will also be useful in this case as it'll help you track entries.
As a prize, giving away free tickets is a good idea!
9. Want people to post about your event?
What do your attendees love the most?
Themselves.
With a 360-degree rotating camera, your attendees would love to get recorded.
The branding opportunity here is to create a template/border for the 360-degree recorded clips. You can give those out to your attendees and they'll share it.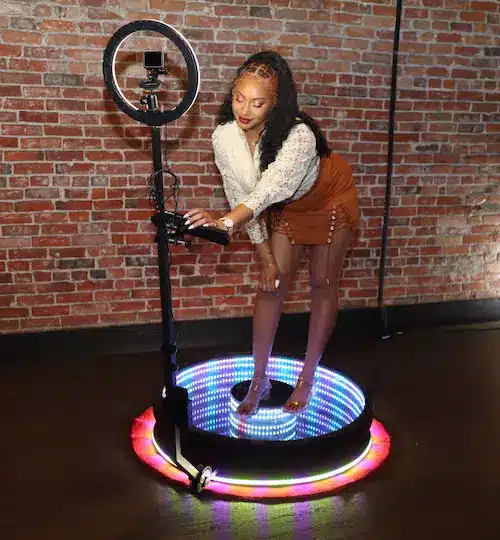 This is free advertisement for you!
10. Tell them a story, but in a futuristic way
Virtual reality is becoming increasingly popular. You can create an interesting VR journey showcasing the features of your brand or product.
For example, airlines use VR to virtually show how good their flying experience is.
11. Mascots are old-school
There was a time when mascots were integral to event branding. Times have changed, switch to witty or quirky life-sized cutouts.
They're reusable and also don't ask for pay/break times!
12. Logo backdrops
Yes, with your brand and sponsorships, you'd expect it to be on banners.
But, people don't want much to do with it.
You can make an exception by repeating logos and creating shapes that make a good backdrop.
13. What's the best place to put your logo?
In most large-scale public events, the audience comes to see a particular artist.
So, you know that everyone will be looking at the stage.
You must place your logo above, on the sides, or as the backdrop of the stage. That's where the eyes are glued.
14. An unexpected place
Barriers are used in all events to manage the crowd and to create entry funnels.
Thus, you know that people will walk towards and through it.
Since it's a crucial part of the attendee journey, it's a good place to put up your brand's messages. The wittier, the better.
15. Your stairs look boring
With each step of the stairs, you have a space for event branding ideas.
You can put stickers or wrap each stair with your brand messages and logos.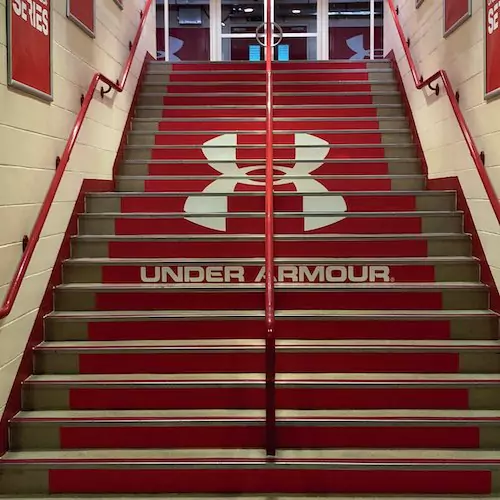 People watch the stairs while climbing up, so don't neglect this creative space!
16. Get a podium
Yes, people can just stand and hold the mic.
However, it would be a good decision to take advantage of this branding space. You know that your attendees will have their eyes on the speaker. So, put a podium between the audience and the speaker.
The podium must be branded with your logo and brand colors. Brownie points for giving it a creative shape.
17. Event branding ideas and engagement go hand in hand
Get a wooden panel and cover it with a layer of paper.
Place your logo in the middle of the large panel (we recommend something that's at least as big as a door.
Then, allow your attendees to spray paint or paint around that logo. You can pick a theme such as street style or anything relevant to your brand.
Record everything as the attendees engage. This way, you can churn out content for your future digital marketing too.
18. Light projections are all the rage
You can project messages, logos, or even live broadcasts using light.
This is great for events happening during dark hours.
19. Large balloon displays
If light projections are a little out of budget for you, you can get balloons instead.
You can either get multiple regular-sized balloons in your brand's color.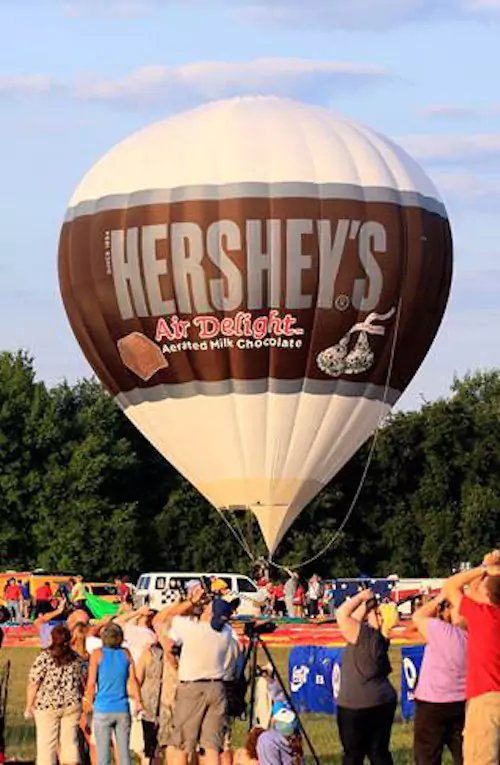 If you have a bigger budget, get large balloon displays that people can spot from a distance. Of course, the balloon must be well-branded.
20. Don't miss the little things
Yes, most of these event branding ideas cater to the larger masses. But, you shouldn't neglect individuals as well.
For example, the speakers or the organizing team must get trophies or certificates at the end. However, you must go the extra mile by customizing the tokens of appreciation with your brand colors and logo.
This will leave a lasting impression. If they post about it, that will also help with marketing!
21. Table throws can be customized too
If your event has a comprehensive seating plan, you should get customized seat and table covers.
It's great if you can get your logo on it. If not, getting them as per the color of your logo is also going to help!
This is one of the more subtle event branding ideas.
22. Don't forget the charging station
If the event duration is more than three hours, you need a designated charging station. Your event attendees are likely to exhaust their phone battery when clicking photos and videos.
As an event planner, you don't want anything to stop them from posting more about your event. So, you can have charging stations with multiple plug points.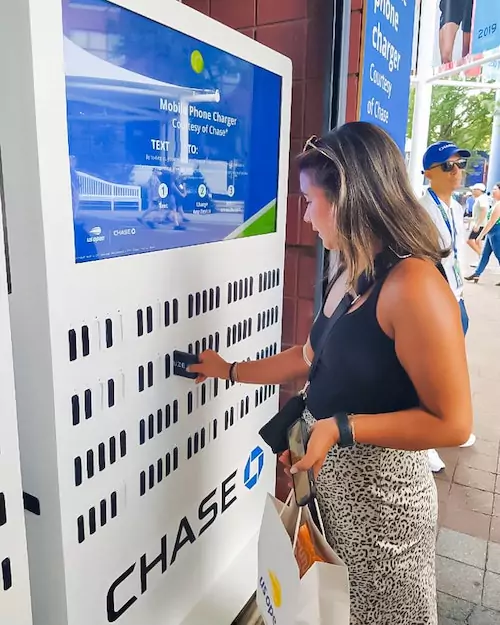 Don't get lazy by just handing out extension cords. Instead, get a vertical charging station that also accommodates your event branding.
23. "Free stuff" strategy always works
You can hand out swag bags or free goodies throughout the event.
Having multiple stalls with offers is also a good idea.
You can add a little bit of competition or a sense of urgency to drive more traffic. For example: "First 50 people get free drinks".
This is better than constantly asking people to attend or come to their stall.
24. Save space and money
Yes, the displays look great. But, sometimes they can be out of budget. Other times, there are constraints like that of space or no walls.
Get yourself roll-up banners or standees that are self-sufficient for all your event branding ideas. They can be reused and placed anywhere.
They also save up time as it's really fast to set up.
25. Don't make your stalls and booths boxy
Remember those old-school carnivals with square white tents for each stall?
Um, ditch those!
Get booths and stalls designed as per your brand's theme. For example, a round setup that has your round logo as the floor? Or a simpler example would be to have a heart-shaped space for your dating app stall!
Even if you don't want to play around with shapes, you can work on getting different colored tents or a standalone stall.
These may be a little more expensive, but as you'll get more traffic, you'll get returns too!
26. Did you think about sunglasses?
Let's say you have an outdoor event and the sun is blazing.
Or your target audience consists of Gen Z who would wear sunglasses indoors too!
Sunglasses are a hit in these cases.
You can get quirky or custom sunglasses of your brand colors or a simple logo. Get people to wear them and click photos!
Alternatively, you can give them for free as contest prizes!
27. Get a vehicle wrapped
Who said stalls at events need to be stationary?
Get a vehicle wrapped in company branding and use the space inside as a stall with goodies!
Bonus points if the vehicle can drive around during the event.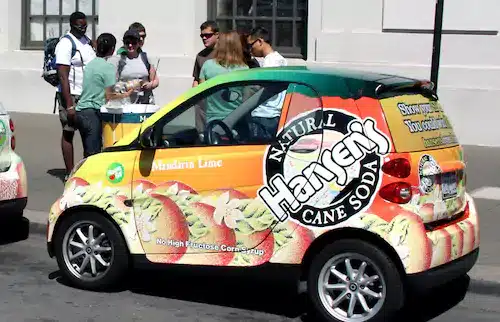 You can use a wrapped scooter if you have space constraints. Or you can go as big as a mobile truck too!
28. Banners you've never heard about
Use event technology to your advantage. Teardrop banners/feather flags are water-resistant, wind-resistant, and even sun-resistant.
On top of all this, they make noise when the wind hits them. That helps get more attention too.
They will last you your entire career. So definitely invest in these for your event branding ideas.
29. What about water?
At the core of it, event branding ideas boil down to the basics.
Your event attendees are going to need water after walking around during the event.
Most events don't allow for water or drinks from outside.
If you're already making money by giving out water at the event, why not use the label space as a branding space?
You can customize water bottle labels.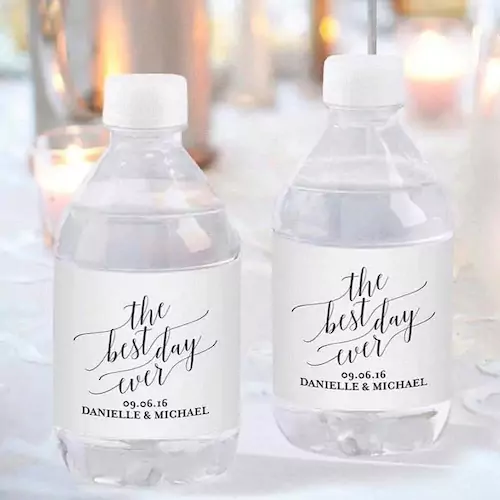 If this sounds like an expensive idea, you can simply get customized cups to serve water in.
30. Do it to coffee cups too
Give out free coffee if you can, and when you do, make sure the cups have your branding on them.
They can also have your event hashtag.
31. Be eco-friendly, but strategically
It might be an idea you oppose.
But, trash cans can also be used as a branding space.
Put up your brand logo and an eco-friendly message/simply specify dry and wet waste bins.
This not only utilizes the space for branding but also sends out the message that your event is eco-friendly.
32. Solidarity through wearables
Make attendees feel like they're part of something big! Give out free t-shirts that are branded well!
33. Digital marketing during the event
Use the online channels for marketing during the event too. You can go live, or do a Q&A on behalf of the brand.
34. Instagram frames
Get a frame made with your Instagram handles.
This is subtle branding for your company's social media.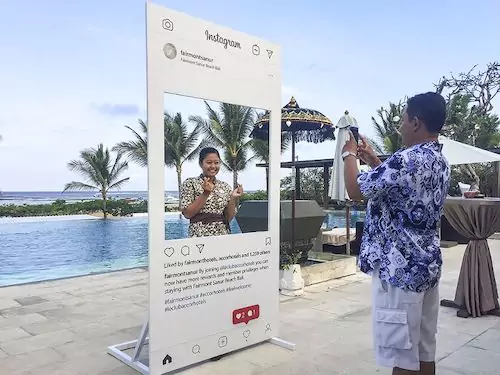 Make sure you urge attendees to click photos with this frame. Having a professional photographer assist with this would be a good idea.
35. Event branding ideas using light
Yes! You can use the lighting to your advantage.
Getting lights that match your brand colors helps create a lasting subconscious memory of your brand.
Additionally, getting light to focus on your brand logo as a spotlight is also another good way to use light in your event.
36. Event branding ideas that aren't expensive
You must've read a lot of out-of-the-box event branding ideas here. But, we firmly believe that creativity will help you cut down costs a lot!
You can do branding in simple and inexpensive ways such as customized folders or goodie bags. The customization can also be done by hand.
Recycling goods to create a brand logo or display is also another trending idea.
So, think long and hard about how you're going to incorporate branding.
This guide has given you a lot of event branding ideas. However, we are sure that you'll be able to think of more given your budget and theme.
If you found these to be helpful, do drop a comment and let us know!
In the end, we hope your event is a marketing success.
EventTube wishes your brand and event a lot of prosperity.