Taking everything digital during the pandemic had a steep learning curve. But at last, we did it! We managed to keep businesses and meetings going despite being unable to meet in person.
And now, when everything is back to normal, we've realized many things. Some of them include:
Virtual event management is way easier than managing the same crowd offline
We can address many more people in much less time through virtual events
It requires less manpower
We can bridge global boundaries with them
But it is still difficult to make virtual events seem at par with offline events. To some extent, it is fair to say that they'll never be the same. However, it is still possible to make virtual events more engaging and impactful.
So, here are some virtual event management steps for you to take. They'll help you take your event to the next level.
A. Identify long-term goals
You shouldn't really have any event without long-term goals in mind. After all, events exist to leave a mark. They are to shoot multiple birds with one stone.
Some of your long-term goals could be to:

Build a community
Get more people to follow your social media
To pitch a service or product
Obtain a better brand presence
Knowing these long-term goals will help you market and present your event better. The key to good virtual event management is people not knowing what they're being sold.
B. Right platform for virtual event management
Choosing the right platform to host your event is key!
There are different webinar hosting platforms with each having its own USPs (unique selling points). You should definitely consider their strengths and weaknesses before choosing one.
Here is a comparative analysis of the most popular ones to help you decide: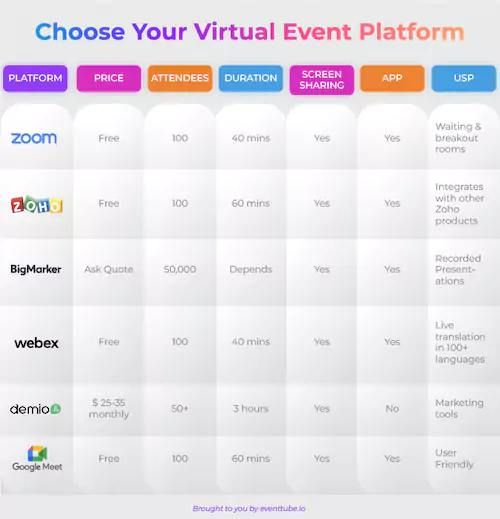 Don't limit yourself to the popular ones. Try out new platforms as this technology is getting better by the day.
C. List your event
Most of the event platforms don't allow event listing. After all, they're just a hosting platform.
To know how you can make your event reach the audience, head onto this article. Here, we talk about various platforms where you can list your event.
If your event also needs ticketing, you will also find all the ways in the article above.
D. Decorate the web room
A good marketer will never leave an opportunity for branding.
For better virtual event management, you must utilize every feature of the webinar/meeting platform.
A lot of them offer customizability by changing backgrounds and even landing pages. Ensure that you use your brand colors in this space.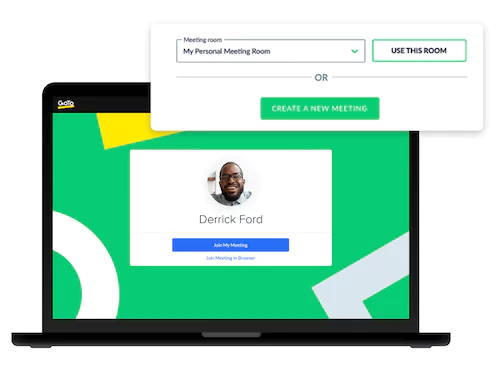 If none of these is possible, there's another trick you may try.
Make people from your team log in with brand logos as the profile picture and brand name as the username.
E. Create a custom background
Platforms such as Zoom and Google Meet allow you to have custom backgrounds. Refer to the picture for example: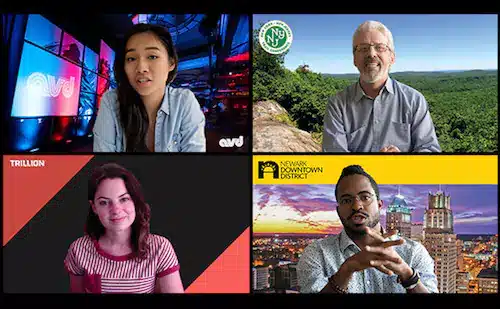 Such custom backgrounds help you hide your office space. And they also help you create an omnipresent brand presence.
Since attendees often share screenshots of virtual events, your brand identity also gets shared.
However, keep in mind that the background is minimal and clutter-free. This is to ensure that the speaker remains the point of focus for attendees.
F. Encourage keeping the videos on
If your event doesn't have too many attendees, you should encourage them to keep the cameras on.
Sure, it sometimes disrupts the server if too many people have their cameras on. But, the benefits are there too.
It makes virtual event management smooth as the non-verbal cues also get relayed.
It adds a personal touch and brings the event a step closer to real-life ones.
G. Q/A over voice chat
Any good virtual event will always leave room for questions and answers.
But, there's a tip to making it more engaging.
Let's first understand virtual events as a sensory experience. Even though we can't physically be present, we are still interacting. This is via voice, chat, and even video chatting.
Naturally, to keep people engaged, you'll have to keep switching up voices, include chat opportunities, and have more than one face.
One way to do it is by making it mandatory for people to ask questions by unmuting themselves.
For large conferences, you should have pre-approved questions. You could do it through forms in advance to avoid nuisance.
H. Attractive presentations
Building over the point above, one of the most used senses in virtual events is our sight.
Just hearing a speaker is not enough. You'll also need visual cues to go with it.
Accompany the presentation with an attractive PPT. And remember that any attractive PPT should be heavy on images or keywords only. Don't make it a novel. Skip to new slides every 2-3 minutes to keep people on their toes.
I. Use the whiteboard
Do you remember the good old classroom and boardroom days? Where people would explain concepts live on whiteboards or flipcharts?
Well, those days aren't exactly gone. You can make use of digital whiteboards available on virtual meeting platforms. If not, you may make use of Google Jamboard separately.
This aids in explaining complex ideas to a large number of people.
J. Get sponsorships
Yes! You can do this for digital events too.
Earlier in this article, you learned about brand endorsement for virtual events (Sections C, D, and E).
You can apply the same for brands you get on board as sponsors.
Having speakers from other companies in your virtual event will also help strengthen the sponsorship. This will also make it seem a little less like an advertisement.
K. Get it added to their calendars
With the ease of attending digital events comes the problem of "forgetting".
This can easily be solved by getting the guests to add the event to their calendars.
Google meet automatically adds the events to google calendars when accepted by the attendee.
For other platforms, you may try these ways.
Since people these days always have their phones with them, it'll be hard to miss your events!
L. Chief Guest
Your event can get great traction with the help of chief guests.
Find a prominent celebrity or famous internet figure in your niche. Invite them politely to grace your event.
You can use their presence as a marketing tool.
Another trick here is that you can ask that chief guest to send pre-recorded videos. Make sure they mention your brand and the content is tailored for the said event.
This will reduce your cost of having a chief guest by a great margin.
M. Networking opportunities
Key to good virtual event management is providing the opportunity to network.
Give people a chance to meet more people in their niche.
This will give more incentive to people to join.
Furthermore, it'll also help you expand your community reach.
It's a win-win for everyone!
N. Space out virtual event management
Monotony hits fast in events. It hits even faster in virtual events.
To ensure that people are hooked to your virtual event, you must include ice-breakers.
These could be as simple as Q&A sessions or as complex as some exercises.
You must have these at the interval of 15 to 20 minutes. This interval takes into account the attention span of people.
O. Multiple moderators
Every virtual event is going to have one primary speaker at least. But, the responsibility of virtual event management shouldn't lie entirely on that one person.
You must have at least one other moderator to share some responsibilities. For example, introductions, sharing links and reading comments.
P. Different media in virtual event management
Live content shouldn't be your only content source during the virtual event.
You must also include pre-recorded content, videos, games, forms, and chat.
This will help you make your presentation concise and engaging all at the same time.
Q. Include keynotes
As an event manager, you'd know how much effort goes into making the event a reality. The speaker and organizer would know the content inside out.
But, that's not the case with the attendees.
They'll be distracted no matter how many measures you take. They will not absorb each and every word you say, no matter how impactful the speaker is.
Selective attention is a sad reality when it comes to attendees.
To help with this very human phenomenon, do have keynotes after every presentation.
You can present it in the form of a pdf that can be shared later. This will also help you get their emails and potentially sign them up for your newsletter.
R. Collect feedback
Virtual event management is always a work in progress.
You may be extremely skilled at it but there will always be room for improvement.
To know where you can improve, you must share the link to a feedback form after every event.
S. Redirect to social media
A virtual event shouldn't simply end after the meeting.
In fact, the ending must be a new beginning.
What we mean is, you must take this audience to another platform. This could be your Instagram, LinkedIn, newsletter, Twitter, or any other social media.
This will help you build lasting relationships.
T. Share recordings
If you have copyrighted content, you can share the recordings of your virtual event for those who missed it.
This is optional but definitely helps if you add promotional material in the end. It will be convenient for people and they don't even know it's an advertisement in disguise.
U. Leverage engagement data for future events
Now, you've had a successful event. But, victory doesn't end here.
You must have collected some data during this event. It could be the mere attendance or testimony of attendees. It can even be the presence of a prominent person at your event.
You can use this data to promote similar events in the future. For example, "We changed the lives of thousands of people in the last event".
We hope this will help make virtual event management easier for you.
And if you were already good at it, we're sure you learned a few new tricks.
If you think we have something to learn from your virtual event management journey so far, do comment below!
Sign up for our newsletter for more such articles.