Hosting a dog or pet-friendly event should be the next thing on your agenda as an event planner.
If you are keeping a tab on these events these days, you'd know that dogs and pets aren't a separate type of event.
Rather, event planners are trying to incorporate animals into all different kinds of events. For example, many health-related events lately have animals as part of their event itinerary.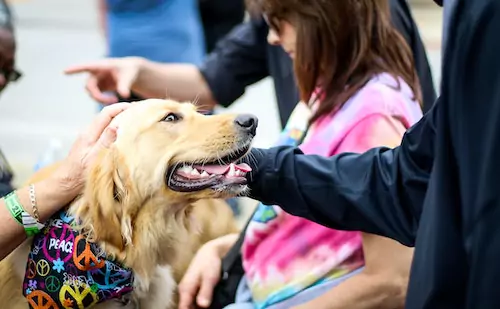 We have many animal lovers already so the target audience is enormous. It is also a great way to achieve targets you didn't even know you had.
So to tell you those, the next section will tell you the lesser-known benefits of hosting a dog event.
A. What does it mean when an event is pet-friendly?
Hosting a dog or pet-friendly event is a great way to boost event attendance. People often choose to stay at home on their free days to spend time with their beloved pets.
Given the option of showing up to the event with their pets, they're more likely to come.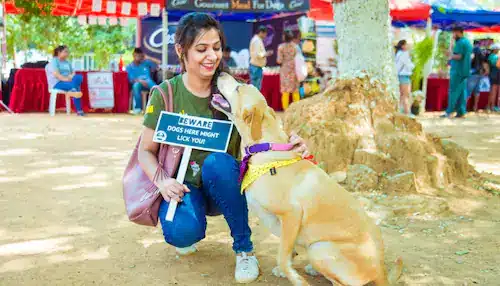 The atmosphere of such events is often family-friendly, so you're also looking at a vast target audience. Your event demographic will be diverse which might be exactly what you need!
Pets and dogs are also a great conversation starter. So, you'll be given your attendees an excellent opportunity to network.
Besides this, you're also making a long-term investment in your brand image. It makes your brand look inclusive, caring, and loyal (just like dogs!).
It's also a great social media marketing tactic. People love cute animals when surfing online. So, you'll immediately be creating a buzz in the market.
B. Key responsibilities while hosting a dog-friendly event
While hosting a dog event can seem very exciting, it also comes with many responsibilities. You'll have to take a few extra measures to ensure that the event runs smoothly.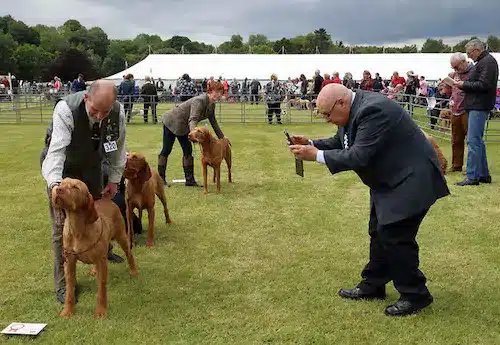 Sometimes local regulations for hosting a dog event can be a bit stringent. Be it for a residential or public area, do look up the local laws. They can involve:
Leash laws
Vaccination requirements
Other specific permits and licenses
You'll also need liability insurance for incidents like bites and injuries at the event. Of course, a lot of measures will be in place to avoid such situations. However, you can never be too careful in the event industry.
It is important that you get your attendees to sign pet waivers. You need written proof of them taking responsibility for themselves and their pets. Additionally, they should abide by all the event rules and regulations.
During the event, you'll have to carefully observe pet behavior. Have enough leashes in place. Do not allow excessive barking and aggressive behavior patterns.
All vendors allowing pet-related services should be well-researched. You need to ensure they have appropriate licenses in place.
Lastly, you also need to ensure that the pets at the event are cared for. You need to know their sensory needs. They'll already be at an unfamiliar place. So, you need to ensure that there isn't too much of noise and crowd. That can stress out pets too much.
For all of this to happen without major mishaps, you'll need a help desk. You can even let the receptionists take over this job. Attendees should be asked to report any issues and concerns to the volunteers. This will help you take immediate action before any issue escalates.
C. Attractions to have a pet and dog-friendly event
It's hard to throw a boring event when dogs or pets are involved. However, your event's success cannot ride completely on the cuteness of these animals.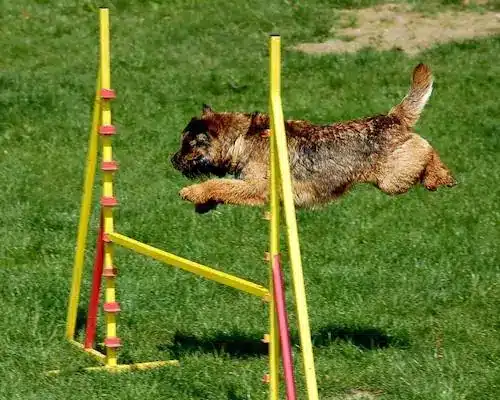 Here are some ideas for you to try:
Lemon race with pets: Pet owners will be asked to run with their dogs on leash. However, they'll also hold a lemon on a spoon in their mouth. If the lemon falls, they have to restart.
Doggie Tricks Challenge: The pet who could perform the most number of tricks wins and takes home goodies
Dares with doggo: Pet owners will be offered a bucket full of chits. Each chit will contain dares like proposing your dog, dancing with your dog, etc. Those who accept the dare will get rewards
Who does your doggo choose?: In this game, a dog parent and event volunteer will sit 4 feet apart. Both of them will call the dog from the other end of the room. However, the volunteer will have a treat in hand. This will be a game to see if the dog runs to the parent or towards the treat. If the dog chooses to run towards the parent, then they win
Get sponsorships and brand presence from companies offering pet grooming sessions, nutrition, vets, and training
Agility course: Set up a race with obstacles, tunnels, and hurdles. Give prizes to the fastest and most agile dogs
Doggie models: Get professional photographers, a photo frame, and even a 360 degree rotating camera for amazing pictures and videos
Pet costume contest: categories like "Best Dressed," "Most Creative Costume," and "Matching Owner-Pet Outfits"
Playground: Have a designated area where dogs can play or roam freely. This will give owners some time to interact with humans or other dogs. The dogs will also get to relax
Splash zone: An even better alternative to a playground is a space with a pool or sprinklers. Dogs can cool off and swim here
Pet education workshop: Offer workshops and helpful sessions on training, pet care, and pet health
Psychics and animal communicators: Offer attendees the chance to consult with a pet psychic or animal communicator. Even if it's all for fun, it'll still be fun to know what your pet is thinking
D. How do I advertise my pet friendly event?
Advertising events is an art.
When it's a niche event like a pet-friendly event or hosting a dog event, it requires an elaborate event marketing strategy.
It's a good idea to reach out to pet-friendly bloggers and podcasters. In fact, most influencers with a pet will be able to influence people into coming to the event.
However, you need to ensure that the influencers share correct and crisp details about the event along with the link.
Do not ignore social media, magazine, and newspaper publicity. Getting your event featured here will definitely get you the traction you need.
In addition to this, another quick way to get good attendance is by listing your event on ticketing websites.
While you're utilizing all these resources, don't skip video marketing. Dogs are great for marketing. Cute little dog or pet videos will definitely get the attention any ad needs. Pet-centric marketing is key to this event.
Be sure to keep your online and offline community continuously engaged. Maintain a good online presence in the months leading up to the event. Consistency will really come in handy when it's time to sell tickets.
E. Things to consider when hosting a dog event
Your "things to remember" list is going to be a long one. That's because you're not only dealing with people but also little creatures. Animals can't fend for themselves or complain, so you'll have to look after them.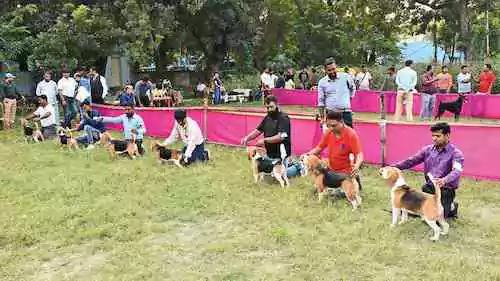 Ensure the following to ensure that your furries are taken care of:
Look up the weather forecast before finalizing the dates for your event. You need to ensure that the weather isn't too good
Have a lot of eco-friendly poo bags so that the dogs don't make a mess. If you also keep a separate poo bin, you can recycle the waste as well
Having vets to cater to any injuries or attacks is a good way to be on the safer side
If you have extenders or wires on floors, make sure they're shock-proof and not a tripping hazard
Keep designated areas for dogs to take toilet breaks
Don't focus too much on the aesthetics. Your decoration shouldn't be hazardous for dogs. Remember they can break and chew things
Fireworks at the event are an absolute no-no. They can disorient and terrify dogs.
Chocolates should find no place on your event's menu. You can check out Carob as a dog-friendly chocolate replacement
If you're going to allow pets without leashes, make sure that other attendees know this and can make informed decisions when they cp,e
Avoid bones as treats as they can be a choking hazard for dogs
Have hydration centers for your four-legged guests to drink water throughout the day
F. Unique pet and dog friend event ideas
Enough has been said about the dos and don'ts of hosting a dog event. Now, let's give you some ideas of some trending events.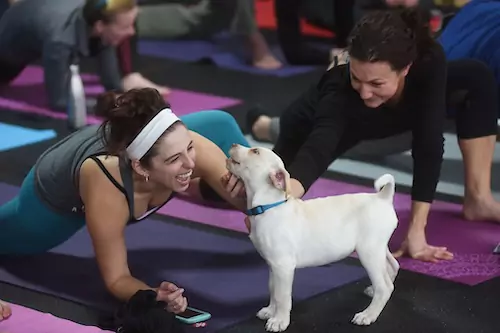 Puppy yoga: Attendees will get to do their asanas with four-legged furries running around
Pool party with puppies
Community dog walk: Attendees and their pets walk out in outrageously themed outfits
Adoption party: A party with doggy guests and incentives to adopt dogs in need
Frisbee tournament with dogs
Pet and parent spa day: Dogs and their owners get their dose of rest and care with grooming, massages, and spa
Now you know what to do and what not to do when hosting a dog event. You even have some creative ideas to get started with the event planning process.
Now, all you need to do is reach out to dog shelters or pet owners for your event. Don't forget to utilize all the sponsorship and brand collaboration opportunities.
We hope to see you launch a pet-friendly event soon.
Happy event planning!