Halloween event in India are far and few, but it's not unheard of. If there's ever a good time to hop on the trend, it's this time.
Around this time when people are showing willingness but don't have enough options, you get the best market.
It's the best time you'll find to organize Halloween events. So here are all the questions you must be having in mind—Really? How? When? Where?
We've answered it all. Read till the end to find the best tips to host a Halloween event in India.
A. Do they celebrate Halloween in India?
In India, Halloween is celebrated but with a little bit of reluctance. They love the traditions but don't necessarily relate to the meaning behind them.
Originally, the festival was celebrated majorly by Celtic people in Europe. They believed that there was only a thin wall between the spiritual world and ours.
So, they created this festival to welcome the spirits of their ancestors and ward off evil ones.
This festival soon spread to other countries like the USA, New Zealand, Canada, and Australia.
However, India has only begun to enjoy this festival. There's a growing acceptance towards partying and dressing up for Halloween.
B. Who celebrates Halloween?
Definitely not the children of India.
Trick-or-treating is one of the biggest highlights of Halloween abroad. It involves children going door to door asking for candy.
That's not something Indian parents will allow their children to do. And quite frankly, it isn't very safe either.
Now let's talk about the parents and older populations. They aren't very fascinated by the idea of messing with spirits.
Rather, India has separate religious festivals like Bhoot Chaturdashi. The older population is more inclined towards celebrating festivals like this and Dussehra/Choti Diwali.
It makes sense because we already have these festivals in our religious context.
However, the Western FOMO (fear of missing out) is also leaving an impact on one particular target audience.
We are talking about teenagers and young adults. They're more accepting of Western traditions and festivals.
Look at how much Christmas is loved across religions and traditions now.
We predict the same for Halloween.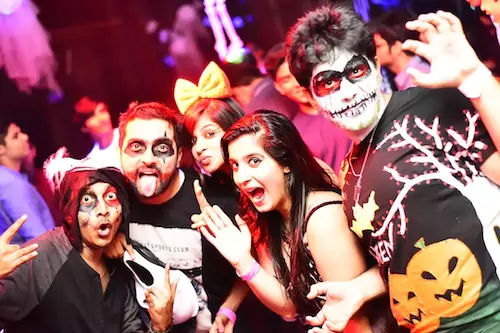 So, teenagers and young adults must be kept in mind while planning a Halloween event in India.
C. Halloween party ideas
We've finalized the target audience for your Halloween event in India. But, you also need to know the various event concepts there are.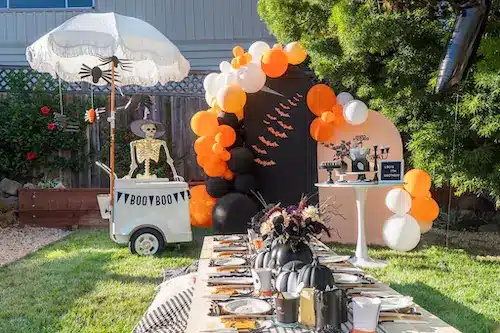 Here are some new and classic ideas for a Halloween party. Some will be extremely appealing to the Indian audience.
Let's dive right in.
Murder Mystery Night: This game event involves the guests to become characters. There's a fictional murder on the night. Guests are given clues to find out the murderer
Survival Night: This is a zombie-themed event. Here, there can be escape rooms and survival challenges like cooking with the bare minimum. You can either get actors to pose as zombies or ask the guests to come dressed as one
Witchcraft Soiree: Witchcraft is often confused with black magic. However, a lot of it is about manifestation and rituals. Simple things like lighting incense and reciting a prayer are also reflections of witchcraft. You can host such an event with a witchcraft expert
Holi in the Dark: For Halloween to succeed in India, you must pair it with festivals we already know. Have a color-throwing event in a dark setup or the night. It's a good idea to use neon colors to contrast the darkness
Spooky street food festival: You know people aren't going to say no to a festival, especially if it gives them a chance to dress up spooky
Movie Marathon: People love good horror movies. Have a community movie-watching experience
Glow-in-the-dark Rave: This event doesn't know what visibility means. Let people get lost in loud techno music with their neon makeup and accessories
Haunted Palace: Book a large palace-like venue and decorate it with fake blood, fog, and corpses. Have games like hide-in-seek in this horror setting
Vampire Diaries: You know the country isn't very open to classic Halloween celebrations. But, you also know the country has one of the largest fan bases for the sitcom. So, have a themed event dedicated to this loved show. Encourage your guests to come dressed as vampires (it also happens to be one of the easiest Halloween looks)
Mystical Market: To avoid the horrors of bloody decor, you can simply have an event with fortune tellers, tarot readers, and palm readers. Plus points for food stalls with Halloween-themed dishes
D. Halloween party themes
Now, it's time to pair your Halloween event concept with a good theme. Here are some ideas for you to put two and two together.
Haunted Cinema: Try to book a theatre or a venue that can be made to look like an abandoned movie theater. You can host the horror movie marathon here
Ghostly Garden: Book a banquet lawn and decorate it with all things creepy. Golden and red fairy lights work great in this setting. Have flickering lanterns and dried flowers for decor
Haunted Wedding Venue: Book an affordable wedding venue. It's a good idea to book it right after the wedding. Don't take off the decor and smear it with fake blood wherever you can. Ask your guests to dress up in wedding attires but with a haunted twist
Lab of Horrors: Have a mad-scientist-themed event. You can create this effect with dry ice, creepy inventions, tools for torture, and creepy decor
Freaky Carnival: Have a scary carnival with bizarre stalls, classic carnival games, and scary clowns
Bollywood Horror Bash: Indians love Bollywood events. But, twist this one. Tell your guests they can only come dressed as Bollywood villains
E. How do I host a Halloween party?
For hosting a Halloween party, you need a date and venue in mind. Create a well-thought-out budget. Use this event-budgeting guide so you don't miss a thing.
Then, you need to move to the logistics. Decor will play a huge role here so a good chunk of your investment goes there.
Your event should also consist of good Halloween games and party favors including food. With so much to cover, it's a good idea to keep an event planning guide handy. It will tell you all the tips and tricks.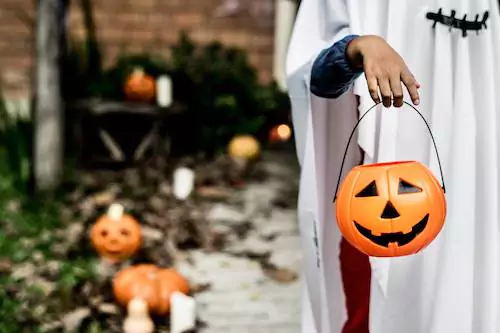 However, Halloween events require specific entertainment. So here are some ideas to keep your guests entertained at a Halloween event in India:
Host a costume contest where the scariest/most creative/popular wins
Halloween trivia with questions related to folklore and horror movies
Mummy wrap competition where the first person to wrap their partner with toilet rolls wins
Pumpkin carving is a classic game for all Halloween events. However, it's a good idea to give some prior knowledge and tools for the same. This is because our culture isn't very familiar with this tradition
Scavenger hunt with scary clues leading to a treasure
Ring toss games are famous everywhere. However, you can give it a Halloween twist by making witch hats or sorting hats as a target
Create a spider web on the floor using black tape. During the game, each person must navigate through the web while carrying objects. The catch is that they can't touch the web/black tape on the floor
Play classic charades or hangman but only with horror movie titles
Have a house of horrors with paid actors to act as ghosts
F. Halloween event color schemes
Yes! Halloween happens to have some traditional color schemes that most events and even brands use. Here's a glimpse into those so you can skip your research:
1. Black and Orange
This is the timeless Halloween theme. You can use black tablecloths and large decor panels. Then, you can use orange as the accent color for cutlery and smaller decor.
2. Green and Black
Create a witchy vibe with this color scheme. Don't forget to include black cauldrons, brooms, and black witch hats as the decor.
Green can be used as an accent color hair for potion bottles, crystal balls, and leafy decor.
3. Black, White, and bright colors
If you must have lights on at your event, this color scheme could work well for you. You can have a black and white black drop.
Bright colours can be in the dress code of your guests as well as complimentary face paint by you.
4. Red and Gray
Note that gray is only the neutral color here to contrast the bright red decor. Splattered blood should be a necessary element of your red decor.
5. Spooky dull colors
Grays and dull shades of green and pink often give a sickly appearance. Use these colors to choose the decor for your event.
Further, you can encourage your guests to dress up in pastel clothes.
G. What time should a Halloween party start?
It's a general practice to host Halloween parties in the evening or night.
A good time to begin your party is around 7 PM to 8 PM. This time frame is chosen for a reason. It isn't too late if you factor in the safety concerns guests or their parents might have. It also isn't too early if you keep in mind Halloween themes.
H. Tips to throw a killer Halloween event in India
It's a good day for you because we want to top up with an informative guide with more tips.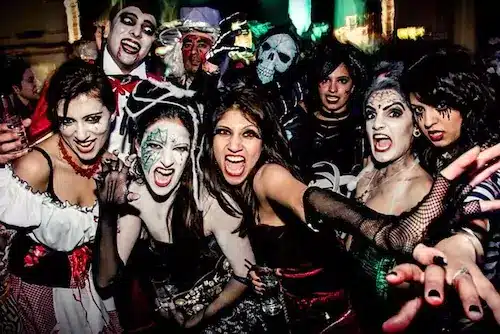 Here are a few expert-curated tips for Halloween parties:
Choose unconventional venues like historical or abandoned places
Create a multi-sensory experience with spooky smells (smoke), feelings (rain drizzle), and soundscapes
Your food and beverages must be Halloween-themed
Have incentives for guests to dress in their creepiest and most creative outfits
Keep your invites themed but also cryptic. Don't give too much away before the event
Incorporate AR and VR experiences to create high-quality horror experiences
Get professional makeup artists or face painters on board to give your guests an even creepier look
Summing up
You're now all set to host your Halloween party.
Venue, timing, theme, and tips. We've covered it all.
It's now your time to disrupt the market with your amazing new Halloween event in India.
If you liked what you read and want more such event insights, sign up for our newsletter below.