Diwali event ideas must be buzzing in your head with the festival around the corner.
It's our favorite festival as it opens the door to so many unique celebrations.
Here are some you must execute for your next Diwali party.
A. How can I make Diwali more fun?
Diwali brings together families and friends. Everybody dresses in shiny new clothes. They exchange gifts. All of it already sounds so fun. But, if this is all that Diwali could offer, you wouldn't be reading this.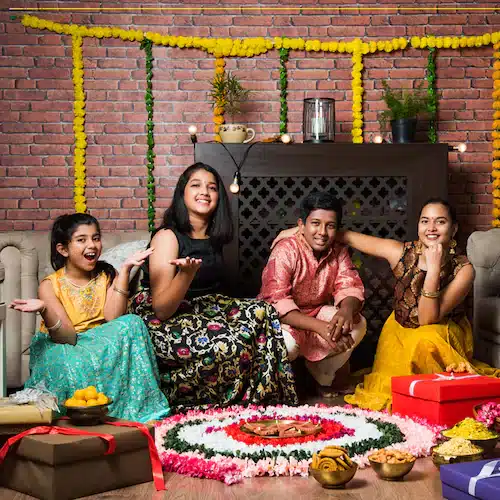 Some ideas event planners like you can execute to make Diwali more fun are:
Diwali games: People love playing community card and board games like Tambola. For more artistic activities, try diya decoration and rangoli-making
Dance nights: Traditional Garba, Bhangra, or event Bollywood dance moves make a great event
Food tasting event: Diwali is known for its delicious sweets and preparations. Create an event surrounding all the delicacies
Ramp walks and photobooths: People take pride in their beautiful Diwali clothes. Allow them to catwalk and provide opportunities to get clicked
Live performances: With holidays at their disposal, people just want to go out. So, give them exactly what they want by bringing artists on board. Sufi and Bollywood singers are a hit around this time
B. How to celebrate Diwali in a unique way?
You've heard some of the classic ways to spice up Diwali celebrations. If you want to create something entirely out of the box, think of these Diwali event ideas.
Diwali in itself is a very unique festival. However, people look for new ways to celebrate it each year. Consider these for your next unique Diwali party:
1. Dinner in the dark
Diwali is the festival of lights. But, it doesn't always mean bright flashy blinding lights.
Think of a dim-lit dinner night. No, not a candlelight dinner. We are talking about a darker setting with bare minimum light.
When visibility isn't great, you engage your other senses more. A dinner in this setting is definitely set to leave a good memory.
2. Adventure expedition
Diwali melas are already famous. But, instead of the regular fair, take it up a notch. Turn up the adventure factor.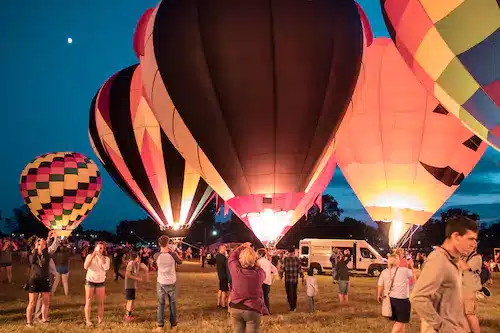 You can do this by getting ziplines, outdoor games, and even hot air balloon rides in your city. People love to pay for experiences instead of services, so this event is bound to sell out.
3. Mass sky lantern spectacle
Let your guests gather and interact. Having a delicious buffet before the event is definitely a good idea.
The main idea should consist of people coming together to release sky lanterns in the sky. It's a beautiful sight to watch.
4. Techie's Diwali event ideas
Firecrackers are banned as far as you can see. And quite honestly, our country can use less pollution.
But, don't skip the experience altogether. Create a modern Diwali experience using AR and VR to create the firecracker experience.
You can even have LED display panels on ceilings to create this kind of event. It's environment-friendly and definitely really cool to watch.
5. Diwali cruise
For a more opulent event, consider celebrating Diwali over water. You can have live music and dinner followed by fireworks.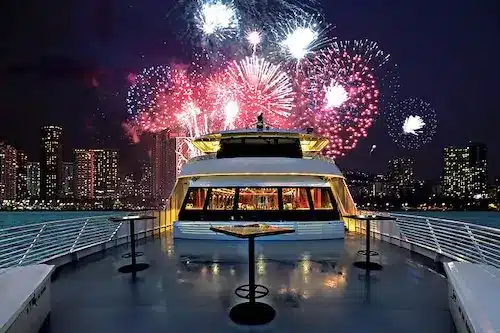 6. Anti-pollution celebration
Every year on Diwali, the particulate matter in the air goes up by 40%. The extent of this situation leads to schools and offices declaring holidays.
So, a unique Diwali celebration could be aimed at reducing the harmful effects associated with the festival. Consider a planting drive, solar-powered lighting and decor, and eco-friendly decor-making.
Such events could make Diwali and our country greener. The event planning industry should use its power to bring out positive effects.
C. What is the theme of Diwali?

Diwali is the festival of lights. The deeper underlying meaning of this theme is that good always conquers evil.
However, most Indians are already aware of this. For your event to succeed, you must combine this theme with another one. By combining two themes, you can come up with better and newer Diwali events each year.
Here are some ideas for you to try:
1. Diwali in an enchanted forest
This theme is best executed in an outdoor setting or the woods. Decor the venue with fairy lights and lanterns.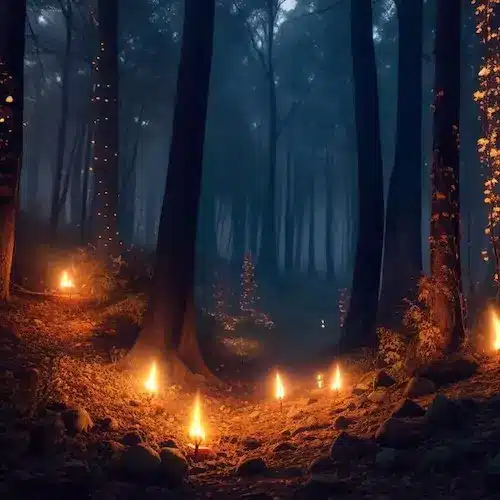 2. Bollywood x Diwali
The music and the glamour of this event are meant to be the highlight. Ask your guests to dress as their favorite Bollywood superstars.
3. Neon Diwali
Have a glow-in-the-dark party. People won't even feel the need for firecrackers when they're dancing with neon accessories.
4. Mystery Diwali
Host a masquerade party where people can dress their best but also enjoy an air of secrecy.
5. Royal palace
Choose an opulent venue with traditional architecture or a palace willing to host your event.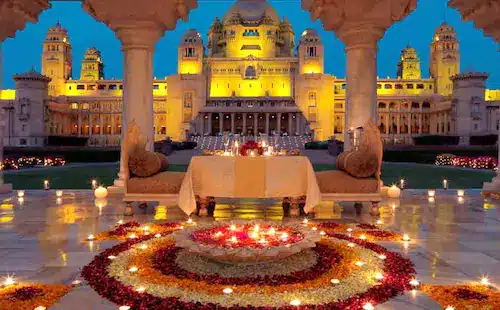 D. How to organize a Diwali party?
Like every event, organizing Diwali events is also a very systematic process. Here's what your event planning process will look like:
For systematic event planning, first, sit down to know what your event really is. Is it a family gathering, a corporate event, or a community event? Then, jot down all your essential Diwali event ideas
Determine your budget for the event. You can use this event budget guide to create one
Choose a venue that accommodates all your guests and their needs
Get your Diwali decor like diyas, rangoli, and fake flowers early. Avoid the expensive rates when it's the peak festive season
If your event is a bit high profile or on a large, consider inviting a celebrity for entertainment. You can hire a celebrity for your event using this guide
Hire caterers for your event. Include delicacies like jalebi and kaju katli
Create customized invitations using Canva
Hire a security and crowd management service for your event
Invite a local priest to your event to do the prayer rituals on Diwali night
Set aside a section of your event venue for gift exchanges to take place
Have a designated photo booth so your guests can flaunt their outfits
Create a comprehensive event timeline highlighting all the performances, dinners, activities, and the puja
Market your event in local communities or digitally
Assemble your on-ground team for decorating, management, and coordination
Have a feedback mechanism to take guest's valuable feedback for the event
E. What is the color theme for Diwali?
Event planners know that there are no right or wrong answers to this question. However, there are some color schemes in the book that look amazing.
1. Red and Gold
Red signifies energy and passion. Gold symbolizes wealth and opulence.
Remember that Diwali comes with a lot of excitement. People often pray to Goddess Lakshmi for wealth. These two colors capture the essence of Diwali beautifully.
Use red as the dominant color for tablecloths and wall decor. Then, add gold motifs and elements like diyas.
2. Green
Green symbolizes growth and harmony. Additionally, it also captures the eco-friendly spirit. This color scheme is for sustainable Diwali event ideas.
Build this theme with this guide to organize sustainable and eco-friendly events.
3. Black and Gold
A classic color for Diwali decor is black because everything looks lighter in comparison. That's exactly what you need in the festival of lights.
Create an inviting atmosphere despite the black with golden candles, streamers, and balloons.
Have dimmed golden lights to make the atmosphere cozy.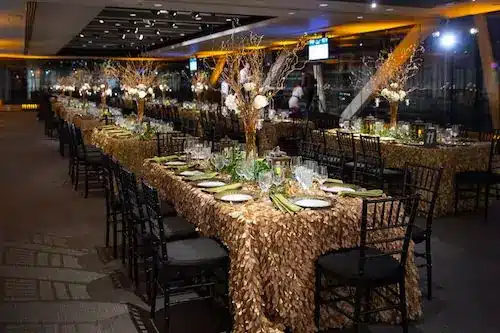 Now that you know the best color schemes for your Diwali event ideas, keep these in mind:

All shades of gold are not gold. And that applies to all colors. Make sure you maintain consistency with shades
Incorporate the color scheme in invitation cards as well
Flowers are great but be mindful of how well it goes with your theme. Marigold will go for a black-gold theme but not a red-gold theme
Have some neutral colors like beige and grey to balance out the bright colors
F. What are the special activities for Diwali?
You've decorated the event well. You did amazing marketing. A lot of people showed up to your event too.
But, now the challenge is to keep them busy and entertained. We're sure the entertainer you paid to perform can't entertain your guests all day.
Here are some classic Diwali activities to engage your audience with:
Best Outfit: Turn into a friendly competition where you hand out prizes for the best-dressed individual
Cooking Experience: Have a live laddoo or sweets-making workshop. Give guests an opportunity to learn and also eat their beautiful edible creations
Henna Art: Arrange a henna artist who can create beautiful henna designs on your guests' hands
Karaoke: Turn your guests into entertainers for the event
Plays: Do storytelling/puppetry/plays on Diwali legends or scenes from Ramayan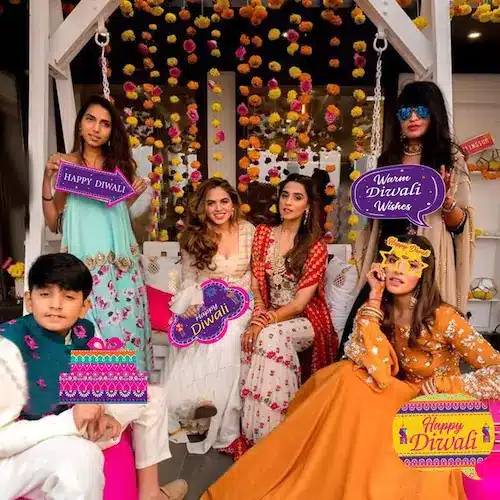 G. How to make Diwali fun for kids?
Let's address this population of your event audience that decides whether your Diwali event ideas are a success.
You must keep the children happy and entertained so the adults can get some time to enjoy as well.
Here are kid's activities for your event:
Rangoli sheets: This small activity can keep the children busy for smaller events. Print out Rangoli outlines on paper and let the children color it
Craft corner: Set these up so children can make paper lanterns or paint diyas
Pottery: If the venue allows for it, have a session where children can make their own diyas
Rides: This is a no-brainer when it comes to child-friendly events
Greeting cards: Children often feel left out during gift exchanges. Give them a chance to exchange something of their own by teaching them how to make Diwali cards
Now, we've covered the last segment of Diwali event ideas.
You can now organize some out-of-the-box events with lots of entertainment and novelty factors.
Since you made it to the end of the article, here's a gift for you. This guide will help you organize other festival events.
Sign up for our newsletter below to keep getting free event planning guides.
Happy event planning!