Valentine's Day is the time for all things romantic. The events around the time make sure that couples take the center stage. But as fast as India's event industry is going, event planners are constantly on the lookout for new ideas.
While research is one thing you may do, brainstorming is a whole other ballgame. But lucky for you, EventTube does both of these for you.
In this article, you'll learn about Valentine's Day celebrations across the world. Plus you'll also see what you can do with that information. So here are some inspiring Valentine's Day event ideas:
A. Sweetness Week from Argentina
We expect nothing less from the country of tango and passion. And needless to say, they don't disappoint.
Argentinians don't celebrate Valentine's 'day' but rather an entire Valentine's week.
Interestingly, this ritual was started by Arcor, a candy company. They created a campaign around it to boost candy sales. Little did they know, they were giving birth to a Valentine's tradition.
This week calls for chocolate gift exchanges and all things sweet. An event around this concept is great for dessert brands and shops.
It also makes you think about the possibility of a weeklong Valentine's retreat event. To elaborate, think of a relaxing week-long trip for couples. It'll include all things romantic and sweet. For example, a couple's massage, wine tasting together, and 24*7 dessert bars.
B. Valentine's Day Event Ideas from Wales
The very wholesome celebration from Wales is inspired by a legend. It is the tragic tale of Dwynwen. Due to rejection from her father, she gave up her own love. But in doing so, she wished that other people didn't face the same fate.
India too, is home to some tragic love stories. Heer Ranjha, Bajirao Masti, and Anarkali Salem are some of the popular ones. But, these don't just have to be tales. They make for excellent event themes.
Is that all from Wales? Absolutely not!
In our research, we also found that Welsh people don't limit themselves to flowers, chocolates, and gifts. They even carve spoons for their loved ones!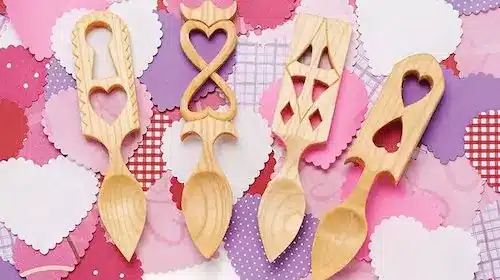 A wooden spoon carving station at your Valentine's day event is just the perfect idea! And if not spoons, just carving messages for their loved ones on a piece of wood would be lovely.
C. Figurines from Spain
Valencia, a region in Spain, has a cute little Valentine's Day tradition. And surprisingly, they don't go with the traditional date either. They have multiple dates across the year.
And on 9th October, they celebrate it in Valencia. People wrap handmade marzipan figurines in a handkerchief for their loved ones. Partners usually hold onto that handkerchief for years, as a testimony of their years together.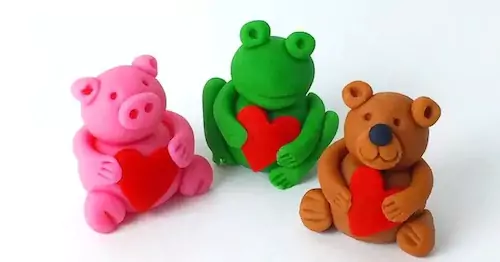 Marzipan, in simple words, is a sweet treat made using almond meal, sugar, and honey. It is nutty and delicious.
While Indians may not relate to marzipan much, we can try it at our events with Indian sweets. Imagine figurines out of meethi boondi or even besan laddoo mixture!
D. Wine-tine's Day from Bulgaria
Did you know that in Bulgaria, Wine Day and Valentine's Day fall on the same date? And someone just said, why not celebrate both? And the rest is history!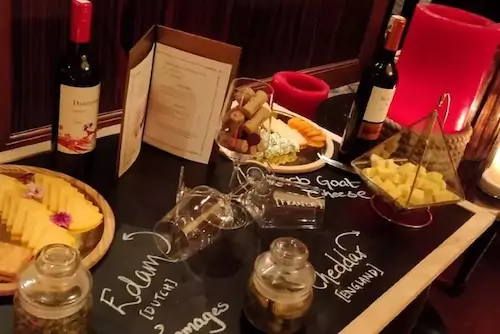 The beauty of an event inspired by this is that you'll not really need something extraordinary. Gold/Silver decor with a good wine collection is all you need. So, make your Wine-Tine Event dreams come true today.
E. Gaekkebrev from Denmark
The subheading isn't something that rolls off the tongue so easily. So, let's just call 'gaekkebrev' a joke letter as its loose translation indicates.
This tradition is simple yet romantic. Out here, admirers write poems or letters on beautiful paper cutouts. They even press fresh flowers in it. On top, they must denote the number of alphabets in their name as dots.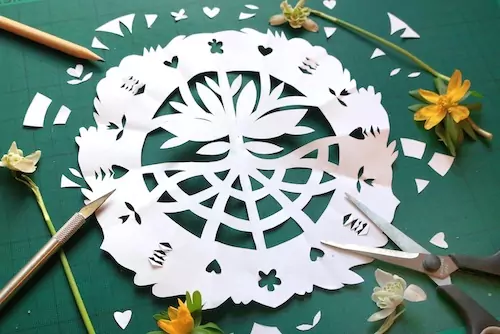 The recipient is then asked to guess the name based on the content and dots on the letter. If the guess is correct, the recipient gets a chocolate egg. And if not, the secret sender gets an actual egg.
This could be a wonderful event for singles. For more Valentine's Day event ideas for single people, read this article.
And if you want to take the traditional route. You can limit the event activity to just writing letters and pressing flowers in it.
F. Mass Marriage from the Philippines
It's not unusual for Indians to gatecrash weddings. But, imagine a wedding you're invited to despite not knowing anybody there.
Wait wait, we're going too fast. Let's go to the Philippines first and see what they're up to. Every year on Valentine's Day, the government sponsors weddings of the less fortunate.
The wedding cake, officiant, venue, and even the decoration are taken care of by them.
All the couples have to do is show up in wedding dresses and suits.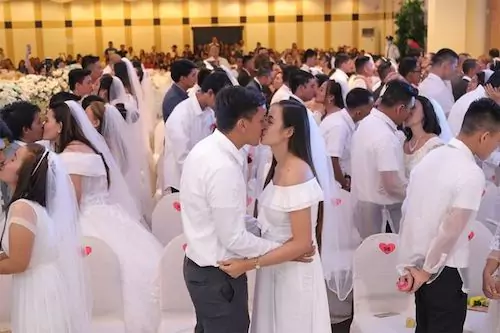 Now, come back to India. Obviously, with a population like ours, we can't pull off something so impromptu. But despite that, we can still handpick less-fortunate couples and have a public wedding that's open to all.
Such a sweet way to celebrate! It allows partying and celebration of love all in one place.
We are sure your Indian audience would love to have an occasion to dress up in their fancy attires.
G. South African Valentine's Day Event Idea
Have you ever heard of the phrase—'wear your heart on your sleeve'?
South Africans took it way too seriously. Amongst the other regular festivities of Valentine's Day, girls wear the name of their loved ones on their arm.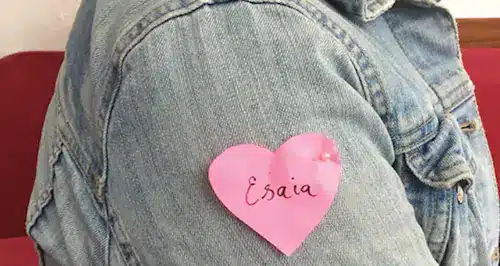 As Indian event planners, we could put our own Indian twist to this. You could station henna artists or even face painters/artists at the event. Then, let them get creative with the couples. Let them wear the names of loved ones on any part of their body.
Want to take another direction? Consider getting the attendees customized T-shirts with quotes like "I belong to _____". This works with a limited crowd though. Don't forget to take pre-order requests and payments. You can even have a manual T-shirt printing station!
H. Love Bus from Finland and Estonia
Falling in love while traveling has always been very romantic. Finland and Estonia offer this opportunity to people.
This is one of those Valentine's Day event ideas that call for rental buses. Of course, they'll need a VDay makeover.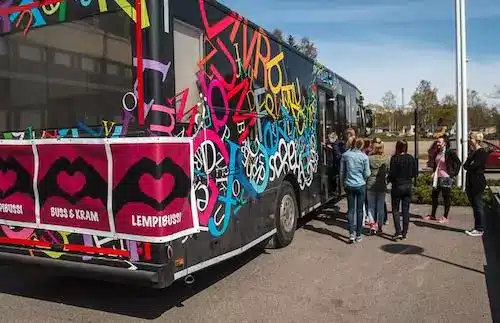 Then, you just get people on board. You can either make it a single's event. Else, you can turn it into a city tour for couples.
I. The Ghana Way
Ghana is known for its cocoa production. So, they marketed their strength in the perfect way.
They celebrate Valentine's Day as National Chocolate Day!
This boosts sales of chocolate and cocoa products like nothing else.
Indian cities have their own unique take on desserts. We could definitely market that into a Valentine's Day festivity. For example, "Roshogulla for my love" could be a campaign.
More Valentine's Day event ideas are possible from this concept. For example, a chocolate-themed party would be perfect. Brown event decor doesn't have to be boring.
J. Japan Does It Differently
India is becoming increasingly feminist and we are all in for it. It is a perfect time to get inspired by Japan's way of celebrating Valentine's Day
Traditionally, women do the gifting on Valentine's Day. They make homemade chocolates for their loved ones.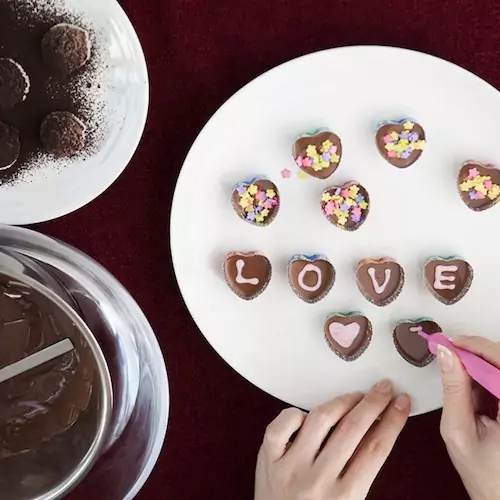 Well, there is a day in the subsequent month when men also pamper their partners.
But, let's go back to the former bit. It makes you wonder about the possibility of an event where women pamper men. Do all the acts of chivalry. Cross-dressing could also be a fun take on it.
K. Romania's Romance
Romanians have a tradition where they pick flowers for their loved ones on their special day.
As simple as it may seem, it makes us wonder how this is much sweeter than buying flowers.
This can be executed as an event by choosing an orchard, forest, or garden as the venue. Make sure the flowers are planted for this purpose, to not ruin the natural flora and fauna.
You can also turn the concept into a mass picnic date. Then, the flower-picking activity can be another attraction within the event.
An outdoor event as opposed to an indoor dinner will also be a good way to celebrate the day.
L. Parisian Valentine's Day
The Eiffel Tower has become a symbol now. Couples don't shy away in front of this monument. Indians too, are in awe of this culture.
But you know what, India also has its symbol of love. The Taj Mahal.
And as difficult as it may seem, it's really not a difficult theme to recreate on your Valentine's Day event. You need white and blue decor and a royal dress code. The rest that follows will be similar to other Valentine's day parties.
You can even consider these romantic restaurant venues for your event.
It is about time we appreciate everything that our own country has to offer in the event industry!
Did you like these Valentine's Day event ideas? We are sure we can come up with such ideas endlessly. Would you like to contribute too? Comment below.
You can also head on to other articles in the Valentine's Day series. Rest assured to find the best guides and ideas for your next event.
Don't forget to sign up for our newsletter to never miss a beat from the event industry! You can see the option to sign up below.