Money. From ideation to execution, all steps of event planning require money. How to make a budget for an event sits at the core of event planning.
However, there's no perfect recipe for it. Budget planning for events is something you learn as you go.
Years of event planning experience bring you the kind of budgeting lessons you actually need.
It is influenced by your contacts, your area of practice, and also some mishaps.
We have collected the experiences of many to come up with a budget guideline to help you kickstart your budget.
A. Step-by-step guide on how to make a budget an event
1. Know your event
You won't know what your expenses will be if you don't know what your event is asking for.
Have long conversations with your client to know each and every detail. Jot down everything they want to include in the event.
Pro Tip: Start budget-making from the first day of the event to have minimum last-minute cost pile-ups.
2. Don't skip research if you're a newcomer
Your client is not an event planner. You'll need to figure out some costs that don't come up naturally in conversations. Things like transportation and electricity costs are often missed.
So, if you've just started out, attend similar events and talk to event planners who've organized such events.
Research the event type well to not miss a thing while including expense items in the budget.
Pro Tip: You can run an EventTube search for the type of event planning guide. Or ask us to prepare a guide on it.
3. List everything you need
Now that you've researched so much and know most of the expense items, start categorizing them.
Some broad categories can be Food, Sponsorships, Logistics, Staff, Rentals, and Marketing.
You can find the full breakdown of the categories in section B.
4. Delegate tasks
Event planning is not a one-man job. You need as many hands-on boards as possible.
This is where categorization will come into the picture. It will help delegate each category to your event planning team.
This will increase your efficiency manifold.
5. Contact vendors
Now that you have a list of items, start reaching out to vendors and ask for quotations.
You don't have to seal the deal just yet. But use this opportunity to learn more about the current market prices.
Try to ask for referrals too to get trusted sources.
Pro Tip: Think like you're going shopping. Reach out to as many vendors as possible (and bargain too!).
6. Time for sponsorships
If you're not using event sponsorships as a revenue source, you're really missing out. It's a misconception that only large-scale franchised events can call for sponsorships.
There are many local, small, and homegrown brands that actively look for visibility. For example, you can have a local alcohol or drink brand at a wedding.
Get inspired by this sponsorship strategy followed by a food fest to get some inspiration:
Send out lucrative sponsorship letters to prospective brands. Make sure you mention everything that you have to offer.
Be open to having some companies that offer your sponsorship in cash, kind, or a mix of both.
7. How to make a budget spreadsheet for an event
When you're creating your budget spreadsheet, you will need three columns. The projected budget column should contain amounts that you think it'll cost and can afford.
The real budget should include the amounts that you agreed upon with your vendors.
Then, add your profit margin and discuss it with your clients.
Pro Tip: Your real budget should be much lesser than the projected budget. That's because event expenses tend to rise up as you go.
8. Create a timeline and strategy
Your budget should not be devoid of strategy. You need a clear-cut plan of when, where, and how you'll be making all the purchases.
Create a strategic timeline of when the expenses need to be paid with deadlines and installments.
9. Keep updating the budget sheet
Do not treat your budget as a static sheet. It should keep evolving throughout the event.
You need to look out for cost-cutting opportunities and also leave room for excess expenditure.
Keep logging in all the expenses that you make to avoid exceeding your projected budget.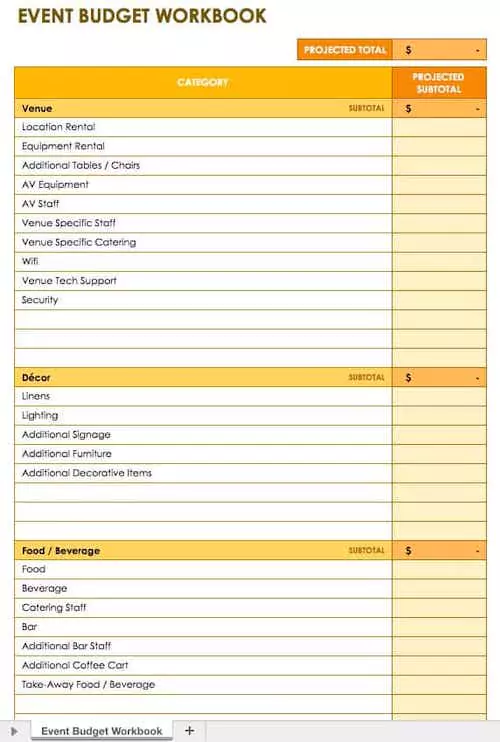 B. How to create categories when you make a budget for an event
1. Venue
This will include the following:
Venue space and rent
Charges for parking space (if applicable)
Services provided by the venue
Decoration
Pro Tip: Try to get a venue that's flexible with dates in case your client has a change of heart.
2. Food

This will include the menu items, caterer's fee, cutlery, and servers if required.
Pro Tip: Check with all the guests' dietary requirements in advance to avoid mishaps and lawsuits.
3. Electronics
This is a broad category including all electronics at the venue: fan, AC, and lights.
It could also include decorative items that run on electricity or any equipment needed to cook/keep food hot.
Don't forget the stage set up with all the screens, mics, and A/V systems.
Pro Tip: While all of this is a good long-term investment, also be mindful of repair and maintenance costs. So, if you're just starting out, consider renting these items.
4. Security system and personnel
You'll need to pay for all the security guards, cameras, alarms, x-ray machines, batons, etc.
Pro Tip: Reach out to security-providing agencies
5. Staff
You need to take into account each and every person who will be getting wages from you.
From management employees to sweepers, make a list of everyone and add their wages in the budget.
6. Marketing for the event
You will need to spend on banners, social media marketing, event listing, and tickets. This step is necessary to get a good turnout these days.
Pro Tip: Have an in-house marketing team if you organize events frequently. Having the same team helps you perform better each time as you learn from previous mistakes.
7. Travel and accommodation if applicable
If you have guests or vendors traveling, include their travel or airfare in the budget. You will also have to accommodate them, so look for affordable and reachable hotels.
Include this entire cost of hosting them in the event budget.
8. Event planning technology
You can reduce your recurring expenses a lot by investing in event technology. This could be as simple as having a screen to put up event posters instead of traditional flex banners.
But, another leading event technology in the market is the ticket generator. It can automate the entire ticketing process in a safe manner.
In addition to that, you won't have to invest in an additional ticket scanner. You can simply scan using your smartphone.
9. Legal expenses
You need a lot of licenses and permits for an event. While you can do most of it yourself when you have ample experience, you may still need legal guidance.
Some licenses and permits also cost big, so enquire about their prices and add them to the budget.
Pro Tip: Have a CA and lawyer contact handy for such purposes. Also, include their consultancy fees in your budget.
10. Health services
If you're hosting large-scale events, simply having a first aid box won't cut it for you.
Invest in healthcare professionals and an ambulance at sight. There are lots of agencies that provide such help to events.
Pro Tip: Here's a quick contact we came across in Zomaland—Jeewak Ambulance (+91 98994553002). See if they work for you!
11. Event insurance
Don't forget to invest in insurance. Things can go wrong pretty quickly in events, and this might save you from bankruptcy!
12. Special guests
Do you have performers, celebrities, or any kind of entertainers at your event? Then know their charges from their agency.
Pro Tip: Try to hire indie bands/singers/performers for cost-cutting.
13. Furniture
When you know the number of guests, get an estimate of the tables and chairs needed.
See if any additional furniture is also required for the specific type of your event. For example, engagement events will call for a designer couch for the couple as well.
14. Transportation
You'll have to include the cost of transporting equipment and even people at times. Include the fuel or transport costs for that.
15. Customized items
If your clients have special requests for items such as a designer banner or decor, include a total cost for that as well.
16. Your time
For the budget that you're going to present to your client, don't skip your own charges.
Your time, efforts, and expertise should also come at a cost.
C. How to overcome hurdles when you make a budget for an event
1. Plan B
We suggest you never plan an event without a plan B. In case things don't go as planned, you must have enough money in your budget for alternate plans of action.
For that, we recommend saving 15-30% of your total budget as a contingency. Whatever isn't spent gets added to your profit or refunded to the client.
2. Reduce staff wherever possible
A lot of experiences state that a smaller team is always more efficient. When everyone is on their toes, things get done faster.
When too many people get the same job, they often hope the other person does it before them. This is known as the bystander effect in group psychology. Here, everyone starts hoping that someone or the other will get that thing done, nothing gets done!
So strike a balance without being understaffed and overstaffed. You'll save a few bucks and get a lot of things done faster.
3. Have flexible vendors
Your clients will love you if you're a flexible event planner. But you must also find flexible vendors that are experienced to deal with last-minute changes.
This could include situations like last-minute date changes, mishaps, shortages, etc.
4. Invest in advertisement
What's the point of spending so much on an event when people are mostly no-shows?
Here's your cue to spend better on advertisement and publicity. With a saturated market, you must find a way to make your event stand out.
Start by creating an event marketing strategy. EventTube can help you get started with it if you click on the hyperlink.
5. Use technology to make your life easier
Did you know you can get a lot of quick fixes using AI tools these days?
It's like fevi-quick but for event planning. It could be a last-minute search for hotels in your budget for attendees or an event competition around the time of your event. The possibilities with AI are endless.
Use this AI guide, designed for event planners, to see how you can make your event planning career easier.
D. How to get paid?
In a context like India, it is difficult to get full payment upfront.
To deal with this, you need to take the legal route and draft a solid contract.
You can take 70% of the payment 3-4 months before the event and the rest 2-3 weeks before the event.
Have a clause for late fees, and try to minimize your burdens of unforeseen situations in your contract.
Sadly, a promise or word of mouth is not enough in this industry. You need the papers, so invest in a good lawyer and CA.
Now, you know how to make a budget for an event, you also have lots of tips on the same.
But, we'd still like to put it out that no two events are the same even if you host the same event every year.
New costs and challenges will come up each time and you will have to make room for it in your budget.
You will also need to keep up with the event trends to not be taken up by surprise each year.
Subscribe to EventTube to get all the event news, insights, and guides for free in your inbox.