Prom season is here and excitement is in the air. The past couple of years were so consumed by the pandemic, you weren't sure you'd see your prom. But everything turned out well and now is the opportunity to organize the most exciting prom party. A "desi prom" party.
Why "desi"? you ask. Well, if you're reading this article, you are already mesmerized by Indian culture. But if not, it is the most colorful, exotic, and lively theme you can go for!
Yes, floor-length gowns are pretty but have you ever seen a girl walk-in in a shiny lehenga? It is *a chef's kiss*–stunning!
But Indian outfits and lots of colors are not all there is to a "desi prom". There are many more ways to add an Indian touch to your prom and we are here to help you with that.
A. Diversity in Planning Committee
Planning is a key step for every prom or any event for that matter. So to ensure that you include Indian members in your committee.
If possible, try to get representation from different states of India. You'll be surprised to see how many new ideas come to the table this way. India is too diverse to be represented by just one state.
B. Desi Prom Invite
India is not just home to scrumptious food and outrageous clothes. We are also the hub for all things artistic.
There's a difference you'll notice in Indian invitations as opposed to the ones around the world. We show 'minimalism' the exit door and call for really creative cards.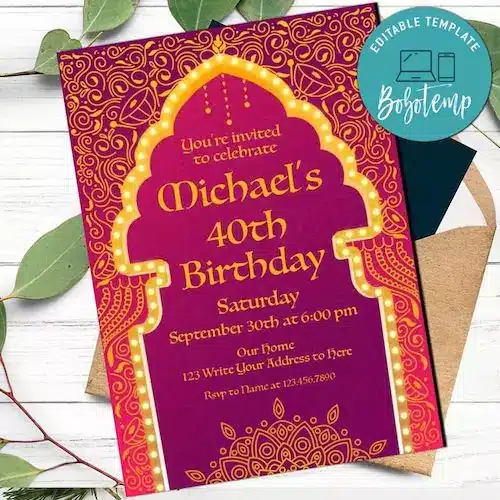 C. Desi Prom Playlist for DJ Night
You know, India doesn't just have Bollywood but multiple industries across states. We also have Tollywood, Mollywood, and lots of different 'woods' for different states.
So you know, you have a pool of music options for the DJ to play. Don't just search for Bollywood music when curating your playlist.
Here are some playlist options for different moods throughout your desi prom night:

We get that many people might not relate to music that's completely in a different language. So, you could try this playlist to familiarize your audience with your desi theme.
D. Indian Buffet
Honestly, this one is tough to write about. India has too many delicacies to offer. But, if you don't know where to start, these are some easy-to-find/cook dishes:
For starters:

Pakora
Samosa
Kebab
Banana chips
Papri chaat
Idli
Dhokla
For the main course:

Biryani
Bisi Bele Bhat
Kadhi Chawal
Pav Bhaji
Dosa
Dal Makhni
Butter Chicken/Paneer
Dessert

Kheer (Rice Pudding)
Halwa
Gulab Jamun
Seviyan
Jalebi
Shahi Tukra
This doesn't even represent 2% of Indian food but could be a starting point for your buffet planning. You could even DIY some of these dishes if you can't find the right caterer.
E. Desi Prom Photo Booth

Yes, a bunch of props is definitely on the list. But, that's not all!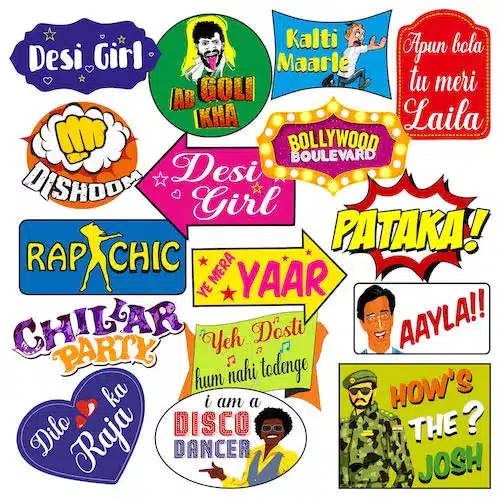 You could even get face masks designed after different Indian celebrities. We are sure your guests would have a lovely time posing as them.
If your budget allows, you could even have Indian celebrity cutouts. This would be a budget-friendly version of Madame Tussauds. With this as decor, you could keep the rest (the backdrop) as a plain color. Spending here would result in spending less in other departments of decor.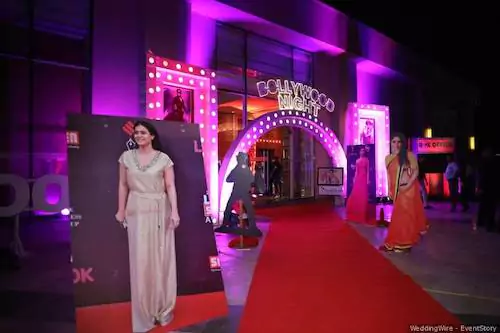 F. Dresscode
When we talk about Indian outfits, sarees, lehengas, and kurtas might come to your mind. While these are great desi prom outfit options, we have more to offer!
Every state of India has its own costume. You could get the most out of this theme by including them as well. You could have people representing different states the way we see in beauty pageants.
G. Chunni Decor
This decor idea is a very cost-effective way to amp up your decor. In fact, this is something you can do without much shopping at all.
You just need old dupattas or discarded sarees and drape them like curtains.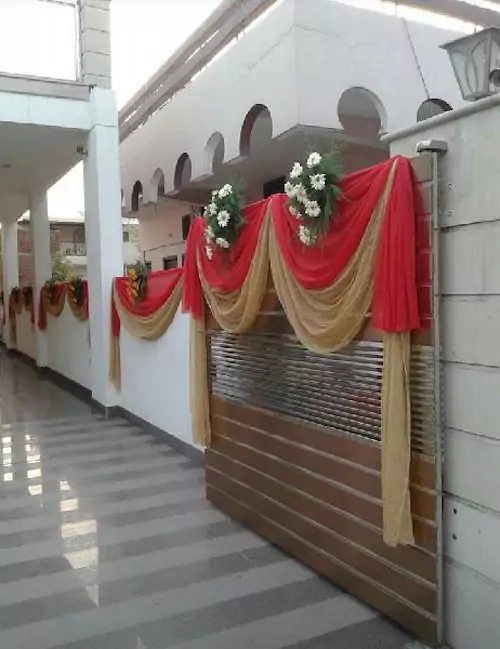 Look at the image above for simple chunni decor.
H. Antakshari Game
This is a game every Indian has played at some point. This game starts with a rhyme and whoever the last word of the rhyme lands on, has to sing with the last alphabet.
For example, if the rhyme ends with "M", then the person it lands on has to start a song with that syllable. For example, "My silly valentine" could be the response. And wherever the song ends for this person, the next person has to start a new song with the new syllable.
For example, if the song ends with "valentine", then the next person will sing a song that starts with 'N'.
The person may or may not sing the complete song. They just need to sing a couple of lines before nominating the next person.
You could use a karaoke setup for this. It is a fun way to involve everybody and provide in-house entertainment.
I. Bollywood Dumb Charades
We have all played charades. But, do it with a twist at your Desi prom. Only allow Indian movies to be enacted.
J. Bollywood Entrance Songs
If you've ever seen a Bollywood movie, you know there's a song every few minutes. Usually, every time a new key character enters the movie, a song plays.
This idea is inspired by that phenomenon. To make your guests feel special, you could dedicate an entry song to each one of those as and when they arrive at the event.
You could even station some of your student photographers as paparazzi for them.
K. Stalls for the States of India
Did you know, each state of India has its own USP (unique selling point).
Talking in terms of Food, this is what the states have to offer:

Maharashtra: Vada Pao
Gujarat: Dhokla
Punjab: Sarso Saag and Makke Ki Roti
West Bengal: Kosha Mangsho
Kashmir: Rogan Josh
Tamil Nadu: Pongal
Assam: Papaya Khar
Bihar: Litti Chokha
Andhra Pradesh: Pootharekulu
Goa: Fish Curry
Mizoram: Misa Mach Poora
Odisha: Chenna Poda
Chhatisgarh: Chila
Jharkhand: Dhooska
Uttar Pradesh: Tunde Ke Kebabs
Uttarakhand: Kafuli
Manipur: Kangshoi
Meghalaya: Jadoh
Kerala: Appam
Madhya Pradesh: Bhutte Ka Kees
Rajasthan: Dal Baati Churma
Haryana: Bajre Ki Khichdi
Arunachal Pradesh: Thukpa
Sikkim: Momo
Karnataka: Bisi Bele Bath
Nagaland: Pork with Bamboo Shoot
But, there's even more! The states also have something unique to offer that's not limited to food. If finding these different unique cuisines is difficult, here are some cues you could use to design your state-wise stalls:
Uttar Pradesh: Taj Mahal
Rajasthan: Meenakari Jewellery
Gujarat: Gandhi
Punjab: Suits and jootis
Himachal: Snow and all things woolly
Odisha: Temples
Andhra Pradesh: Brass
Arunachal Pradesh: Wooden handicrafts
Assam: Tea and silk
Bihar: Madhubani
Chattisgarh: Terracotta pottery
Goa: All things beachy and floral
Kashmir: Pashmina shawls
Karnataka: Coffee
Kerala: Gold
Madhya Pradesh: Carpets
Maharashtra: Leather and Kolhapuri chappals/sandals
Mizoram: Bamboo crafts
Odisha: Canvas and cloth paintings called "Patthachitra"
And more!
To give your attendees a glimpse of India, you should definitely set up such at your Desi Prom.
L. Hookstep Contest
Did you know that each Bollywood song comes with a choreography? These are repetitive movements that stick to one's mind. These hook steps are famous and recognizable for all Indians.
If your audience identifies Indian cinema well, then you could have a guessing game based on it.
If not, you could learn these steps and ask your attendees to imitate the hook steps. The one who does it the best wins of course!
M. Mehendi Tattoo Station
Yes, tattoos are all the rage but they are also lifelong commitments. Not everybody is ready for that. Moreover, your prom night is definitely not the best day to make such a decision.
So, with dilemmas like these, comes the solution of temporary tattoos. This goes really well with the idea of a desi prom because we love henna tattoos!
Get yourself a henna tattoo artist and give your attendees the live experience of getting henna tattoos

N. Color Palette
Now let's discuss the color palette of your desi prom decor and furniture. You could incorporate lots of bright colors. Or, you could also have a red and gold theme as you can't go wrong with it. It also represents the richness of Indian culture.
O. Party Favors
We Indians love "return gifts", which are nothing but party favors. So, get some for your event too. Some interesting things you could have as your party favors are: Indian sweets, snacks, or chunni.
P. Ditch the Corsage
Forget the traditional flower corsage and ask your guests to wear bangles instead!
Q. Lantern Decor
Paper lanterns are not only easy to make but also excellent as decor. So, you could make a bunch of these and have a beautiful desi prom venue.
R. Pallu All the Way
Our dupatta/chunni/sarees are all flowy and you'll always see some fabric around the neck.
So, in Indian proms/farewells, you'll always see people posing like this: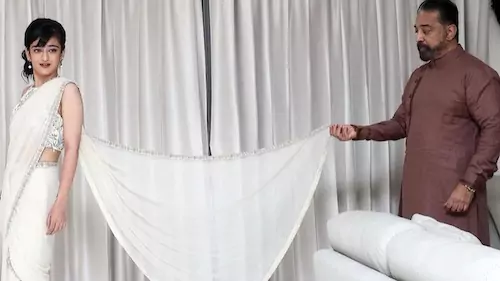 So make sure you have a designated place for pallu hold photos since many of your guests will show up in sarees/lehengas.
S. Royal Crowning
India used to be a monarchy and we are proud of the culture we hold. So, don't forget to get inspired by royal wearables when designing a crown for your desi prom king and queen.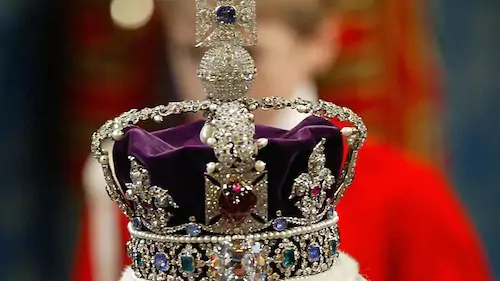 And these are all the ways that will help you upgrade your prom to a desi prom. We are sure more ideas will come up when you put your prom planning committee together.
If you stumble at any point during prom planning, go through this guide for help. And, if you happen to look for other themes, click here.
But, if you feel you found this article then be sure to sign up for our newsletter below. We assure to get back to you with more such event planning ideas.
We, at EventTube, are always here to deliver all the event planners a dose of creativity so sign up for the newsletter below!