Hosting a Holi party but don't have the fortune to spend? It's okay! The wedding season just passed and Holi just happened to arrive early.
You don't really need too much, budget Holi parties are absolutely possible. All you need to do is use what you already have in the best way possible.
Luckily, our favorite festival of colors has essentials that can also be used as decor. As for the entertainment, we are here to share how to do it with the minimum equipment.
So, let's get started.
A. Location for Budget Holi
For Holi parties, it is recommended that you go for an outdoor location. This allows for ample of space to play and also leaves room for easy cleanup. The greenery on the open ground also does half of the decor work.
If you have a pool at your disposal, at a farmhouse, or at a friend's place—consider it as a budget venue too.
And if none of these options work, the next best alternative is to host a terrace party. Just make sure the drainage system here works.
B. Flower Arrangements
An inexpensive yet beautiful way to decorate a Holi venue is with gorgeous flower arrangements.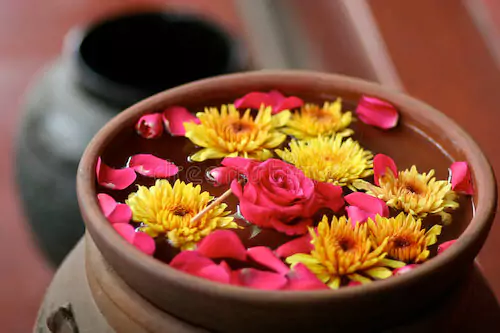 You could use the existing pans and pots in your house. And if you don't want to or don't find them aesthetic, go for earthen posts. They'll cost you less than INR 50 per piece. If you get them in bulk, there are chances of getting discounted rates as well.
These are cheaper if you buy them from the outskirts of the city. The same goes for all other shopping items you'll find with the help of this article.
C. Oiling Station
Want to try something nobody has ever done at their Holi parties?
Have an oiling station. You could have volunteers or self-help counters execute this. For this, you'll need coconut oil or any of its cost-friendly alternatives. For example, raw mustard oil, avocado oil, olive oil, etc.
Have oiling counters and emphasize the benefits of oiling before Holi parties. This prevents skin damage, staining from colors, and even hair fall.
This could be a great sensory experience if you have volunteers to do the oiling. Else, people will still thank you for saving them from the tedious aftermath of every Holi party.
D. Bulk Shopping for Budget Holi
We can't stress on this point enough! All your shopping must be done from local markets and not your nearest central market.
They might be far but the fuel cost will be a lot less than what you'll save. For example, in Delhi, you must explore Chandni Chowk and Sadar Bazaar.
Another point to remember is to always buy things in bulk. The more you buy, the less price you pay per item.
But, be careful as it's a slippery slope here. You must know exactly what you want to buy and only buy that in bulk. Else you may end up buying huge quantities of things you don't even need.
E. Colors As Decor
Earlier in the article, we touched on how essentials also double up as decor on Holi. By that, we mean the colors!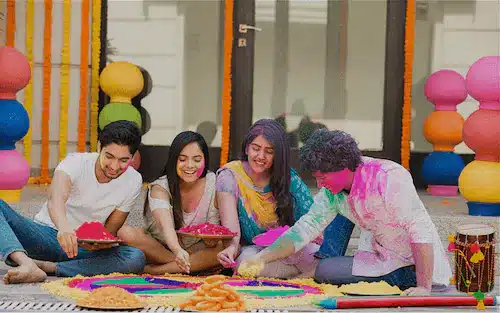 Gulaal or flowers, whatever you're using can be used as decor and then to play. With the colors, you could make rangoli or even arrange them in bowls to create a beautiful colorful decor.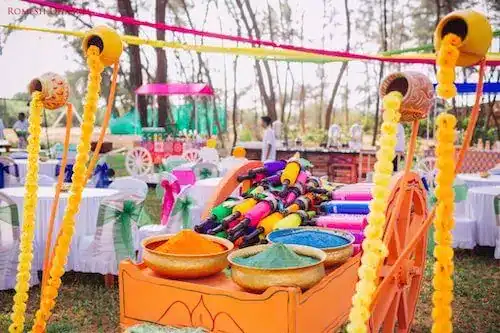 Just colors alone in bowls look excellent in outdoor settings. Be sure to look at the pictures here and on Pinterest for inspiration.
F. Budget Holi Ceiling
If you have pillars or trees at your venue, consider using them for decor.
Bring out old dupattas and sarees and tie them to create a beautiful ceiling or tent. And if your artistic skills give up, you can even twist those dupattas and create wall hangings. Look below for an example:
G. Balloon Decor
Balloons are Holi essentials as people love throwing water balloons. But what most decorators forget is that they also make great decor items for Holi parties.
So don't forget to incorporate these into your budget Holi decor. Make sure that you get lots of colorful ones from the local market.
H. Street Food on the Menu
Let us help you with cutting down on your food budget. Follow the KISS rule here: Keep it simple silly!
You will need food items in the following categories, and we will give you options too!
For starters:

The cheapest option is to go for a samosa or namak paare
Affordable option is gol gappe
A little fancy option is dahi bhalle
Ideas for main dishes:
The most affordable option is to go for aloo poori
The next option would be to go for rice with main dishes like shahi paneer or rajma
A little fancy option is to go for biryani
For sweet dishes:
Don't think about price, just go for gujiya, and if not, then jalebi (homemade tastes better!)
You can choose from any of the options above and create your own budget Holi menu.
Pick one from each category. You don't need a ton of food, since the focus will be on drinks. (PS: In case you didn't hear it from us: bhaang is cheaper than whiskey!)
I. Potluck
Is your caterer charging too much? Don't worry! We have the perfect solution for you.
This budget Holi idea is applicable to events where guests are close or know each other well. For example—families, colleagues, societies, friends, etc.
Arrange a potluck where everyone gets a homecooked Holi meal! This way, you get a ton of variety and your guests also get to show off their cooking skills.
J. Budget Holi Drinks Menu
Your drinks station needs to be thought through as you'll see lots of people reaching out. Holi is a very active festival and people will be thirsty every now and then.
Pro tip: With plenty of drinks available, you get to save on catering costs too. That's because after loading up on drinks, people often don't eat as much.
Now, what are your options here? Let's discuss expenditure wise:
Go for Roohafza as the cheapest option
Buttermilk or chaas is the next best option if you want budget-friendly drinks
Jaljeera if you have a medium budget
If you want to splurge, have thandai (our personal favorite, when mixed with the right things)
K. BYOB
Here's a western concept that India is slowly adopting and we love that for you!
With the 'bring your own booze' concept, guests will bring the drinks they'd like to have and share.
This is a great way to cut costs and instill a sense of sharing. It's also a great conversation starter for your guests.
L. Entertainment Ideas for Budget Holi
Well, people can't be running after each other and applying colors all the time. To keep them occupied, you may organize fun games. For example, tug of war, musical chairs, and kho kho.
None of these games cost anything. But you may be wondering, these are also fairly common.
Well, EventTube will give you ideas that are anything but common. So try this game out. Buy white caps, t-shirts, or dupattas. Get either that's cheaply and easily available in bulk.
For the game, distribute the white apparel to all your guests. Everybody gets one each. Then, tell them whoever comes back with the whitest apparel even after playing holi wins!
This is a sort of dodging game and definitely very fun!
Here are some more:
M. Color Alternatives
A lot of Holi celebrations this day are opposed to the toxic colors available outside. But don't worry, there are budget-friendly options for those as well. You can try any of these or a combination of them:
Haldi
Besan
Multani Mitti
Flowers
N. Faux DJ
You know you can completely skip hiring a dholwala or a live DJ. Just get some great playlists.
Here are a few playlists that you might want to explore for your budget Holi party:
Don't forget to take into account your guests' suggestions for music that plays. Since you're not paying for live music, it's fair that people get to listen to what they want.
O. DIY Photobooth
Holi is one of the most awaited events all throughout the Indian calendar. So, it's only natural that people would want to make sweet memories on this day. You must help your guests achieve that!
In order to do this, you can create a photo booth. You could decorate a simple window frame. Alternatively, you can have a backdrop using flowers/chunni in front of which people can pose.
Here, you see another very easy-to-implement photobooth idea. Try to create as many photogenic spots as possible. You must take the DIY route and save some bucks.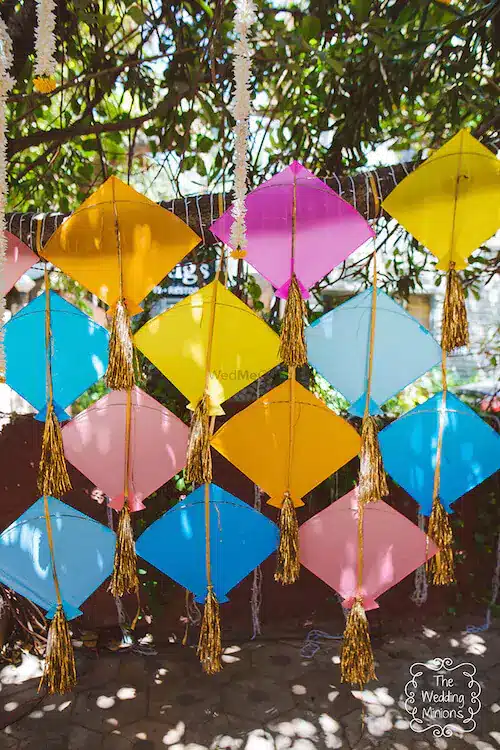 With these budget Holi tips, we hope you're able to throw a memorable party for all your guests.
If you're planning a Holi event for your office, we have another helpful article.
Do subscribe to our newsletter to never run out of event ideas. See you next week!