You are probably an event planner and Christmas is around the corner. Among the 4,000 cities and towns in India, you're confused about where to host your party.
Or you already have an event planned out and want to expand it to new geographies in the country.
It is completely possible. With the right research and resources, you can definitely take your Christmas parties to a national level.
Fret not! You don't really have to start from scratch. We've done extensive research to curate the top sixteen places to host your Christmas party.
A. Delhi
Delhi is a hotspot in India, not just for Christmas parties but for all kinds of parties. It has less than 1% of Christians by population. But, don't be disheartened.
If you've been to Delhi, you'd know that people here are obsessed with all things Western.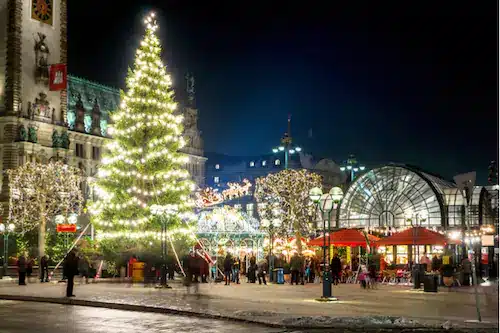 It is also a cultural pot. Hence, a lot of people from various backgrounds will be interested in your event. Here are a couple of places in the city that you can check out to host your event.
Saket
Connaught Place
Chattarpur
Gurgaon
Rajouri Garden
Hauz Khas
The areas listed above have a lot of cafes, lounges, and venues up for rental to host events.
B. Bhubaneswar
Tier 2 cities are wonderful for newcomers in the event industry. You could start with events here to learn and get better. This will help you become a pro in no time. And doing so will help you eventually infiltrate the market in tier-1 cities as well.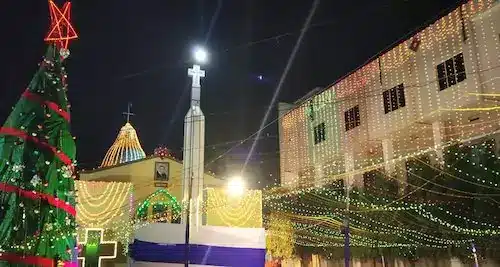 Bhubaneswar is home to 2 lakh devotees who visit churches on Christmas. So, it is a good idea to pick areas near the major churches. For example:
Victory Churches of India, Surya Nagar (Famous for being the most beautiful church in the vicinity)
Church on Mount Zion, Mayfair Nagar
Jesus Calls Prayer Tower, Baramunda
Florida Church, Niladri Vihar
Grace Awakening Church, Acharya Vihar
Church of Christ, Unit 4, Near OBC ATM (The oldest and most famous church)
You can also check out the following party hotspots in Bhubaneswar. We are sure that a party-going crowd would definitely be enticed by your Christmas event:
Unit 4
Patia
Chandrasekharpur
Here's a resourceful list of venues to host your happening Christmas party in Odisha.
C. Dadra and Nagar Haveli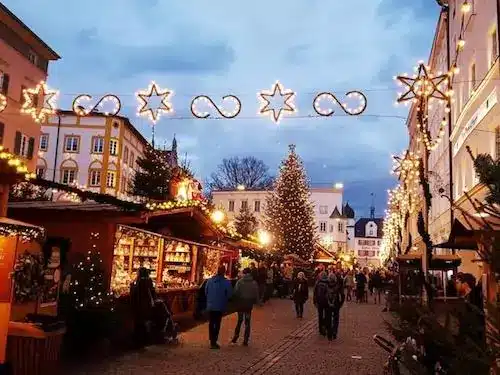 When we talk about the best place to organize christmas parties in India, this union territory is a place you should not underestimate.
Yes, it doesn't top the list of party places in India. But, that's the catch. It is extremely famous for its winter festivities.
Christmas celebrations here stand out because of the tribal touch that citizens add.
Silvassa is the capital and is also reachable by Vapi railway station. You should look out for this area when choosing your venue.
Here's a list of restaurants and resorts that can ease your hunt for a venue. Ensure that you visit the site and make enough calls before finalizing your venue.
D. Lansdowne
If you're looking for a scenic location in the mountains, look no further. Lansdowne in Uttarakhand offers a really laid-back, picturesque, and adventurous venue.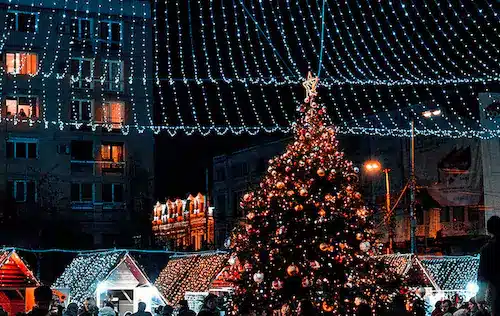 You can check out the resorts, homestays, and party halls there. Expect the weather to be chilly, but not subzero. It is good for those who aren't looking for a snowy Christmas, but simply a cool breezy one to be enjoyed with a bonfire and hot chocolate.
We recommend areas near St. Mary's Church near Kotdwar. This strategic location is near Tip-In-Top which is a very famous viewpoint that attracts all tourists.
E. Hyderabad
Hyderabad has come to be the hub for all party lovers. All important events have also started branching out to Hyderabad. The nightlife here is definitely setting an example for all other metropolitan cities.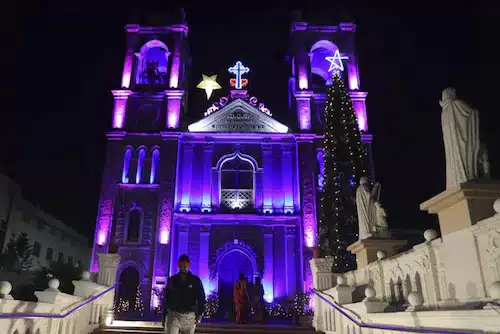 The hotspots for Christmas celebrations are listed below. You should definitely find the best place to your Christmas parties here.
Jubilee Hills
Banjara Hills
Other options you can consider are:
Gachibowli
Secunderabad
Kondapur
Saifabad
In Hyderabad, Ramoji Film City hosts the most happening Winter event in Hyderabad. It starts from Christmas and goes on till January. So be sure to look into it for some inspiration.
F. Chennai
With Winter being the best season to visit Tamil Nadu, you can't go wrong with Chennai.
A 7.72% Christian population offers a good audience base to churn popularity for your event.
Avis India
There's no dearth of party venues in Chennai to host a perfect event. However, we recommend you look for your venue near these areas:
SanThome Cathedral Basilica
Velankanni Church, Nagapattinam (the most sacred Christian pilgrimage site in India)
Annai Velankanni Church, near Elliot Beach
St. Andrew's Church (one of the oldest churches in India, built by the East India Company)
Other than the major churches, you should also take a look at these party hubs in Chennai:
Nungambakkam
Anna Salai
Guindy
T Nagar
Munganakkam
Velachery
MRC Nagar
Mylapore
G. Daman and Diu
This union territory can also potentially be the best place to organize Christmas parties in India.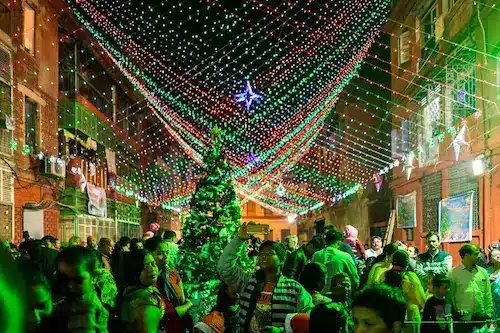 Unlike most other places in the list, this area is quite divided. With 650 kilometers between Daman and Diu, you'll have to work your way around.
This place lights up around Christmas. Some of the major attractions during Christmas are:
Church of Bom Jesus, Moti Daman
The Church of Our Lady of Angustias next to Moti Daman Fort
The Chapel of Our Lady of Rosary
Our Lady of Remedies, Macchiwad
You should definitely check out venues near these areas to find the right spot. You can check the list of famous hotels and banquet halls here.
H. Bangalore
Every year, we watch the Christmas spirit take over. The cafes, malls, and shops all light up and smell divine. Christmas-themed menus are a common sight in local eateries.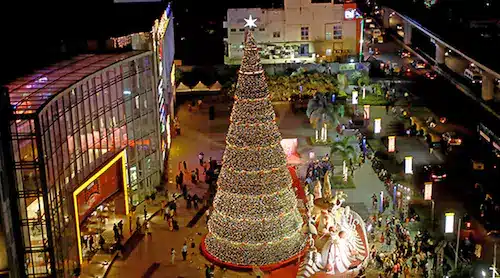 No matter if it's a weekend or a weekday here, you always find party-goers looking for a happening night. Much like Delhi, people from all over the country come and settle here.
Among the best place to organize Christmas parties here in Bangalore, focus on the party hubs:
Koramangala
Ashok Nagar
Indira Nagar
Kodihalli
Whitefield
Electronic City
Shivaji Nagar
UB City
You can then find venues around these areas that fit your budget.
Fun Fact: There's a place called Catholic Club in Bangalore. Doesn't it already sound like the perfect venue? The best part is that it is open to all faiths.
I. Goa
We know you're not surprised to see Goa on the list. Goa tops the list whenever it comes to the subject of partying. So when it comes to finding the best place to organize your Christmas parties, look no further.
But be warned that Goa is already saturated with a lot of such parties. So, you'll have to really focus on your marketing to get a good turnout.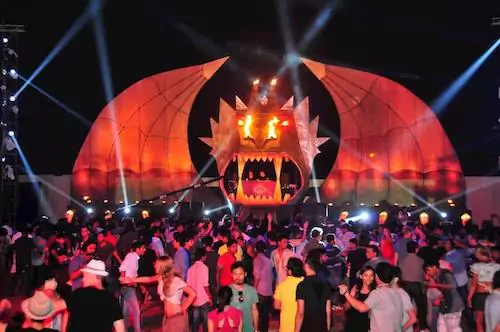 Being a former Portuguese colony, you can organize cultural events near these churches:
Immaculate Conception Church, Panaji
Basilica of Bom Jesus, Bainguinim
But if your event is only riding on the occasion to gain traction, you can consider these party hubs:
Candolim
Anjuna
Ashwem
Arambol
Bardez
Calangute
J. Kochi
Kerala has an 18% Christian population, which is huge compared to other locations. While there are many locations within Kerala that you can go for, we recommend Kochi.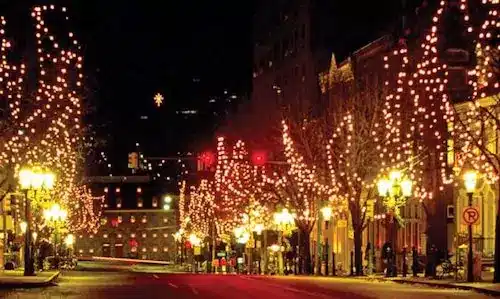 Kochi has the most happening Christmas celebration. They even have a 10-day Christmas carnival that starts around Christmas and ends after New Year. This attracts many tourists and locals.
You should definitely explore venues around these churches:
Sanat Cruz Cathedral Basilica
Holy Koonan Cross Church
St.Francis Church
Koonankurishu Church
St. George Ferona Church
Most of the churches in Kochi are clustered around the Fort Kochi area. As a result, this area gets the most traffic from Christmas enthusiasts.
K. Mumbai
Much like Delhi, Mumbai is a happening place throughout the year. So, Christmas is just another reason for Mumbaikars to party. (No brainer: lots of competition to find here!)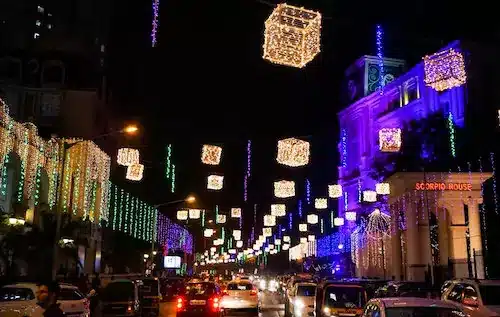 Try to find the best venues around these Christmas tourist attractions:
Mount Mary Basilica, Bandra
St Andrew's Church, Bandra
Afghan Church, Colaba
St Thomas Cathedral, Fort
Gloria Church, Byculla
St Michael's Church, Mahim
Wodehouse Church, Colaba
St Anne's Church, Mazgaon
St John the Baptist Church, Andheri East
L. Shimla
Shimla is known for its 'White Christmas'. However, be sure to check the weather report before organizing your event there. You don't want disappointments after your party planning is in motion.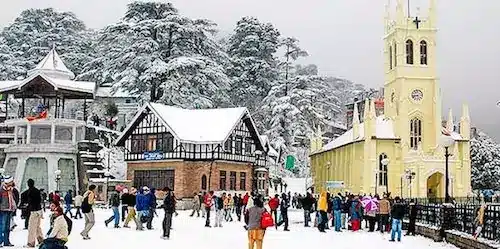 Warning aside, you'd already know how Shimla is the go-to hill station for North Indians. While commercialization makes the place crowded, it also makes it ideal to host events. You can check out these popular venues to organize your event.
If you're lucky, you will find a venue near the iconic Christ Church. It is one of the oldest churches in Asia.
M. Puducherry
Puducherry has a Christian population that goes as high as 10.88%. This shouldn't come as a surprise because Pondicherry is a perfect blend of French and Tamil cultures.
With Western history and influence, Christmas is a prominent festival here.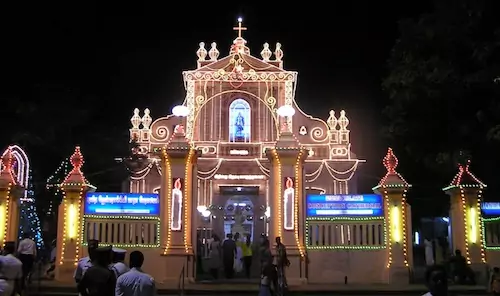 The most lively area for organizing your Christmas party would be Mission Street. It is the busiest street in Puducherry around Christmas time. It is also right across the famous Immaculate Conception Cathedral.
N. Manali
Want to organize a Christmas party in the actual Winter Wonderland? This is the perfect place!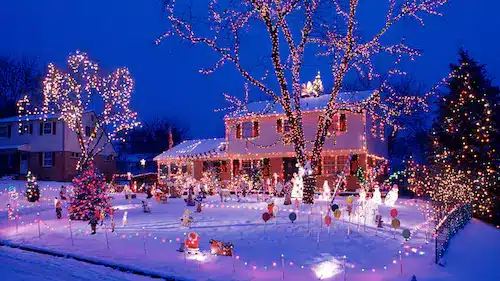 Be sure to look for a venue that provides parking facilities. This is crucial because this city is choking with traffic around Christmas and New Year.
O. Shillong
Have great expectations from the 'Music Capital of India'. Christmas is loved in Shillong by tourists and locals alike.
Churches, cafes, and markets are brimming with people. Many don't allow for reservations in advance, so many people are left with no plans. This is a perfect opportunity for you to seize.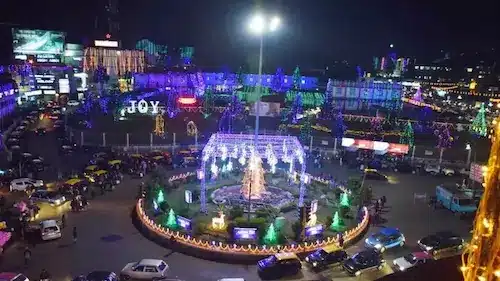 Plan an event near the Police Bazaar, the central square of the town. It is undoubtedly the best place to plan your Christmas parties in Shillong. Some other venues to consider are listed here.
Just a heads up, don't expect the parties to last till late in the night. Most places will close by 8 or 9 PM.
P. Ooty
If you're looking for a hilltop venue but options in the North aren't for you, don't worry. Tamil Nadu has another gem that's well-suited for Christmas parties.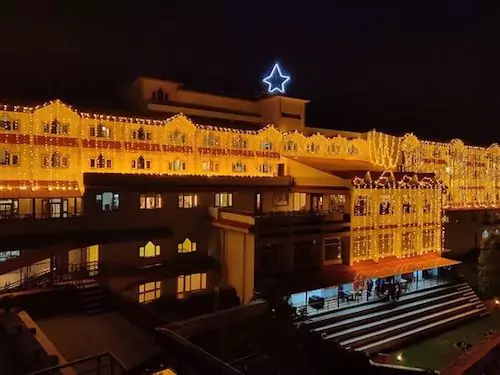 Definitely, Ooty isn't the first name that pops up when it comes to good nightlife. However, it receives really good footfall in peak Winter. So, you'll get a lot of tourists as your target audience.
Known as "India's Switzerland", it offers a scenic location for all Christmas festivities.
Try focusing on the following areas when finding the best place to organize your Christmas parties:
Ooty Market (Main Bazaar)
Sylks Road
Club Road (home to St. Stephen's Church)
Havelock Road (home to Sacred Heart Cathedral)
St. Mary's Hill
Kotagiri Road
You can now check out some venues here. Do comment below if you have some recommendations of your own!
We've covered a lot of locations now. We are sure one or more of them have already booked a spot in your mind. Now it's time to put your party planning hat on.
But don't worry, we won't leave you alone for that. Read our Christmas party planning guide so that we can help you every step of the way.
For experienced party planners, you can still use this guide as a checklist to not skip a step.
Merry Christmas and even merrier party planning in advance!