It is that time of the year again! Christmas, despite being a Christian festival, is celebrated by other cultures as well. India has embraced this festival and given it its own touch.
All our celebrations and parties may not be like the traditional ways to celebrate Christmas. But event planners across India are heavily influenced by this festival.
So, during the Christmas season, event planners get busy organizing Christmas parties for their clients. Now, it can be a corporate party, a private party, or an open large-scale party.
Whichever is the case for you, we've created the most elaborate guide for organizing a Christmas party.
A. The Planning Stage for Organizing a Christmas Party
1. Fix a Date
Choosing the right date will have a huge impact on the turnout. You need to keep your target audience's work schedule in mind. Choosing nights or weekends for your Christmas party is a good idea.
You must also decide if you want the party to be on or before Christmas day. If it is a family event then there is no harm in hosting it on Christmas day itself.
If not, make sure that you also leave time for your attendees to spend the day with their families or in Church.
For non-christian Christmas enthusiasts, hosting the event on Christmas day might not be a bad idea.
Either way, choosing a date will help you create a timeline for planning the event.
2. Set a Budget
Having your finances in check can make an event a hit or a flop. So make sure you spend a good deal of time thinking your budget through.
It is a good idea to estimate your fund sources. For example:
Your company budget (for corporate parties)
Personal funds
Revenue from tickets
Parking revenue
Revenue from stalls
Donations
Amount to be received from sponsors
Use the next steps as a guide to calculate your expenditure.
It is always a good call to keep 15% of all your revenue sources for contingencies.
3. Select a Theme
Red and white decor with a Christmas tree? That's a Christmas party planning red flag right there.
Go a little out of your way and incorporate one of the following themes into your party.
a. Traditional Christmas
For a traditional celebration, you could have an old-style Christmas. For example, a decor with religious anecdotes representing the birth of Christ and the smell of mulled wine and cakes.
b. North Pole

Visualize this theme with all-white decor and dress code. You could have blue and silver accents here and there. Don't forget candles and dim yellow lights to complement it.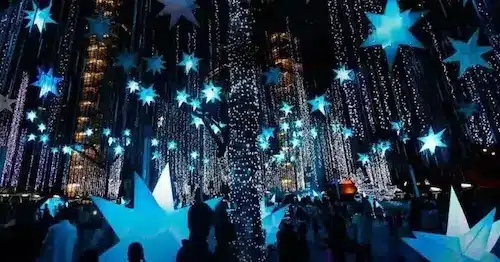 c. Party in Pajamas

You could keep your thoughts a little relaxed and avoid all complex themes. Ask your guests to turn up in their pajamas. Have ready-to-eat food from boxes. This is an ideal theme for beginners.

d. Favorite Christmas Character
Why should we only have costumes for Halloween? Have a Christmas party with costumes. Your guests can dress up as their favorite Holiday character. For example:

Santa
Frosty the Snowman
Rudolph
Grinch
Or a movie-inspired character like Elsa
Have an award for the best-dressed guest too. It'll give guests an incentive to follow the dress code.

e. Christmas for Royals

Host a fake red-carpet event. Have red and gold decor and ask your guests to dress up in their grandest outfits.

f. Cookies and Cocoa party

This is a wholesome party theme. You can try these for family events. A good touch would be to have a DIY station. Here people can make their own hot chocolates from ready-made mixes.

Also, have an array of cookies to choose from. Other than this, make the environment cozy with bean bags and blankets.

g. All About The Wine

Wine-tasting parties go best with gold decor and, well, lots and lots of wine. Be sure to keep all types, from sparkling to rosė. Get your hands on all kinds of wine. Have charcuterie boards as well to top it up.

h. Plaid Party

If you don't want to stick to a particular color, try our different designs. You could have plaid design decor like table linens. It would be even better if your guests could also show up in plaid outfits.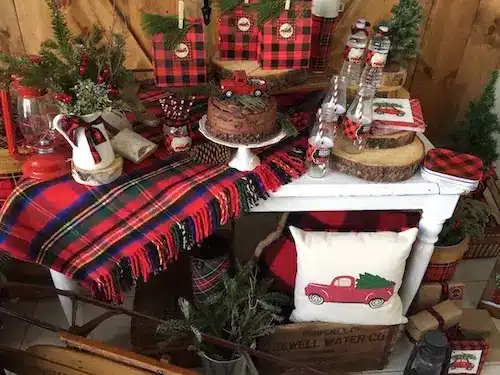 B. Set Things in Motion for Organizing A Christmas Party
1. Build a Team for Organizing the Christmas party
It is reasonable for only one or two people to organize a small event. But for a large-scale Christmas party, you need more hands on deck.
You may need different teams or people to look after various processes such as:
Getting sponsorship
Handling logistics
Procuring raw materials and furniture
Vendor dealing
PR and promotions
Decor and designs
2. Pick an Ideal Location
The event location depends largely on the type of Christmas party you're organizing. For example, If it is a corporate event, your office might be the location. But for options, you should also consider:
House/Airbnb parties
Comedy club
Banquet hall
Garden
Resort
Sports club
Cafe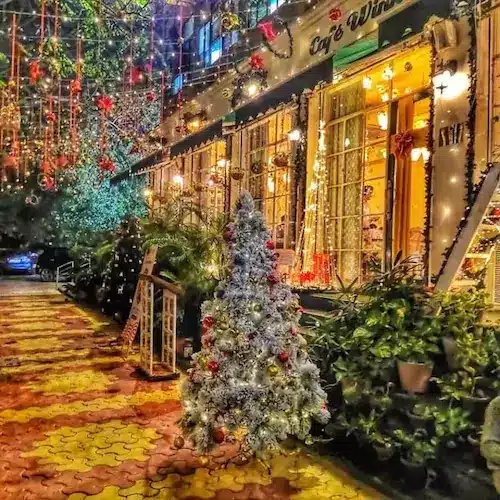 And don't forget to inspect the site while you're at it. Things may look good from reviews afar, but you'll only know if it's the right choice after visiting it.
3. Christmas Decor
The decor depends a lot on the theme you choose but here's a checklist you can't miss:
Wreath – circular arrangements of flowers, twigs, and leaves
Christmas tree with ornaments and a tree topper
Tinsels and fairy lights
Stockings
Lanterns (if you're in a dark or outdoor setting)
Gift Boxes (yes, even empty ones!)
Mistletoe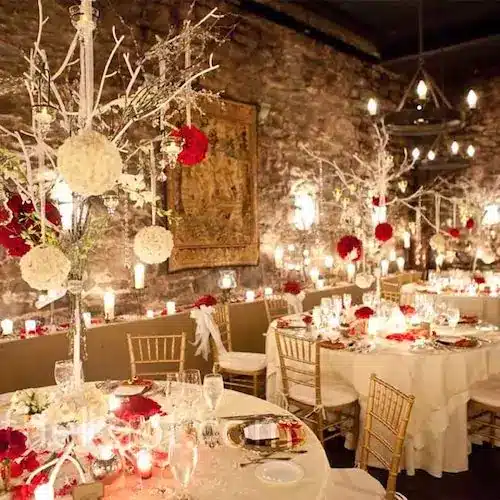 Comment below any other Christmas decor that you can't miss at your parties!
4. Scent for the Event
Christmas excites all our senses. Especially, your olfactory senses need to remind you that it's Christmas.
So don't think too much. Go get those scented candles and room fresheners that remind you of Christmas.

C. Make your Christmas party happening!

1. Entertainment
No party is complete without activities and attractions. Here are some options you could consider for your event:
Live performances by bands or DJs
Comedians
Simple sports like bowling or mini golf
Stand-up comedians
Circus acts
Speakers
Open Mic
Open kitchen and cocktail corners
Giant Jenga
Casino games
Murder mystery
Karaoke
Wine tasting
Live artists and caricaturists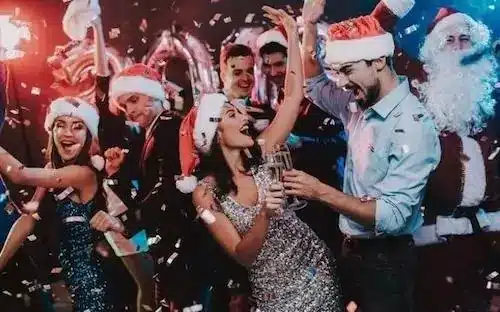 2. Food
The next step is to take care of the most important part. Catering!
Now a lot of parties can make use of a potluck concept where guests bring their own food. But, this model will not work on large-scale parties.
So while organizing a Christmas party, do hire a good baker or caterer. Some of the traditional Christmas food items that you can include are:
Rum or plum cake
Log cake
Eggnog
Cookies and milk
Gingerbread
Chocolate bark
Sweet potatoes
Turkey with stuffing (feel free to replace it with chicken for a Desi twist)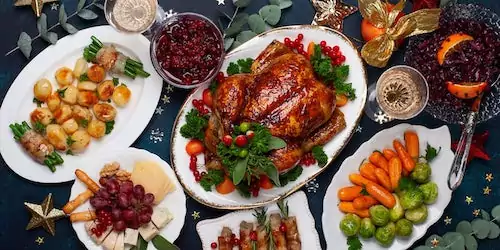 3. Wine or Cocoa bar
While catering for a party is a no-brainer, you could also step it up a notch.
You could have a wine or cocoa bar for the guests to help themselves with these special drinks.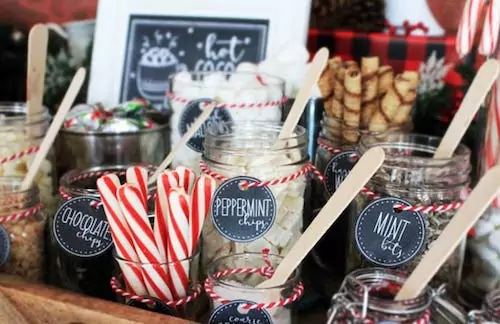 4. Gift Exchange
Christmas is incomplete without gifts! But there are many interesting ways to go about it.
There are two ways in which you could conduct your gift exchange. The first way is the most famous way—Secret Santa.
Out here, you basically jot down all names of the attendees and give each person a random name from the list. Now, they have to get a gift for the person they've been allotted. For example, Guest A gets allotted Guest B and must get a gift for them.
This method works well when there's an even number of people attending and everyone knows each other a little bit.
If your attendees are a large group of people who don't know each other, try White Elephant.
Here, everyone gets a random gift. People then draw random numbers from a bowl and pick gifts in that order. For example, guest A draws number 1 by luck and gets to choose their gift first from all the wrapped boxes.
Plan this activity midway during the event. This will ensure that most guests arrive and nobody has started leaving the event.
5. Photo Booth
Want your guests to do free publicity for your event?
Design a photo booth! With whatever resources you have, have a Christmas-themed photo booth. This will tempt your guests to click some really Instagrammable photos.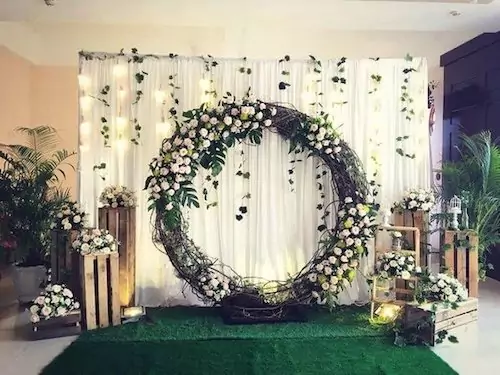 6. Hire a Santa
This is a must-do on your list if it's a family event. It is a good way to keep the little ones busy at an event.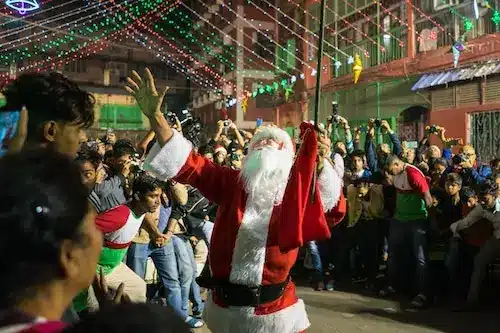 7. Christmas Movies Rerun
For more cozy events, you could engage your attendees with a movie marathon of Christmas classics. Some suggestions are listed below:
Home Alone
How Grinch Stole Christmas
It's a Wonderful Life
Klaus
The Year Without Santa Claus
This list can go very long. But you can reduce your options by selecting one as per the age group of your attendees.
8. Christmas Playlist
You can't have a party without music. So, get all the guests in the Christmas spirit by making a playlist of your favorite Christmas songs.
This will also be useful as filler music before and after your artists perform or stage shows take place.
9. Karaoke or Carol Time
If you're not spending much on entertainment, here's a budget-friendly alternative.
You can contact your nearest church and see if any carolers would like to perform at an event. If yes, you are in luck!
If you feel carolers won't be a good fit, you can engage the guests in Karaoke. It is probably the only exception where your event can get away with out-of-tune performers.
10. Christmas Games
For small events, Christmas games can be really enjoyable for adults and children alike! As per your target audience, time, and resources, decide on the games you'd like to play.
We recommend you go for games that don't involve a lot of movement to avoid injuries.
D. Get Your Attendees
1. Party Invitations
Now that you've finalized the venue and other arrangements, it is time to roll out the invitations!
Use one of the many templates available online and design your invitation yourself!
Don't forget to include the venue, itinerary, and dress code.
2. RSVP and Ticketing
For exclusive events, it is important that you use modern technology to get the guests to RSVP. You can build a form to know about their availability and preferences for food/drinks.
For large-scale events, you can have a secured ticketing system in place. Don't worry, you won't need any special arrangements for this. It'll allow you to authorize event entries via your smartphone in no time.
E. Farewell to the Guests

1. Thank You Gifts
Christmas is all about joy and giving. So bring another smile to your guests' faces by giving them a token of appreciation for attending your event. It could be as simple as a card or even gift boxes.
2. Ask for Feedback
We can't stress this enough! You might have a successful event but no event is perfect. So scrutinize your events and ask attendees about any grievances that they may have. Work on them and organize an even better event next time.
We hope to have covered everything that organizing a Christmas party requires. If you find more steps that a party planning journey may need, do comment below.
Happy party planning and a very merry Christmas (in advance) to you all. You can read our guide for wedding planning if that's a type of event you cover. Subscribe for more how-to guides for event planning.