These pride event ideas will help you elevate your parades, college, school, or office events. You can use this actionable guide to have the most creative celebration.
This month came to be celebrated after years of struggle and protests. It's only reasonable that we jazz it up with these pride event ideas.
1. Educate them about pride
While we have an inkling about what LGBTQ+ stands for, we don't pay much heed to what pride is for the community. It is not just to bring visibility or attention to the community.
Pride aims at promoting dignity and equality in the community. It, in fact, is crucial for self-affirmation for every member of the community.
With all the lack of information, or rather, misinformation surrounding this time of the year, you have an opportunity. Use this opportunity to educate and spread love. It could be as simple as teaching proper pronouns or explaining the gender spectrum.
2. How to plan a pride comedy night?
We have an excellent A-Z guide on planning comedy events. But, in this case, you'll have to look for comedians belonging to the LGBTQ+ community. And, don't forget to invite their followership to the event.
3. What topics to discuss about pride?
Depending on your theme, you should get energetic speakers to touch upon important subjects. It could be related to one's personal journey or lived experiences of belonging to this community.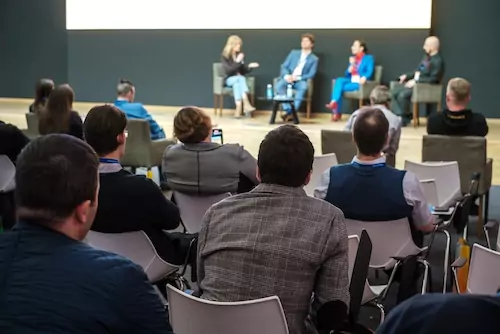 There's lots of subjects ranging from pride in workplaces to trans journies that one could cover. It's best if you let the speaker select a subject they feel the most comfortable and passionate about.
4. Ideas to decorate for a pride event
Lucky for you, every pride event already comes with lots of color schemes and ideas. Rainbow, is the way to go! It's the most recognizable element of any pride event.
Check this out for event decor inspiration and apply the pride color scheme to it!
This applies to online pride events too.
5. What are some fundraising ideas?
28% of queer individuals experience homelessness or lack of support from home. They're left to fend for themselves.
If you really want to make your pride event meaningful, organize a donation drive or fundraiser.
This should be on top of your pride event ideas if you really want to make a difference.
6. What happens in speed dating?
This is a popular event for all the singles. People are randomly paired up and given a limited period of time (for example, 15 minutes) to talk. Everyone gets to talk to multiple new people before the day ends.
To turn this into a pride event, you'll need an LGBTQ+-friendly venue and good hosts. They'll have icebreakers to cut through the awkwardness between strangers and also structure the pairs.
7. How do you organize a food festival?
You'll need lots of food stalls and trucks. Here's a detailed guide on how to organize a food festival.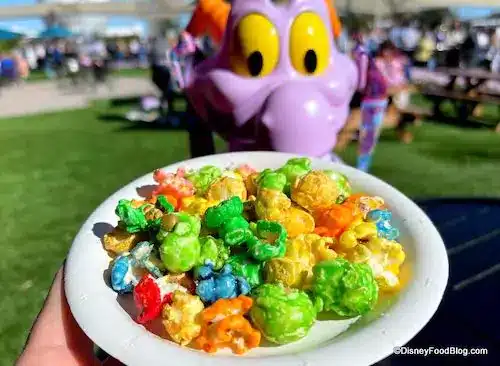 You must brand all the trucks and stalls in bright rainbow colors. You can even get colorful cutlery to go with it.
8. What happens at a drag show?
Here, people cross-dress in burlesque style and perform lavishly. It can be a musical, acting, or even a dance event.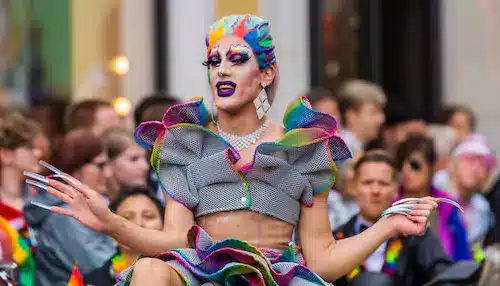 If you want to keep things simple, organize a drag makeup tutorial. It'll be a relatively unique concept in India as drag shows are yet to take off here. People will also appreciate the free makeup lessons!
9. What's a pride prom?
It's similar to the prom you get in high school but is rainbow and pride-themed. It also has lesser rules and more fun.
It's a more inclusive take on proms. You can see the detailed guide to organizing proms here.
10. Pride bike ride event
This event idea is suited for bike enthusiasts and travelers. Pick a scenic route and decide on all the rest stops. Lastly, have a good destination party point.

You can even decorate the bike in pride colors. However, do make sure that the route is along LBGTQ+-friendly neighborhoods. You don't want any bigots to ruin the event for you.

11. Put the limelight on the LGBTQ+ community

There have been a lot of achievers from the community. For example, Golda Rosheuvel, Rebel Wilson, and Lil Nas are the shining stars of the community.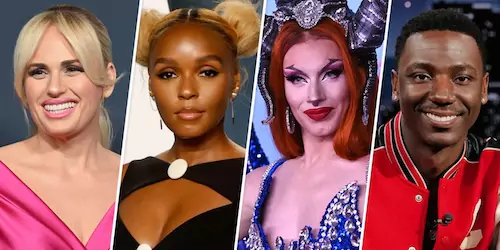 Based on your target audience for the event, you can find LGBTQ directors, actors, icons, activists, etc. Then, for the event, talk about their achievements at length to inspire people.

12. T-shirt design event

Get your event attendees to design the t-shirts on paper or digitally. Whoever comes up with the best pride-themed design gets a printed t-shirt with the same design!

13. Pride trivia

Plan a fun quiz with questions related to the LGBTQ+ movement. With a friendly and energetic host, you can make it a learning experience for everybody.

Make sure you accompany the trivia with a gorgeous gift hamper.

14. What songs promote the LGBTQ+ community?

A pride playlist must be incorporated into your event ideas. Here are some of our suggestions:
Hozier: Take Me To Church
Lil Nas X: Montero
Madonna: Vogue
Lady Gaga: Born This Way
Christina Aguilera: Beautiful
Kehlani: Honey
Kylie Minogue: All The Lovers
Head here for a playlist with song ideas for your pride event.

15. What to wear to pride?

Contrary to popular belief, you don't necessarily have to dress up in rainbow colors. Different sexualities have different colored flags and you could pick those colors as per your sexuality.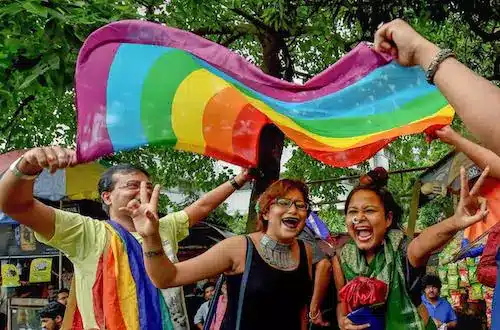 And if you don't want to restrict yourself to those colors, simply don't! This month is about self-expression and you should wear (and love) what your heart desires.

16. Pride pet parade

Take this event to another cute dimension by bringing your pets out, dressed in bright colors. They make for some wonderful brand ambassadors.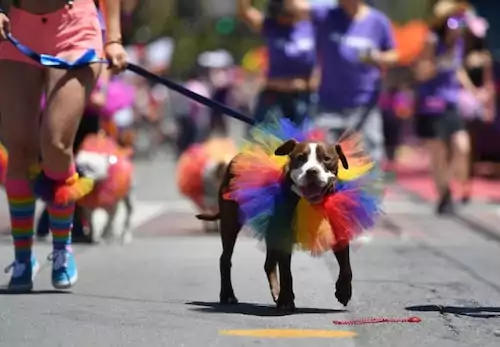 We highly recommend you also reach out to animal shelters and add their cause to your pride parade.

17. Pride history walks

Once you start digging deep, you'll realize that our history has had lots of LGBTQ+ icons who were suppressed. Their pages are not so prominent in history, but they are still there.

For example, a historical site, Jamali Kamali in Delhi, India marks the graves of queer lovers. Look for more such spots in your city and include it in your pride event.

18. Queer yoga retreat

Book a yoga studio or simply spread mats in a public park. Combine queer affirmation and yoga in your pride event.

Give your attendees a tranquil experience with yoga and mindfulness lessons.

19. Spread love, the old-fashioned way

It doesn't matter if your target audience is queer or not, get them to participate in this event. Arrange for postcards, paints, and markers.

Ask them to write and send handmade postcards to any queer person they know. They can be a celebrity or even a close friend.

20. What mental health issue do LGBTQ have?

50% of all queer individuals struggle with mental health issues like depression, anxiety, and self-harm.

One of the more meaningful and helpful pride event ideas is to have a panel discussion on LGBTQ+ mental health issues.

Get some mental health professionals and LGBTQ+ organizations on board to share their advice and resources on the same.

21. Drunk pride event ideas

Give a twist to the happy hour and get your attendees to mix different alcohols and liqueurs to create the most colorful cocktails. You can even do the sober version of this with juices to create mocktails.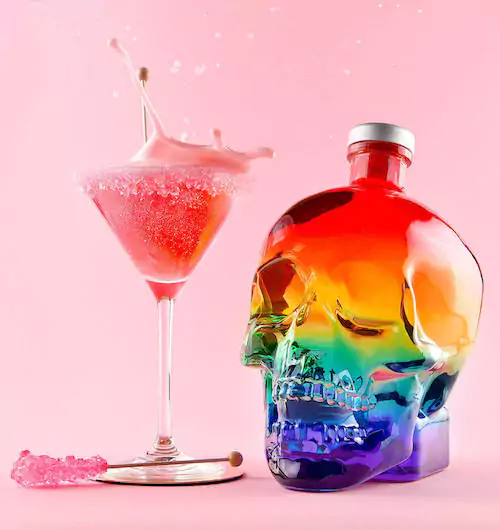 22. Rainbow salad

Have a pantry with loads of colorful fruits and veggies. Then, get your attendees to create a tasty rainbow salad.

This could be Masterchef but with rainbows and sunshine. Create a light-hearted competitive atmosphere. Give lucrative rewards for the most beautiful and tasty salad.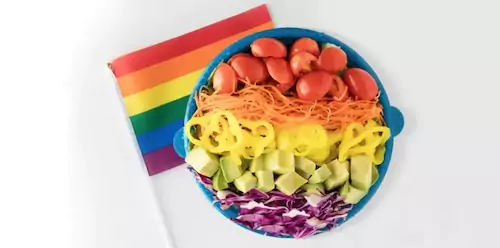 Make it a bit challenging by limiting them to only 10 ingredients from the pantry. And lastly, allow them to eat their beautiful creations for free!

23. Circle time with pronouns

For small events or groups, get people to sit in a group and share their pronouns. This simple activity is great for workplaces.

It enables people to share their identity in a simple yet powerful way.

24. Network hour

A very productive way to celebrate pride month is to organize a get-together of LGBTQ+ professionals.

You can pick a niche profession or keep it open. This way, you'll allow for a lot of people in the community to get mentorship and share resources.

25. Pride art fest

Combine ideas to create a theme for this pride event. For example, you could take up the most recent LGTBQ+ issues like Representation or Legalisation.

Then, share art supplies to create art that reflects this topic the best.

26. Take it public

Collaborate with local transport or public space authorities to have a live show or nukkad natak. You could be performing pride-related plays or poetry. The options are endless here.

This is the fastest way to reach a maximum number of people.

27. Children's pride event ideas

We highly recommend a color or lipstick color-creation activity.

Melt together different crayon stubs or lipsticks (separately, obviously!) to create gorgeous new shades.
Give everyone the creative freedom to come up with beautiful new colors.

This activity is also a great metaphor for how differences, when combined, come up with beautiful outcomes.

28. More artistic pride event ideas

For this, we recommend a mandala activity that can be colored with the colors of various pride flags.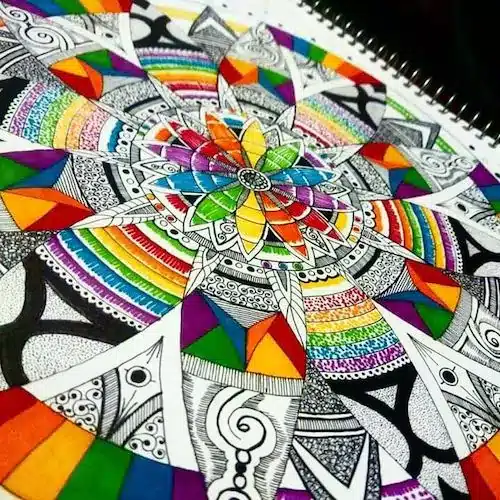 Let people come up with beautiful mandalas and promote pride in different identities.

29. Body art for pride

This idea requires you to get queer-friendly artists who would be willing to pain bodies.
Get volunteers who would like to participate as body paint models.

You could either see this activity as a body art workshop or competition based on the turnout and interest.

30 .Wall of kindness

Spread kindness in the world for this community. A really wholesome way of doing this is creating a wall (it can also be a huge soft board) and putting up sweet messages for the community.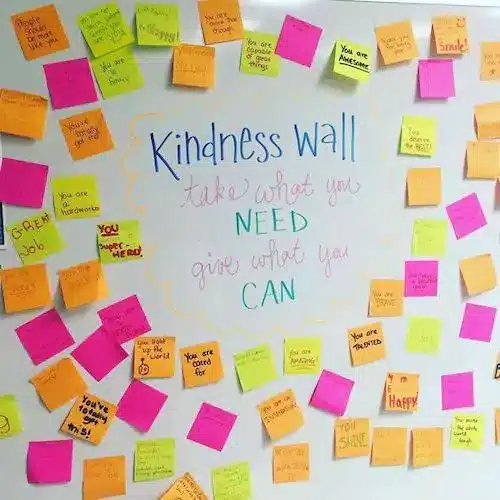 Be sure to monitor trolls and haters with this activity. And don't forget to document the kindness that's spread through the messages on this wall.

31. Tie-dye activity

Get shirts and scarves along with lots of dyes. Create a simple home steup of tie-dye and create colorful wearables!

You'll be surprised to see the numbers of techniques this dyeing practice has!

32. Slam poetry

All forms of poetry are beautiful, but slam poetry has paved the way to be one of the most powerful ones today.

Use this art form to spread knowledge about the issues this community faces.

It also has the most potential to go viral. So, we highly recommend you get poets on board for such pride event ideas.

33. Pride protest posters

Get your event attendees to come up with impactful quotes about this community. Then, get them to portray it beautifully on posters.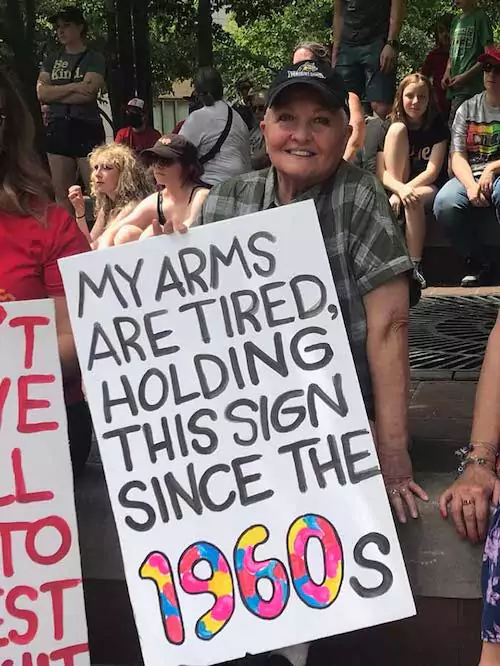 You need not do this for a protest, but simply to come up with impactful posters. Do share the best posters with your online community.

34. Self-portrait activity

This is by no means, another art competition. But rather, it's a way of pictorially representing the 'self'.

Pride, at its core, is about self-reflection and embracement. So, get people to draw their true selves. It doesn't have to be true to their physical self, but anything (colors or objects) that they'd like to portray themselves as.

Let them draw and show the world what makes them special.

35. Anonymous pride Q&A event ideas

There's a lot of misinformation and even a lack of information surrounding this community. In a world where LGTBTQ+ topics are considered taboo, have an open discussion about it.

Let people send their anonymous questions about different sexualities. Then, answer them honestly and without judgment with the help of an expert panel.

It is good to feed people's curiosity through reliable sources than pushing them toward deep corners of the internet.

36. Pride history event ideas

It is a good way to commemorate the struggles of those who made this world more open and accepting.
Use this month and event as a way to educate the history of the pride movement and the significance behind all flags.

37. Remember friendship day?

Do you remember how we used to tie bracelets around our loved ones—friends and family on this day?
Just because we grew up, doesn't mean we leave behind our childhood memories. Turn it into a hands-on activity of making and tying rainbow bracelets.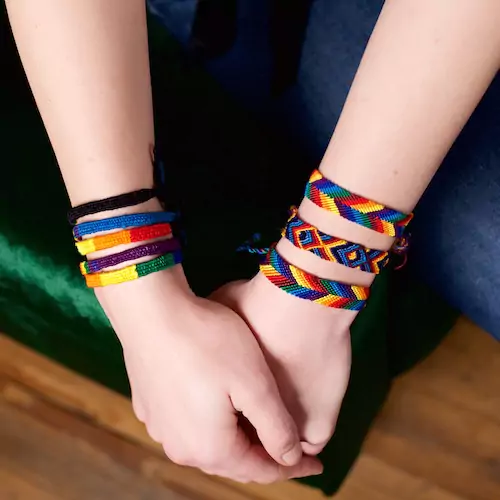 It'll be even better if you ask people to tie it on the hands of strangers attending the event.

38. Pride runway show

Get volunteers for designing and modeling colorful pride-themed clothes. Make sure you use this event and opportunity to help LGBTQ+ individuals display their talent.

You can take it up a notch by limiting resources to recycled fabrics and materials.

39. Fun swap ideas for pride event

This idea works best in social setups where people already know each other.

You will have to randomly pair people to swap their clothes, makeup or even makeup for a day.
In offices, you can switch departments or roles for an hour (as long as you don't make any major business decisions).

It's a fun way to celebrate pride over different identities.

40. Queer photography exhibition

Throughout our history, queer love has been documented beautifully in pictures and art.

Put those up in an exhibition to spread love and respect for people's chosen sexualities.

And with this long list of pride event ideas, we hope you found some fun elements to add to your event.
We hope you have a wonderful pride month ahead.

Don't forget to sign up for our newsletter below for more event-planning articles and ideas.