Planning an anniversary party is a skill all personal event planners must know.
This article will teach you how to create a personalized event experience that stands out.
We've also outlined all your existing options as well as some creative inputs.
In the end, we'll give out event planning advice curated specifically for anniversaries.
Now, let's make you a better party planner.
A. What is the purpose of an anniversary party?
Anniversaries are a type of personal event meant to celebrate companionship. It marks important dates like your wedding, engagement, or proposal.
On this day, you're expected to acknowledge your partner and your time spent together. The event becomes sweeter when you celebrate with family and friends.
Traditionally, it has different expressions in different cultures. For example, Germans celebrate 10th-year anniversaries by planting trees to symbolize growth in relations. Indians celebrate their 25th anniversary by exchanging silver gifts and renewing vows.
In this article, we will cover both traditional and modern aspects of anniversaries. Expect lots of practical advice on planning an anniversary party.
B. Planning and selecting an anniversary party venue
Like weddings, anniversary party planners often get stuck in the idea of a regular event venue.
However, there aren't any rules for this. You need not select a party hall or banquet for this event.
Planning an anniversary party in unusual venues might have more pros than cons.
Here's some safe options for you:
Private room in a restaurant
Backyard
Local community centers
Hotel Ballroom
Church hall
Some unconventional options are:
Cafe
Park
Golf clubs
Club/Lounge
Mall
Terrace
Poolside
Art gallery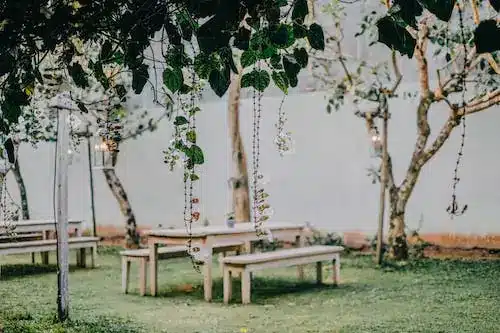 C. To-do list for planning an anniversary party
If you're determined on planning an anniversary party, we won't leave you without the steps.
Coordinate with the couple to find a suitable date and time for the event. This date must be favorable for high event attendance and availability of the entertainer
Sit down and visualize the event with the couple. Decide on a theme and must-haves for the event
Prepare a tentative guest list. Do a quick RSVP-based poll well in advance. This will give you the number of guests to expect
Create a realistic event budget. We've linked the guide to make it easier for you. Remember to prioritize costs and DIY as much as possible to save some bucks
Select a venue based on the date, capacity, and party vision
Book a celebrity online for your event if you want to have special entertainers at your event
Dispatch your e-invites as soon as possible. It should include the date, time, location, and dress code
Consider catering styles and make the booking based on your budget. You may or may not have alcohol as it considerably increases the budget
Select the decor that resonates with the theme. Focus on centerpieces and lighting instead of decorating each corner
Book the date with a photographer to capture memories on your special day
Prepare your toasts and speeches as that puts the cherry on top of every anniversary event
D. Planning an anniversary party at home
Usually, having a venue on board helps a lot with the event proceedings. For example, they have in-house support for DJ, furniture, lighting, and catering.
However, it's possible to have a small celebration at home itself.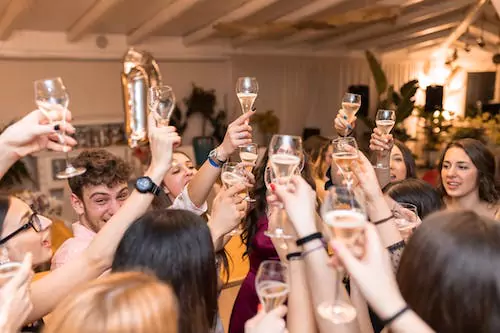 Start with following the same timeline as directed above. You'll need to create an elaborate to-do list.
In addition to the tasks above, you'll also need to be your own DJ. Start by creating a playlist that the couple finds relatable.
Creatively customize corners of your house with what we call "memory lanes". It's as simple as putting up pictures and creating scrapbooks on the wall. This should signify the relationship's journey.
Set up your dining table with an elegant tablecloth and dinnerware. Put up placards for each guest.
You can create a cozy atmosphere at home with soft lighting and romantic music in the background.
Entertainment is something you can get creative about. You have some of your talented friends and family perform. Or you can keep things simple by playing card games. There are many exciting ones available in the market.
End the night with movies as it takes minimum effort but makes for a memorable group experience.
E. How do you plan an anniversary on a low budget?
Everyone wants to commemorate their special day but not everybody has a huge budget for it.
But, EventTube has got your back even in these tricky situations. We've got you the perfect tips to reduce your event planning cost by at least 25%.
Use the prioritization technique where you allocate higher funds only for top priorities. For example, catering is your priority but you can save up on the venue
Use DIY decor. Anniversaries are too personal for you to be buying commercial decor anyway
Use your connections and friends to get better deals or favors like photography
Instead of catering, you can have a potluck at your event. It's similar to Thanksgiving where all your guests prepare home-cooked meals
For alcohol, have a BYOB party where guests bring their beverages to share
Head to the thrift store for cheap decor items
Book venues/event vendors during the daytime as it's cheaper to conduct events as compared to nights
Prepare the party favors by hand. For example cupcakes or embroidered tablecloths
Utilize free entertainment like board games, Spotify playlists, and movies
F. How to do simple anniversary decorations?
Yes, it's possible to have anniversaries that look like weddings. But, you can also opt for inexpensive event decor. Here are a few ideas for you:
Balloons (go for a particular color scheme) are some of the cheapest decor items on the market. However, they never fail to elevate any event decor
Print out photos or create a slideshow of your photos. No decor can be as personal and beautiful
Focus on just one main centerpiece or an anniversary backdrop
Use fairy lights during the nighttime. A venue with a lot of trees and lights is enough to give the illusion of a heavily decorated event
Use streamers made of cloth
Have an empty board lined with chart papers. Call this the board of love and get your guests to spray-paint messages of love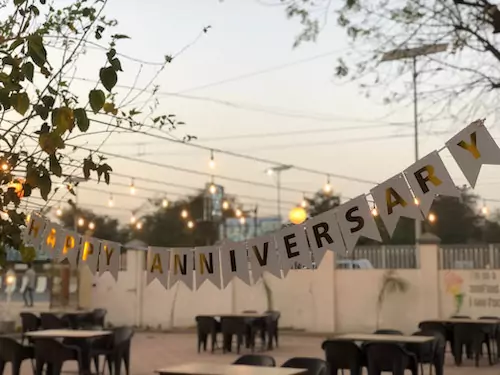 G. Creative themes and ideas for anniversaries
The thing with anniversaries is that they come every year. To make it different and exciting each year is a task.
Here are a few ideas for you to spice it up:
1. Booze Cruise
Rent a boat or yacht for a day. Spend private time in the water with your partner and loved ones. Serve cocktails and light appetizers to keep motion sickness at bay.
2. Casino night
Set up tables for blackjack, poker, and roulette. Host friendly games for your guests.
3. Destination anniversary
Recreate your honeymoon travel experience. Book rooms at a resort and gift yourself and your guests a getaway.
This makes for a nostalgic experience for a couple.
4. Starlit cocktail
Hosting your event in the dark hours of the night will increase the chances of more people joining. Have a cocktail party under the stars.
Be mindful to provide accommodation to guests with kids or long-distance travel.
5. Decade theme
Pick the decade in which you fell in love. As for the theme, embrace the fashion and style of that time.
Play popular songs from that era. Encourage your guests to wear outfits from the time.
6. Renew your vows
This is unarguably the most special way to celebrate your anniversary.
Renew your vows in a romantic setting like a candlelit dinner.
Follow it up with a dinner and music celebration.
H. Traditional themes for anniversaries
Did you know that the tradition of celebrating anniversaries dates back to the Middle Ages?
Interestingly, we even have the data on what was used as inspiration for anniversary gifts.
Have a look: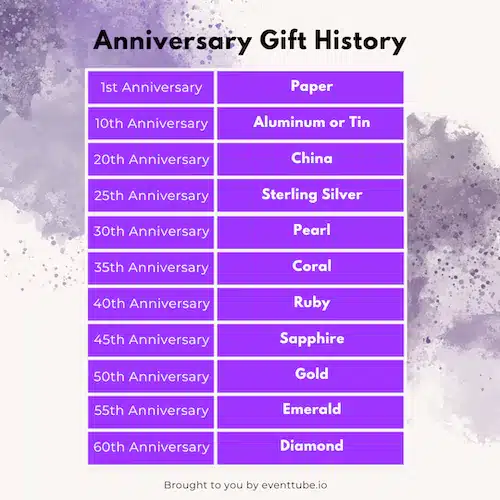 If you spend some time with this data, you'll see that materials are increasing in strength as we go.
That's to symbolize the growing strength of the relationship.
We're sharing this data as it opens a whole new conversation about anniversary themes. Imagine planning an anniversary party where all decor is made of china or has elements of pearl.
See what we mean?
Use this idea to see where your event planning skills go.
I. Event planning tips for anniversary events
If you're a rookie event planner, you'll take your time to understand how to go about personal events.
In such events, the ideation and manwork aren't the challenge. It's the meeting of expectations and maintaining ample communication.
Here are some things you must keep in mind while planning an anniversary party:
Keep the couple first. Understand their preferences and tastes before you put your mind to work. Your event should be a reflection of their interests and not just your skills
Set a realistic budget early on. It's easy to get emotional and want everything at the event, but you have to prioritize expenses
The right date for the event doesn't always have to be the actual anniversary date. It can be flexible based on the availability of key guests or your entertainers
Whatever the theme is, it still has to be personalized to reflect the couple's values and shared interests
Know about the needs of all the guests. Make sure your event is accessible in terms of location and constant service
You must ensure that the guests interact with each other. You can boost this by having games, ice-breakers, and shared activities
Be prepared for unexpected situations, such as weather changes or last-minute cancellations. Have a contingency plan in place for all such possibilities
The element of surprise is incredibly important. Do something for the couple that they are not expecting. It's their special day and this move will help your event planning stand out. For example, have a guest deliver a surprise tribute or showcase a professionally made video of their journey
J. Planning an anniversary party: A Summary
From a simple step-by-step guide to a glimpse into the history of anniversaries. We are sure that this article added to your existing knowledge of how to organize anniversary events.
We'd love to know what you liked and what you expect. Do open up the conversation in the comment section so we know how to make your event planning journey better.
As for sticking with us till the end, you can now sign up for your weekly event planning guides. It's free and all you have to do is write your email in the section below.
Join EventTube today!