Can you believe that there's only a few more days to go before 2023 starts? While we are still processing 2019, years keep coming and going.
Things slowed down during the pandemic and now they are way too fast all of a sudden.
Many people spent their Christmas and other festivals just drinking and eating cake at home.

However, this new year's eve doesn't have to be so boring. It also doesn't have to flash by so fast. There are so many ways in which you can make this new beginning memorable.
We are here with 23 new year event ideas that you can use to spice up your celebrations.
A. Wine Tasting
Want to drink away your sorrows from 2022? This is the perfect way and time to do it.
However, you don't have to do it necessarily in a party manner. A very classy way to get drunk with your friends is by having a wine tasting party.
Pull out your wine glasses. You can even use them as decoration if you want.
Also experiment with the different wine types—red, white, rosé, dessert, and bubbly.
Try to get an idea of which wines your guests want so you can deliver exactly what's expected. You can do this by creating an RSVP form for your guests. They should be able to notify you with their preferences through this form as well.
While the wine gets taken care of, don't forget that you need food to soak up all the wine as well. Try to create charcuterie boards for your guests if you can! Nothing can beat wine paired up with cheese.
B. Golden Champagne Themed Party
Is wine not working its charm for you? You can switch it up with champagne instead.
Champagne has been historically tied up with celebrations. So, there's no better time to bring out your champagne bottles.
If champagne is not everyone's cup of tea (read: alcohol), then get creative with it! You can pour champagne over cotton candy or fruits to give its taste a boost. This is not disrespectful after all, champagne was never famous for being delicious.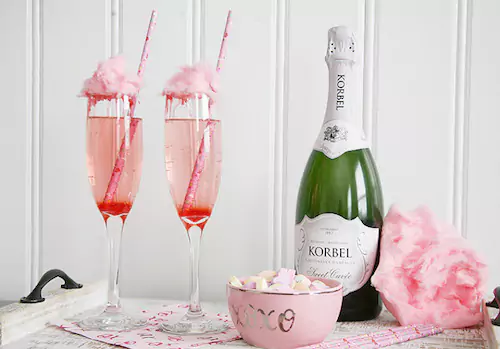 Don't be mistaken though. This new year celebration idea is not just about drinking champagne all night. It also comes with its statement color.
This could also be your cue to set the dress code to golden outfits. Then, you can even go shopping for party decor that matches the sparkling beige color of champagne.
C. Masquerade Party
If you want a glamorous new year event idea, a masquerade party is a good way to go about it.
It's similar to a ball, but with the mysteriousness that comes from masks. You can keep it classy with satin party decor.
Ask your guests to show up suited and well-dressed. You can select the color palette based on your preferences, but we do recommend black, maroon, and royal blue.
Wait.. wait! Did you think that's all there is? No, we are not here to give you age-old party ideas. There's another way to go about a masquerade party.
At the end of the day, it is about masks, right? They don't have to be all classy and polished. Switch things up by making masks of celebrities, politicians, or even each other. This one is bound to make heads turn!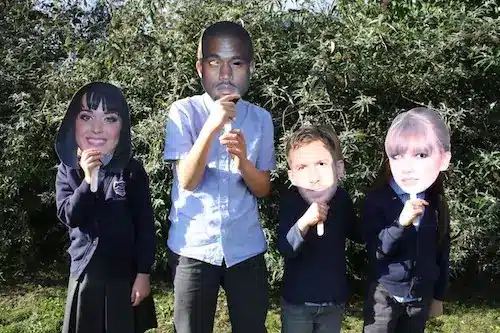 D. Invite A Celebrity
The pandemic increased our internet usage by 70%, as per Forbes. It was fun watching Netflix shows and scrolling through Youtube all day. But we also got sick of it pretty fast.
We were all dying to have in-person experiences via concerts, theater shows, and stand up comedy shows.
That doesn't have to be a dying wish really. You can hire celebrities that fit your budget for your grand new year party.
There are a lot of services that let you hire celebrities for your events. You just need to search for talent management companies online for your region.
E. Escape Rooms
Chances are, all the malls and adventure parks will be overcrowded. Your adventurous spirit might feel a little low because every place you go to will be swarming with people.
However, you can plan ahead! Book an escape room near you in advance. If you're in a group of ten or less, this is a perfect way to enjoy your day.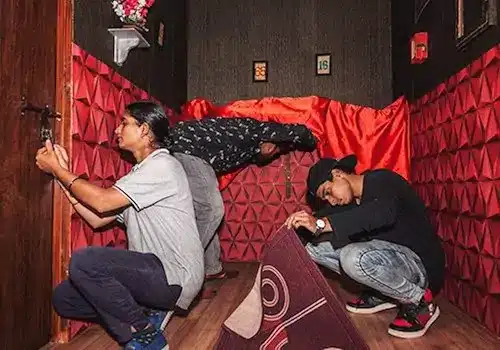 If you don't want to hire this service from outside (although we highly recommend it), try recreating it at home.
It won't be the same as you won't buy all the expensive props, locks, and sound systems for a night. You can still recreate some of it by locking people in a hall and leaving clues to find the key.
You can spice it up even more, by handcuffing and blindfolding a few people.
We recommend that you try an escape room at least once before you try to DIY it.
F. Techno Rave
Do you want to party from sunset to sunrise? Techno parties are known for that!
When all the parties in the town die down, techno parties keep going on.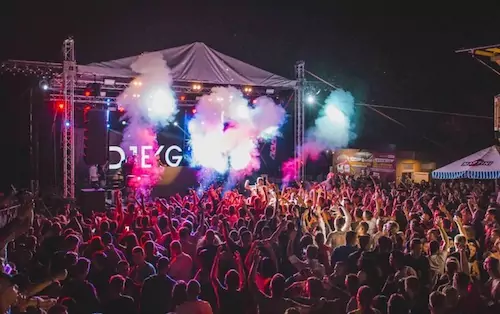 If you're into techno music and don't mind grooving for 8-12 hours, then join or organize a techno party this time.
Make sure your guests are dressed comfortably. Do arrange for light food and refreshing drinks because these parties are seriously tiring. But that's the charm of it after all!
G. Vision Board Evening
Is partying not your way of celebrating new year? Don't feel left out, we have ideas for our sober readers as well.
A very meaningful activity to add to your new year's celebration is making vision boards.
Instead of drinking away your sorrows from 2022, streamline your goals for 2023.
Making a vision board is a scrap-booky way of portraying your new year resolutions. You have to paste pictures or write quotes on a board to represent your goals for 2023. Look at the image below for example: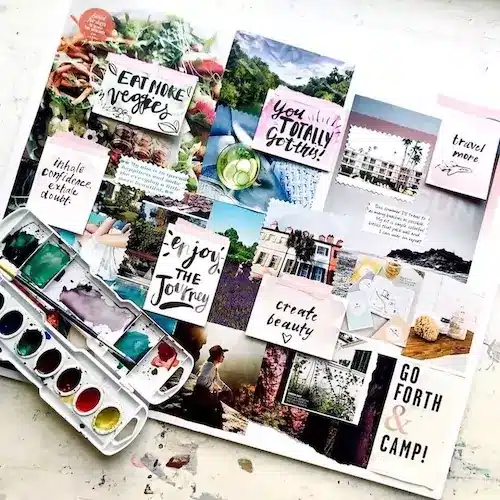 To make this happen, you will just need some basic stationery. For example, A-3 size sheets, magazines, newspapers, glue, scissors, and markers.
You can explain what the activity means. Once everyone has created their vision board, you can discuss it. This activity is suited for family and corporate parties. It will create a shared sense of vision for the upcoming year.
H. Relive your 20s
If the previous idea made you feel like you're reading the wrong article—hold on! Don't go just yet.
This idea is as wild as new year event ideas can get.
Remember your 20s? Beer pong, pool parties, skimpy clothing, truth and dare, and all the blackouts?
If your target audience is tired people looking for a break from their monotonous lives— look no further.
Try this one and incorporate all the fun things you did in your wild 20s. These ideas will vary between generations and upbringings.
I. Glitter Theme
New Year event ideas can't get more glamorous than this!
If you haven't had a glitter-themed party before, the new year is the perfect time to make it happen.
You can do this by having:
A strict dress code that only allows for shiny clothing
A cake covered in edible glitter
Balloon filled with glitter and confetti
Glitter makeup station for the ladies
Pool table for the gentlemen, but jazzed up with glitter cues and balls
A ramp walk competition followed by a very shiny crowning ceremony
Find any existing decor that fits the theme and have the most Instagram-able party.
J. New Years Eve in Pajamas
Exhausted from last year?
You don't actually have to go all out with decor and themes. One of the best ways to enjoy your new year's eve is to be comfortable at your own place.
Sometimes, your company matters more than the surroundings.
So you can have a cozy winter party from the comfort of your pajamas if you want.
You can take care of the basic things such as:
Catering (takeout or homemade)
Extra bedding for accommodation
Drinks and mixers
Card or board games to keep your guests entertained
K. Movie Marathon
The definition of 'enjoyment' is not partying for everyone. Just like in the previous suggestion, you see some people enjoy relaxed celebrations better.
For such parties, movie marathons are a great way to keep your guests entertained.
If you stick to a movie franchise, you can even adopt that as the theme.
For example, say you're going to sit down and binge watch the Harry Potter series. You can take that forward and have a sorting hat shaped cake.
You can even ask your guests to dress up as characters from Harry Potter. And while you're on it, why not play Harry Potter video games in between too?
L. Bring Out The Costumes
Why should Halloween be the only night where we get to dress crazily?
Now, it doesn't have to be spooky. You don't need pumpkins everywhere, nor do you have to have creepy home decor.
All you have to do is show up in crazy costumes. It leaves couples and families with great options to show up in couple/group costumes.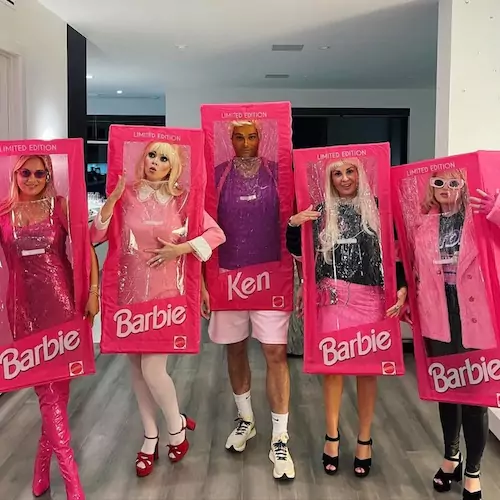 Make it funny, sexy, or spooky! It's all up to you. Just make sure every costume becomes a conversation starter.
M. Game Night
For all the gamer heads out there, isn't this exactly how you'd want to spend everyday?
So why not start the new year with the newest video games in the market?
Chances are that not everyone who comes to your party will be fond of video games. For those, have some card and board games ready.
Make sure the setup is comfortable with beanbags and blankets.
Have some light snacks that will last you all night.
N. Midnight Ride
This one's dedicated to the biker community.
Go a little unconventional with your New Year event ideas. This one will really get you all revved up. Pun intended.
You can organize this event by reaching out to different biker groups.
You need to select a date and announce a route. Create a ride itinerary including some off-beat but must-visit locations in your vicinity. Finally, create a custom map on Google Maps. This will help all the riders understand and follow along the track easily.
Do make sure you include breaks at biker cafes and restaurants around you.
Then it's time to put your marketing hat on and get more people to join.
Last tip is to keep the announced time half an hour prior to the actual time of flag off.
O. New Year Bake-Off
Maybe not when the clock strikes twelve, but baking is definitely an activity you can include in the beginning.
No matter what plans you have for the event in the evening, a baking activity at noon can be fun.
Keep all the utensils and pantry items ready as per the number of guests.
This will save you the hassle of getting pies and desserts for the party later on.
This is a great idea for small scale events or even corporate celebrations.
P. Tarot Card Teasers
We all want to know what's going to happen in the future. But overthinking is not how we're going to know.
For folks believing in the mystical powers of the universe, a tarot card station is a must.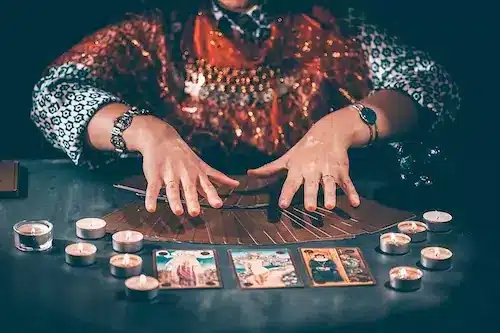 You just need to hire a tarot card reader that you can find online or through your connections.
This is one of the few unique New Year event ideas that you should try.
Q. Karaoke Night
Don't worry, after all the booze, people might not really remember your voice (if that worries you)!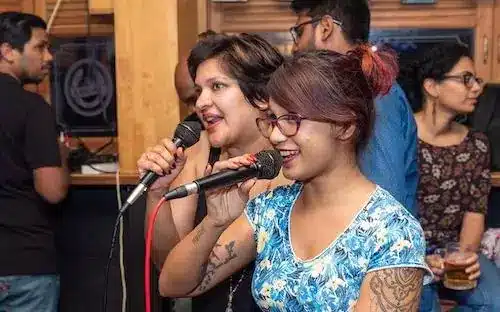 Just kidding. The thing is, karaoke is a wonderful way to engage a large gathering of different event attendees.
There are people who want to showcase their amateur talent. At the same time, there are attendees who connect more to normal people rather than celebrities. It is a win-win engagement activity at any new year event.
R. Gamble Away
If you're catering to an opulent crowd, a casino themed party is a good idea.
We choose new year's eve for this so that if anybody questions your guests' expenses—they can just say "it was last year!"
Now, let's learn how you can execute this idea. Bring on all the table games such as blackjack, roulette, craps, and baccarat. Have a poker table as well. If you have the capital, add slot machines as well.
If this seems like too much work, you can try collaborating with casinos as the party venue.
S. Party in the Woods
You can organize some of the most economical parties on the mountains. If you're in India, Kasol and nearby locations are perfect.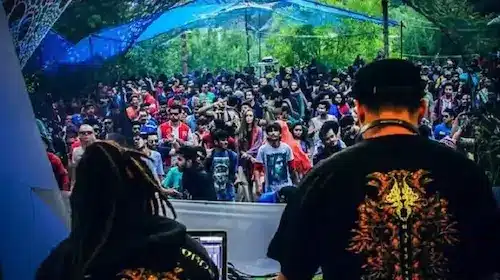 There are plenty of homestays and hostels that would love to collaborate with you.
With good psychedelic music and a banging sound system, you can organize a one of a kind new year party. Just make sure you invest well in marketing and provide people a good deal on this destination party.
T. Plan A Heist
No no, we aren't asking you to rob a bank this New Year.
What we are suggesting is to bring your Money Heist dreams into reality.
First step is to weave a story around the heist.
Then, place an object at a location where all guests can see it clearly.
The person to steal that object without getting caught wins!
U. Squid Games
This show blew minds globally! It was used as a marketing tactic for a lot of businesses.
While the hype is still alive, try having a Squid Games themed party. Giving your guests the iconic red and green sweat suits is a no-brainer!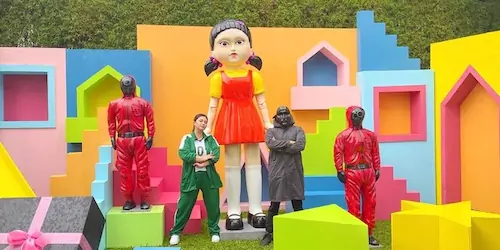 But in addition to that, recreate their games with your own twist:
Red Light, Green Light
Hopscotch
Tug of War
Sugar Cookie Cutting Competition
Marbles
Just ensure that the "twist" isn't murder as it was in the show.
V. Carnival
You've heard of Christmas Carnivals, but what about New Year?
Don't let your new year slack behind. Have a carnival to gather the crowd for the main dance party.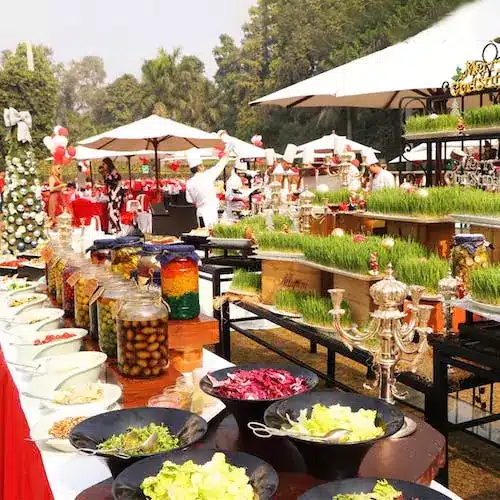 Have stalls where people can get new-everything for their new year. This can range from a nail station to a handmade goodies station.
W. Club Hopping
This idea is best implemented if you can work with a chain of clubs that are all in the vicinity.
For this, you'll need transport that can accommodate all attendees. Let's say, you get a bus.
This bus will have to make its stops at different clubs in the city. Each club will have a different genre or experience to offer. This will be a dream come true for all the clubbers.
Do give a shot at organizing a multi-venue party.
Did you find our new year event ideas unique and helpful? We post ideas about all kinds of events out there.
If you're an event planner who never wants to lose their edge, sign up for our newsletter. We'll never let you miss a beat in the event industry.