Holi is the most loved time of the year. It's also the entry to summer for most, so it's often a water festival.
Owing to its huge popularity and festivities, a lot of event planners go for Holi-related events. And people do enjoy those events.
However, in recent times we're observing the same old concept. Water, colors, and, food. Those are the only things most Holi parties offer.
It's really time to break the monotony and give event-goers a new kind of Holi experience.
The article you're about to read contains 16 unique Holi party ideas that you must consider for your next event.
A. Artistic Holi Celebration Ideas
Fluid art is trending in the art industry. But, if you haven't heard of it before. You can have a look at the video below to understand this form of art:
After having a quick look, you probably know it is no rocket science. Even if you don't have amazing artistic skills, the end result still looks beautiful.
You could be hopping onto this art trend and integrating it into your Holi event. You will need lots of canvases, acrylic paint, and the right event marketing strategy. 
Alternatively, you can even turn it into a masterclass or keep it a fun event, especially for the younger folks.
Remember that Holi is about colors but don't limit yourself to the colors you throw on each other.
B. Nightsky Holi Celebration Ideas
Most of the Holi parties take place during the day. This is so that you can play with water and see the vibrant colors.
But, a lot of cultures also have Holi rituals in the dark. Inspired by those, we recommend a Bonfire Holi celebration.
It is a less strenuous option as compared to regular Holi parties.
This is suitable for colder environments, parties in the woods, mountains, and also for the older working class.
You could do interactive activities, throw colors in the fire, and drink to the beautiful night.
C. Hola Mohalla
This particular Holi celebration has cultural roots in Punjab. It was celebrated to commemorate the Sikh warriors.
This event isn't similar to the playful idea we have regarding Holi parties. Instead, this event idea entails a display of martial arts skills by professionals.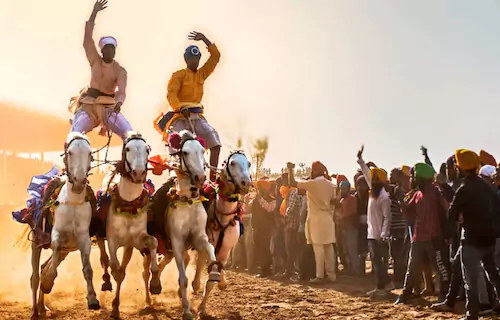 In addition, dancing and singing also take this event to the next level. It is a visual delight, to say the least.
We do recommend hiring local artists and performers to have this event in other states too.
D. Women-Only Holi Celebration Ideas
Inspired by Mahila Holi celebration in Uttrakhand, here's an idea to deal with a lingering social issue.
Women feel unsafe in Holi parties. Period.
In Uttarakhand, we see wholesome Holi celebrations with just women singing, dancing, and playing Holi.
So, why aren't we having women-only Holi events? This is definitely something event planners should be working on.
E. Open Mic
This one is an addition to your regular Holi celebrations. You can add the concept of open mics where people get a platform to showcase their talents.
You must jot down the talents you have the resources to display on stage. Some easy ones are:
Slam poetry
Singing
Dancing
Stand-up Comedy
Playing instruments if the participants bring their own instruments
Magic
You may roll out a form asking people to mention their talent and what they'd perform. You can also ask for video/photo proof if needed.
The attendees might think they're finally getting the stage presence they deserve. But, in reality, you're getting free entertainers for your event.
Another good thing about open mics is that the performers also get their friends and families for support.
F. Haldi Wali Holi
This inspiration comes all the way from Kerala in Southern India. They play Holi with haldi or turmeric! This celebration is known as Manjal Kuli and it really stood out to us.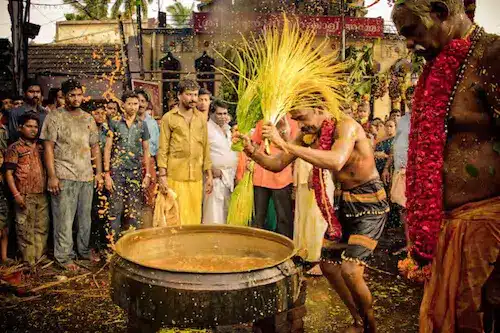 Turmeric has numerous health benefits. It helps with acne, aging, eczema, and even hyperpigmentation.
In fact, applying haldi on bodies and faces is also a very popular Indian wedding ritual.
Using this instead of gulaal or commercial colors available in the market is a great idea. The ones being used currently leave behind lots of skin issues and damage.
Your skin will thank you if you play Holi like this.
G. Live Music
Eventgoers have had enough of the "DJ party" with the same old Holi songs playing.
Why not amp up the Holi celebrations with new and upcoming indie bands while people play?
It'll be like a mini-concert, but more fun with colors and water.
Ensure that the stage is at a height and far from the wet, unruly crowd.
H. Sporty Holi Celebration Ideas
Holi celebrations pack a lot of energy. One good way to channel that energy would be to incorporate sports into the celebration.
A colorful kabaddi competition could be a great idea. You could market the event as a Holi Kabaddi match.
Some other games you could organize include kho-kho, badminton, and volleyball.
I. Foolon Ki Holi
Forget that dry powdered colors are the only way you can have a colorful Holi.
This idea comes from the birthplace of Lord Krishna—Vrindavan. They add color to their Holi by using flowers.
We recommend playing at a garden venue instead of indoors or on concrete. This way, the flowers can decompose naturally instead of creating a mess.
It's a much cleaner way to celebrate Holi, and not to mention, incredibly beautiful!
Have different colored flowers that are also inexpensively available.
J. Wall Painting
Your face and body don't need to be the subject of messy Holi colors all the time. Instead, you can turn it into an adventurous affair by painting a wall instead.
Do remember that you don't require much skill to paint within outlines. So, you could be getting a lot of people on board for this event as long as you have expert supervision.
You could also be targeting novice artists. That's because wall painting opportunities are hard to come by but incredibly fun.
Another great option could be collaborating with people owning homestays. They are always on the lookout for a free makeover for properties.
K. Techno Holi
If you keep an eye on the music industry, you'd know that techno music has taken over Indians.
It is yet to become mainstream. This means you have time to come up with unique Holi celebration ideas.
We recommend having a Holi party with techno music in the background. You could also hire a techno DJ for live music.
We are sure that techno music, alcohol, colors, and water will result in a crazy party. This will be the definition of a memorable party for adults.
L. Laddoo Holi
This interesting take on Holi originates from Nandgaon, Uttar Pradesh. As the legend goes, a priest was invited to Holi back in the day. He was offered laddoos (Indian sweets) as an offering. Later, people started dousing him in colors as it was Holi. Since he didn't have any colors, he used the laddoos to play Holi.
Since then, it has continued as a tradition to play Holi with these sweet treats. It is still played this way at Barsana Temple.
We could be bringing back this tradition as a small activity within the event. People will enjoy laddoos as a treat and also play Holi with them.
M. Color Tag
This one is a team activity. It's best when there are only two teams to differentiate easily.
Here, there will be two teams and two colors. Each team will only use their allotted colors to throw on others. In the end, the most prevalent color in the entire audience wins.
For example, there's Team Red and Team Blue. In the end, after a time limit, you see that most people have blue on them. Hence, Team Blue will be declared the winner.
N. Halvai Holi
We have discussed enough Holi celebration ideas for art and game lovers. This one is for foodies.
Have an assortment of desserts at your event. You can also involve attendees in making some of these sweets and taking their creations home.
Gujia, Shakarpara, Rasmalai, and a dozen others are Holi delights that we all enjoy. An event around these could be a great way to celebrate Holi.
O. Apparel Painting
Stores making handmade and handpainted apparel are thriving these days. This event could be in the form of a 'mela' with the painted goods such as t-shirts, jackets, and shoes being sold.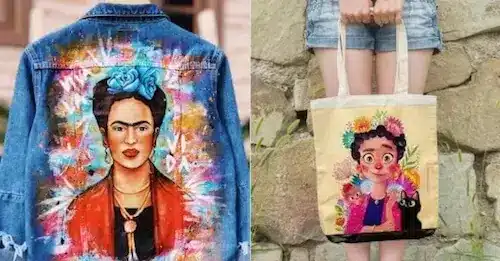 Or, you could even do an interactive event. Here, attendees get to paint their clothes and shoes under expert supervision.
P. Pool Party
The last one's a classic idea but often takes place in the form of a private party. But, it's time to change that.
Have a large-scale pool party where people, even strangers can join and play Holi. You'll definitely need strict security to pull out any nuisance from the party.
However, this makes for an excellent way to socialize and play Holi with loved ones and newbies.
We hope we've opened your mind to new Holi celebration ideas. So, get out of the mundane zone and organize unique Holi parties this year.
If you're looking for unique ideas for your Holi party at the office, do make a stop at this article.
To keep up with more creativity in the event industry, sign up for our newsletter.